Best behaviour boys, we have visitors....
I am trying something new this time, I am absolutely fed up with Facebook changing things and making it harder and harder for me to post. You may have noticed the number of pictures I post has dropped; the reason is not because I haven't taken as many, it's because now when I upload them and try to write my post the window created is time limited and refreshes and then gives me a blank screen so I have to start again. It also keeps sending me to something called Creator Suite which can take up to one and a half minutes to load up on our sometimes not so swift internet. So, all in all I have had enough of Facebook. I am going to try and write the post as a blog on our web site, including pictures and post a link on the Facebook page.
Right enough of my Facebook moans, what's been happening over the nearly a month since I last posted. The weather has definitely taken an Autumnal turn to it, within just a couple of days the leaves on the trees suddenly turned from green to yellow and brown. We did even see a few morning frosts.
I have taken on the main roll of feeding Lolly since Joanna is now too busy. It is so hard trying not to interact too much with her as she comes trotting across to see you. You just want to stroke her while she is feeding but I know too much interaction can cause problems later. She needs to know what her limits are while interacting with humans. At least she is accepted by the rest of the herd. My feeling is that Aggie, her mum, does recognise her and it's as if there is something special about Lolly but Aggie doesn't quite know what. I watched them chase each other around the paddock the other night. Lolly is now slightly taller than Karla even though she is a month younger, but we have come to the conclusion Karla has short legs.
Karla is a very determined little madam; she knows what she wants and not much will stop her. She will even stand up to older girls, it was funny watching her neck wrestle and spit at Valeria when Valeria wanted her to move.

The girls have been enjoying themselves amongst the trees on the top of hill next to the big oak tree. They have been doing me a great favour by eating the grass, trampling the small saplings and eating all the leaves off the trees to a fixed height. I can now see through the trees and it helps me to decide which trees to take out during the winter to open it up a bit to give the other trees more space. A lot of the trees are self-seeded oaks from the big oak tree. I have left them to grow so now when they are cut, they are about the right size to make some good oak fence posts from. Well, that is the idea anyway.
The younger boys are beginning to fight more often, nothing too serious but I am watching them. Because of this we made a point of checking their fighting teeth as we didn't want any serious accidents. We ended up restraining them using the ropes I use for shearing to make the job a little easier. I did used to use a cutting wire for fighting teeth removal but I have had a few occasions where a tooth has cracked. So, I am now using a high-speed drill with a grinder attachment. I had delt with some of George and Freddie's in the past but now made sure they were all cut. Jakobs had some fine examples of fighting teeth, I am so pleased we checked. I would rather they didn't fight but I feel a bit more relaxed that they are now not going to rip each other open with their teeth.

Because the rain finally stopped, I managed to do another job that was long overdue and that was to clear out the old bedding from all three alpaca houses. Did the boys on one day and the both girls houses another. There was a lot and it was rather wet, I was shattered by the end of it, but at least it is a bit more pleasant in the alpaca houses now. I will if the weather allows do another quick clear out in about a month with a through clean before winter. I do have some drainage pipes on the floor which collects the urine and directs it to a bucket buried in the ground just outside the building which then gets emptied. It helps to stop it getting too wet inside, but the one in the boys needs some new pipes so that will the next job.

We had a few groups of visitors who wanted to do alpaca walks, these were the first walks the boys have been on in a while as it was just too hot over the summer. They certainly enjoyed it (and so did the visitors). Brencis and Josefs kept stopping to eat the grass every third or fourth step but it did mean plenty of photo opportunities for the visitors. Brencis did his usual walk through the trees routine which made the visitors laugh and we had to walk swiftly past the girls as he was showing a bit too much interest in them. Having said that they did all come running down to say hello.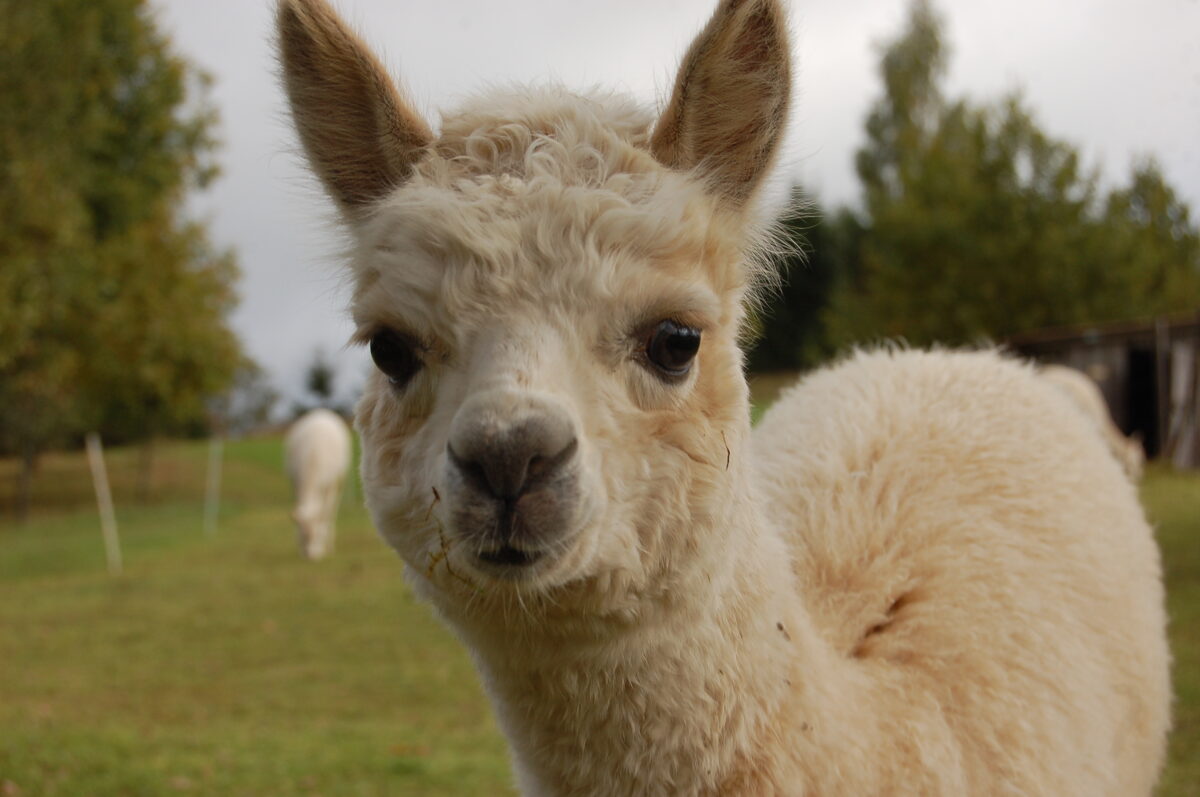 "Have you got my milk?" asks Lolly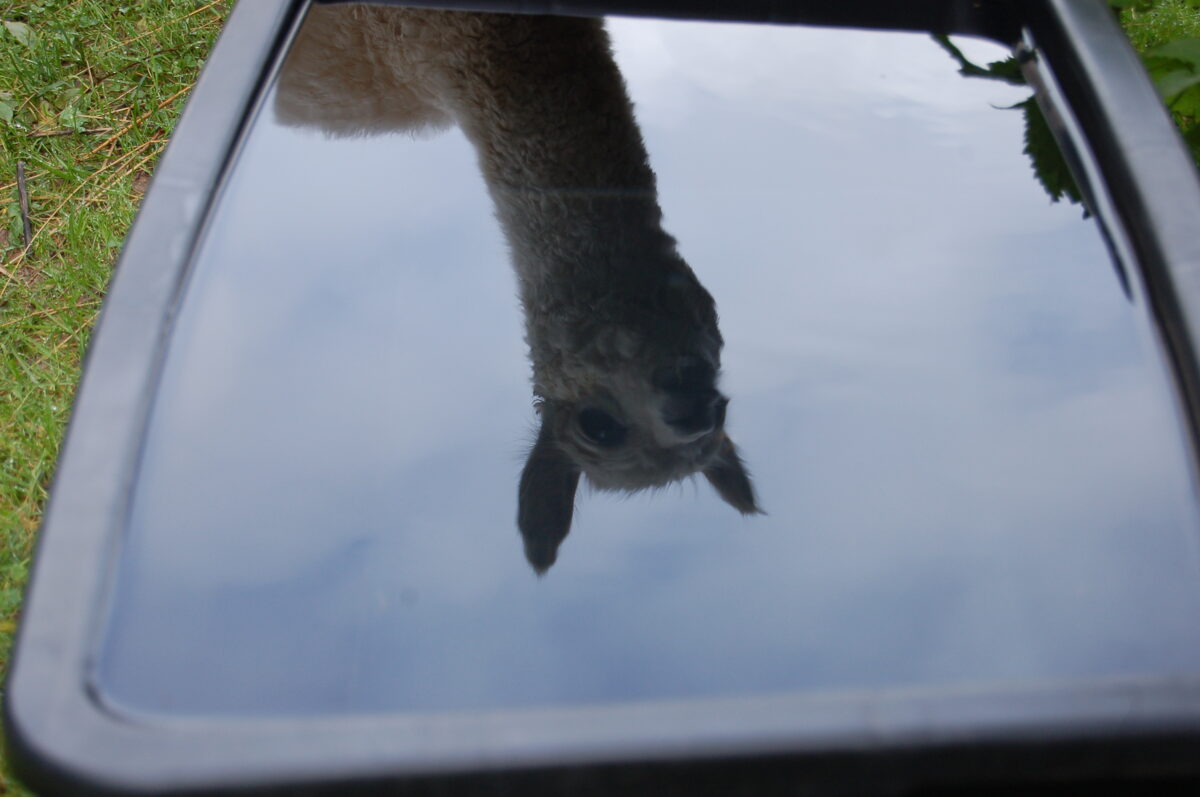 Lolly reflected in the water bucket.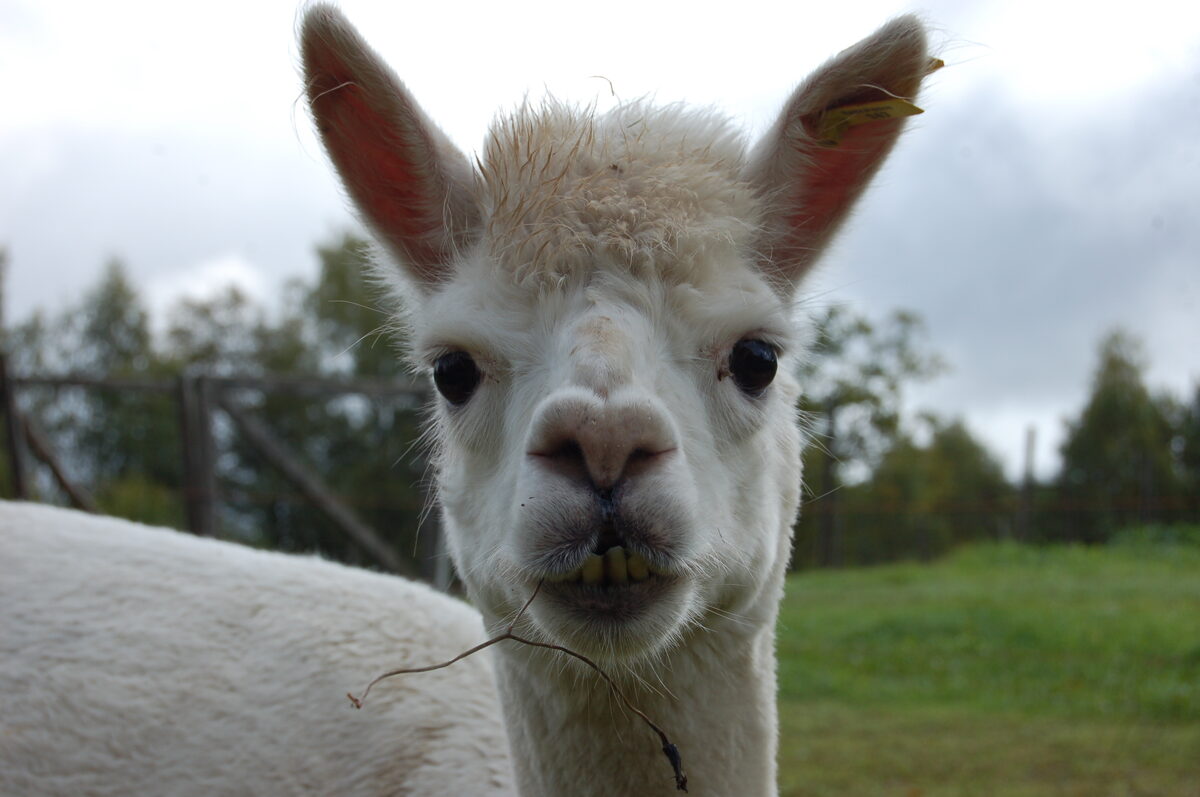 We will find out soon if Valeria is pregnant for next year.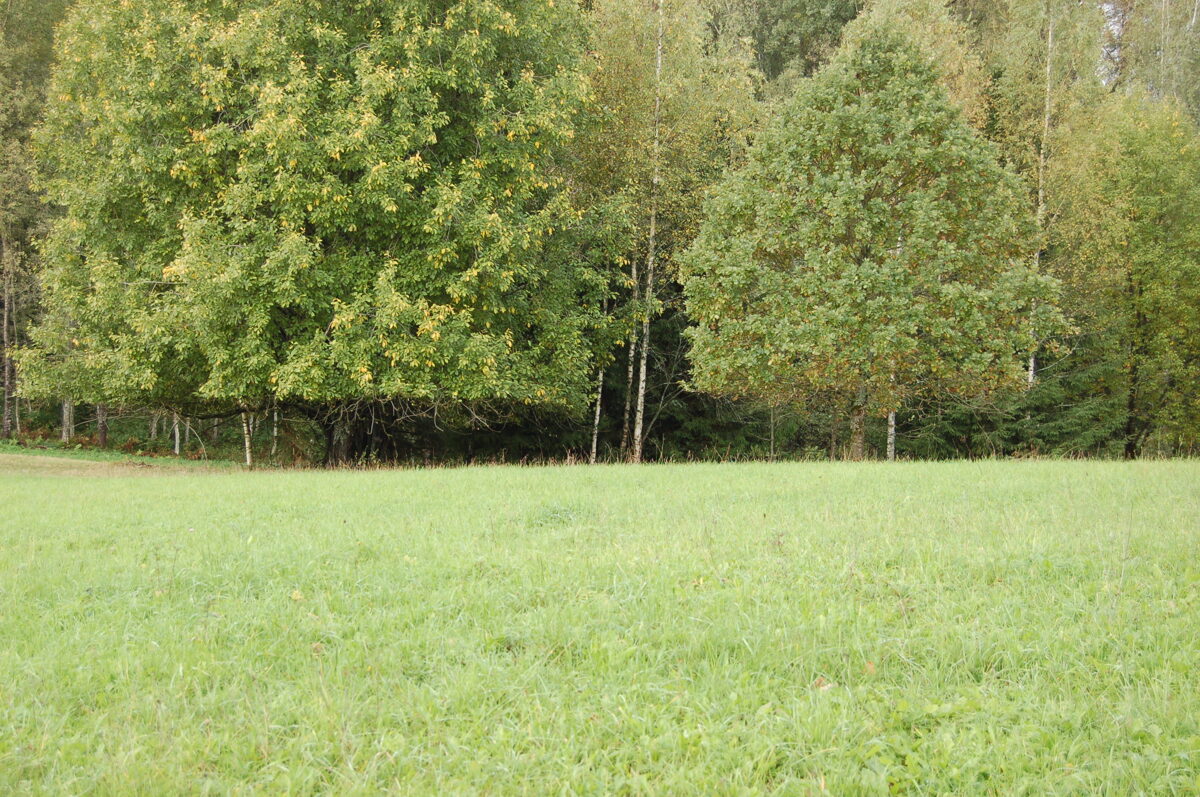 The girls have been eating the leaves off the trees up to a fixed height.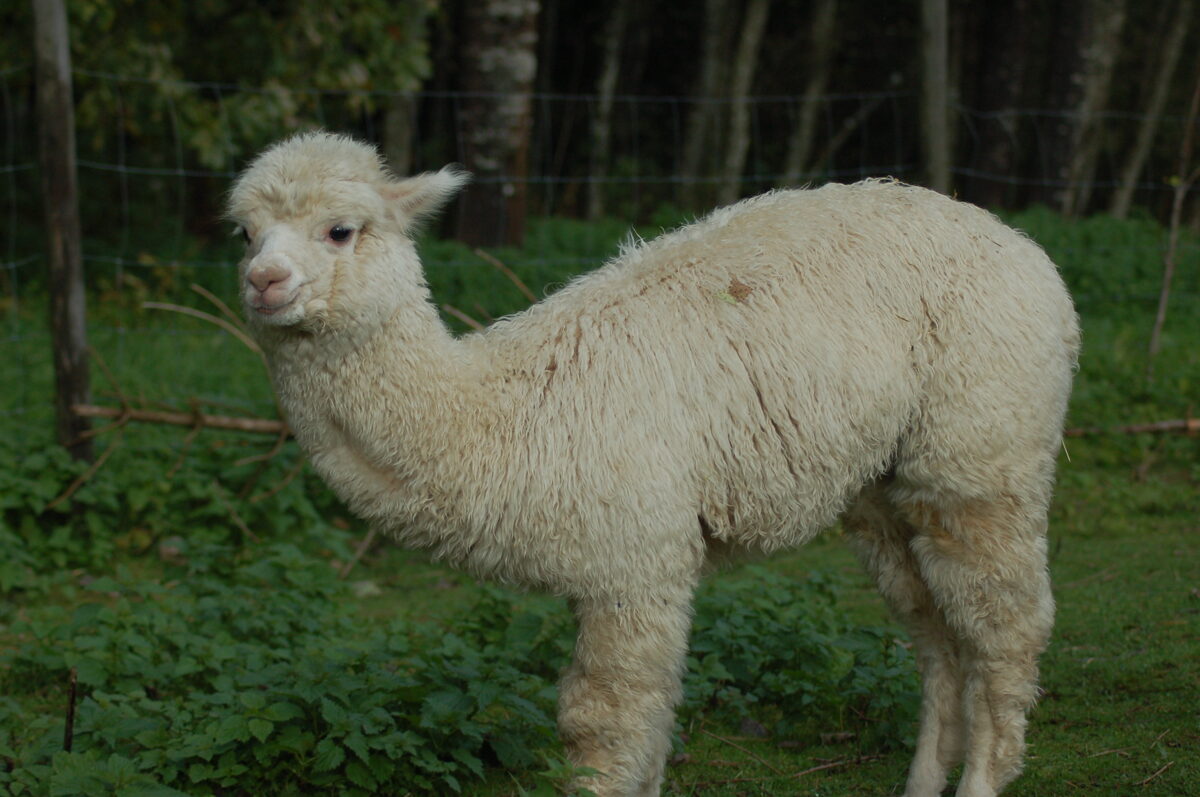 Karla is a determined little madam.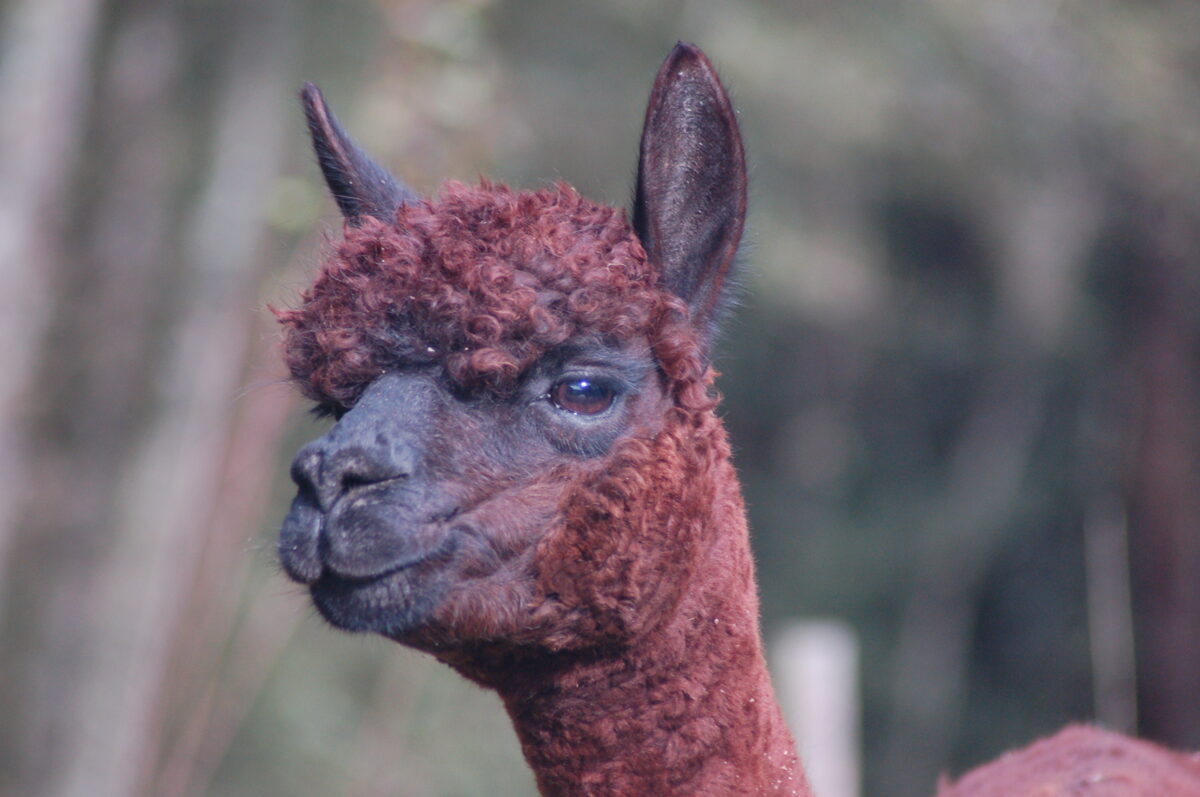 Chanel's skin problems look like they are flaring up again.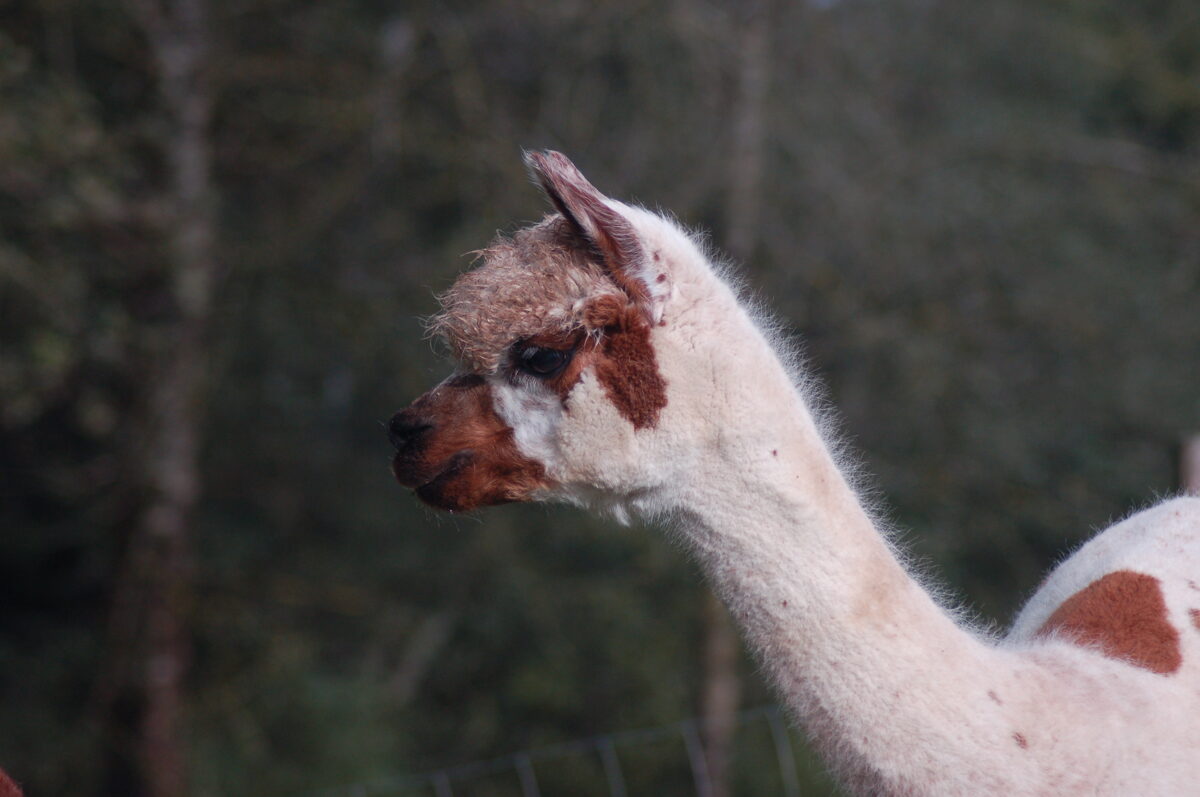 Mari is not in good books at the moment, she has recently broken three fence posts with eating through the fence. Admittedly they are coming to the end of their lifespan.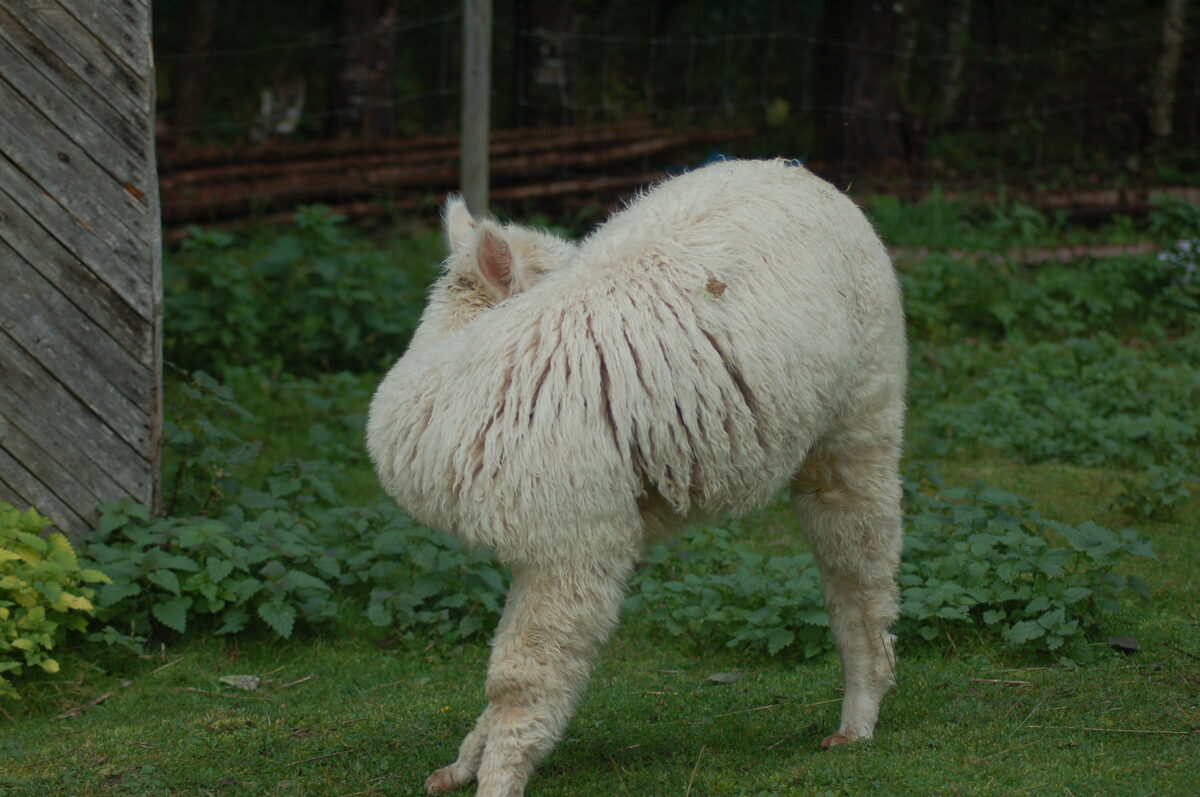 Karla starting with the basics of alpaca yoga.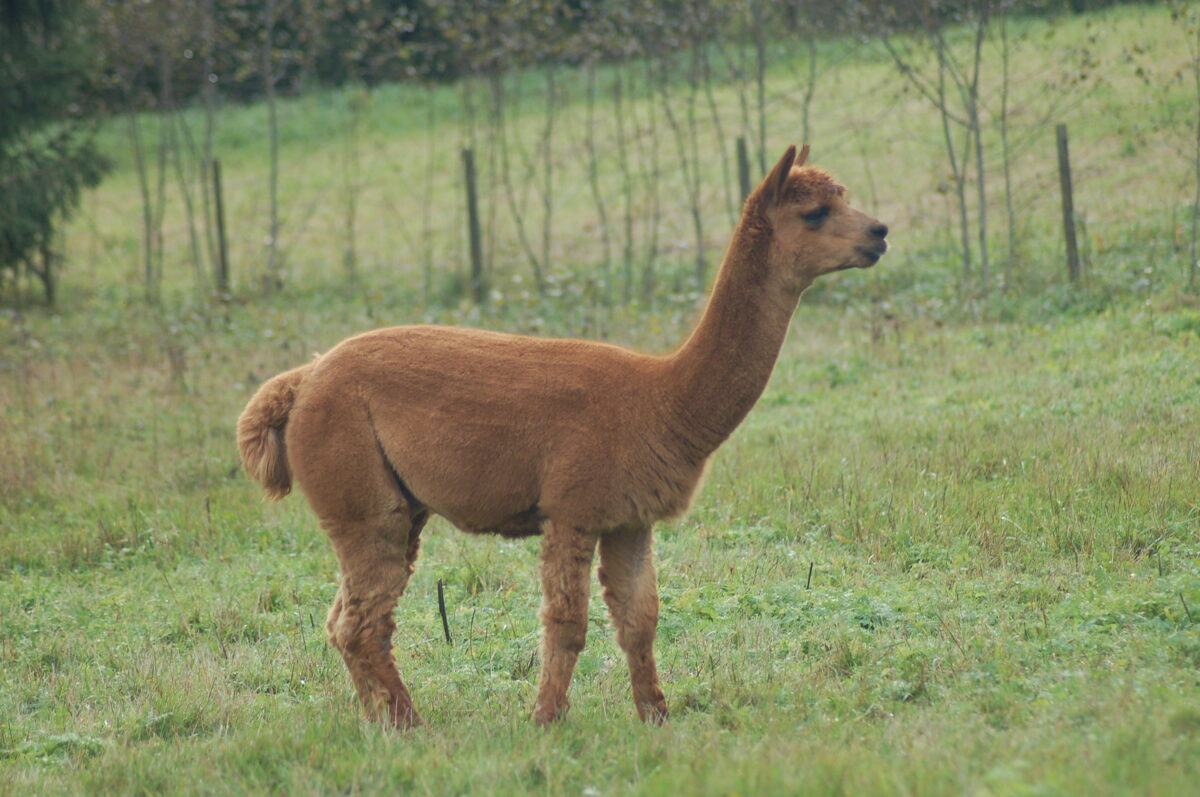 Freddie has been at the centre of a lot of the fighting going on in the boys paddock. A visit from the vet is looking very likely.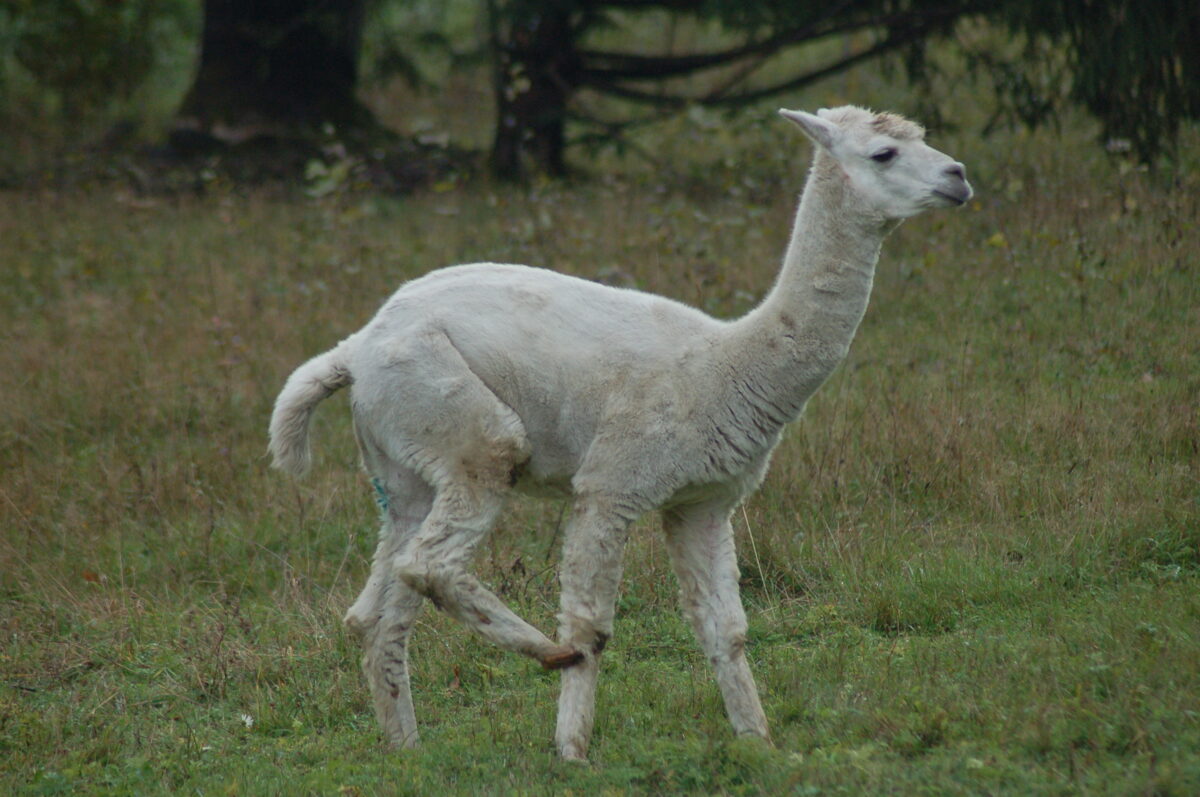 Tellus having a scratch. He was 14 this year and was one of our first alpacas and is Lolly's dad. We were beginning to think he could only produce male offspring. He has fathered seven offspring and the first six were all male, so you can guess how surprised we were when Lolly appeared.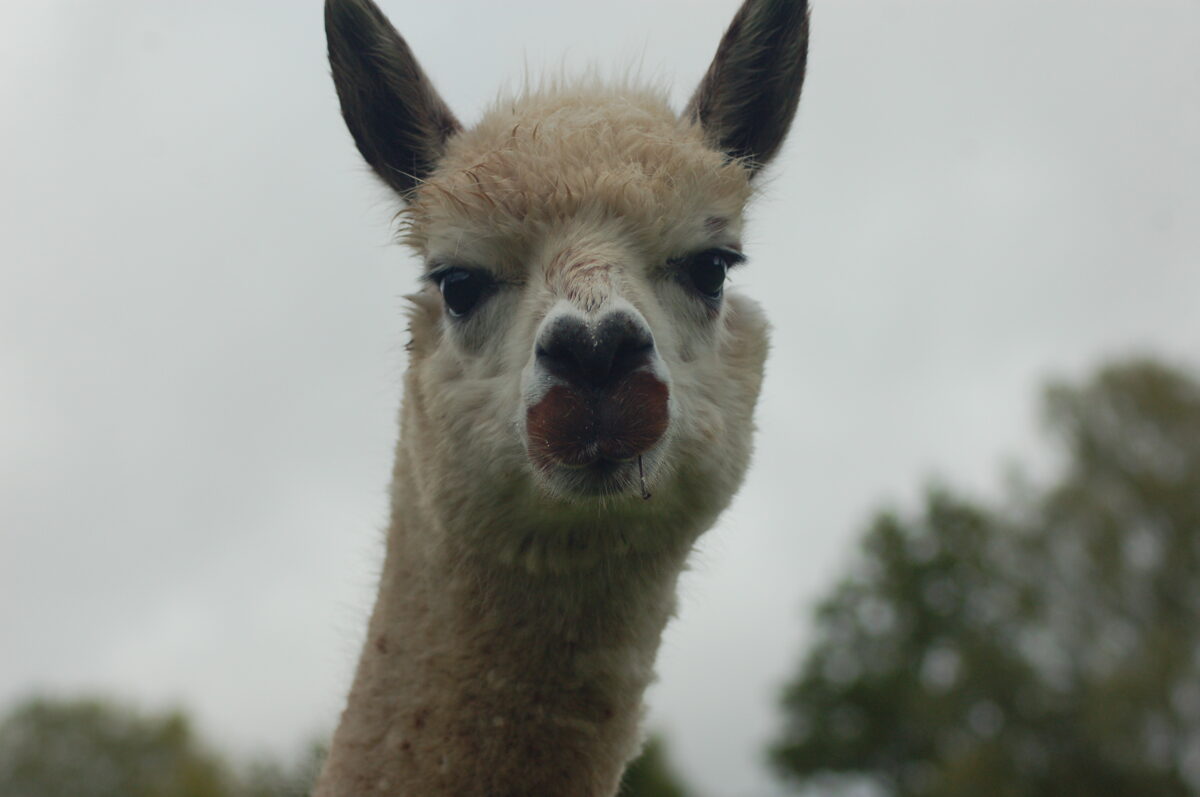 Jakobs has forgiven me for cutting his fighting teeth. Gosh they were sharp.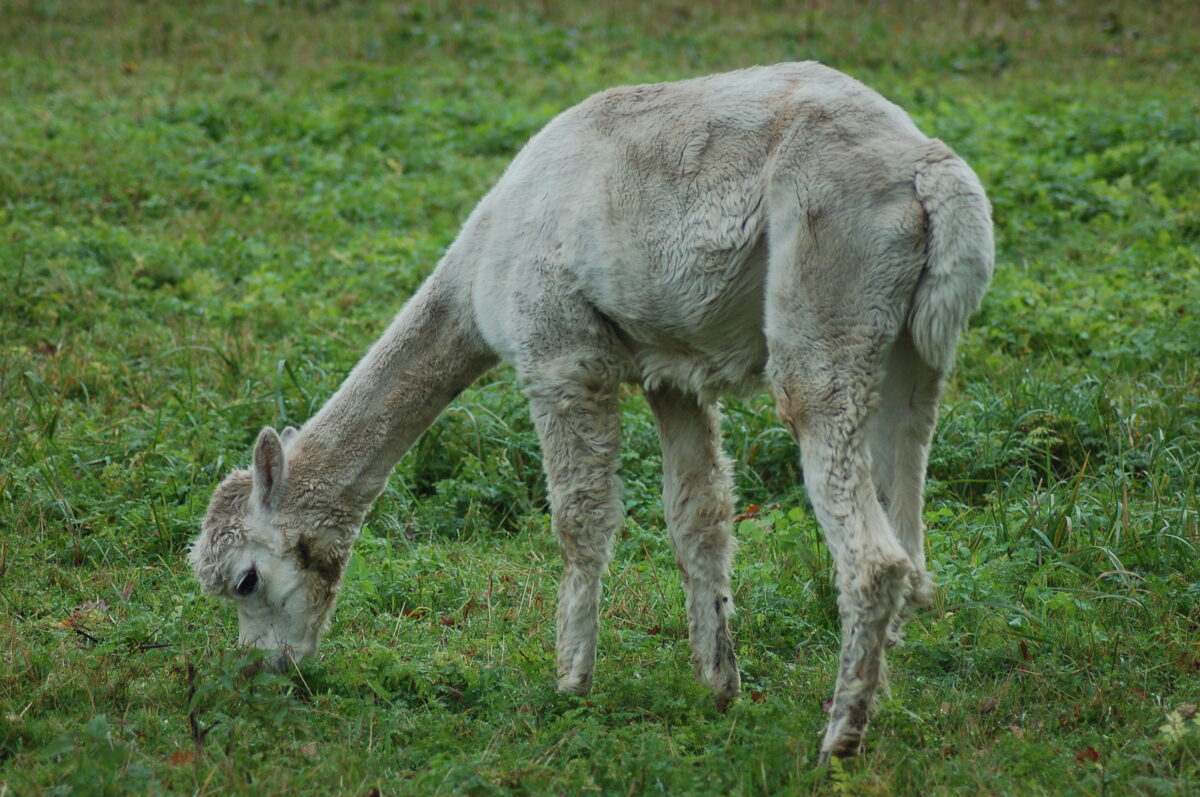 Turbjørn has been a bit uncomfortable just lately. He has a dislocated neck and I am not sure if he has been knocked by one of the others during the fighting sessions, or tried to move out of the way too quickly or its the cold weather.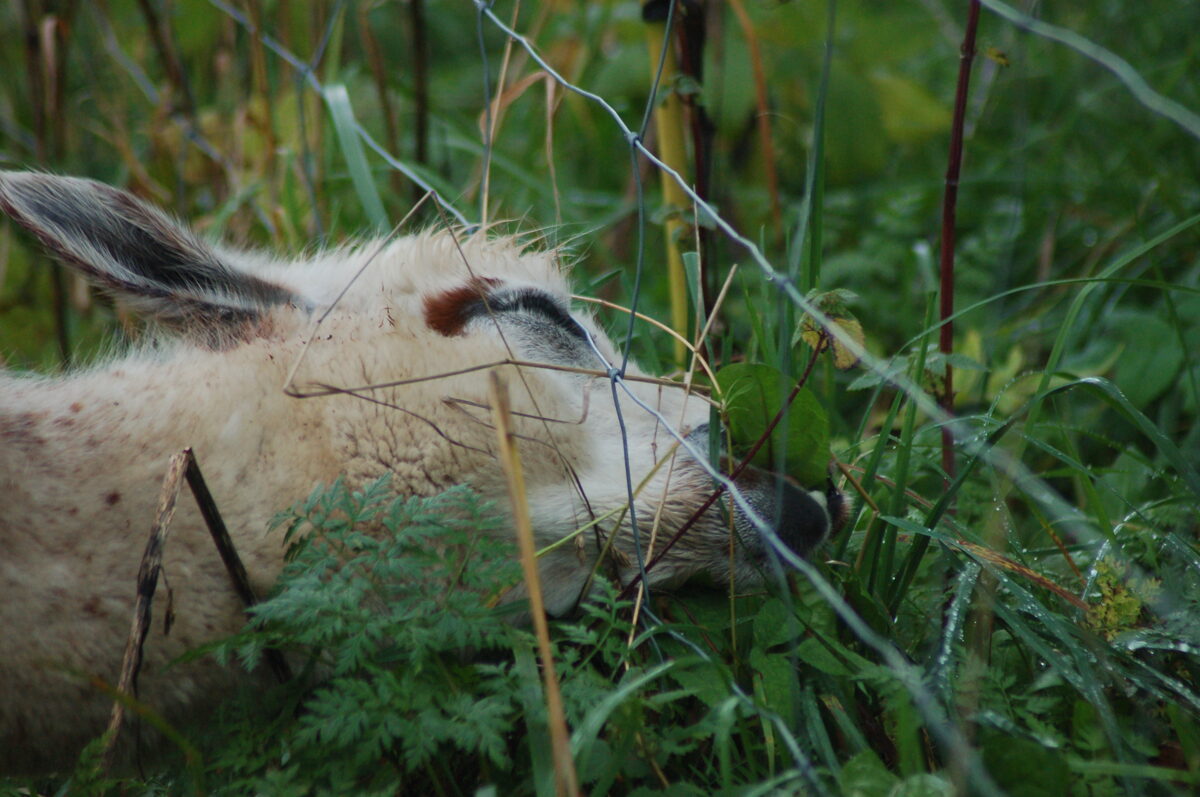 Jakobs eating through the fence, at least he doesn't put his whole head through and lean on the fence like his mum Mari.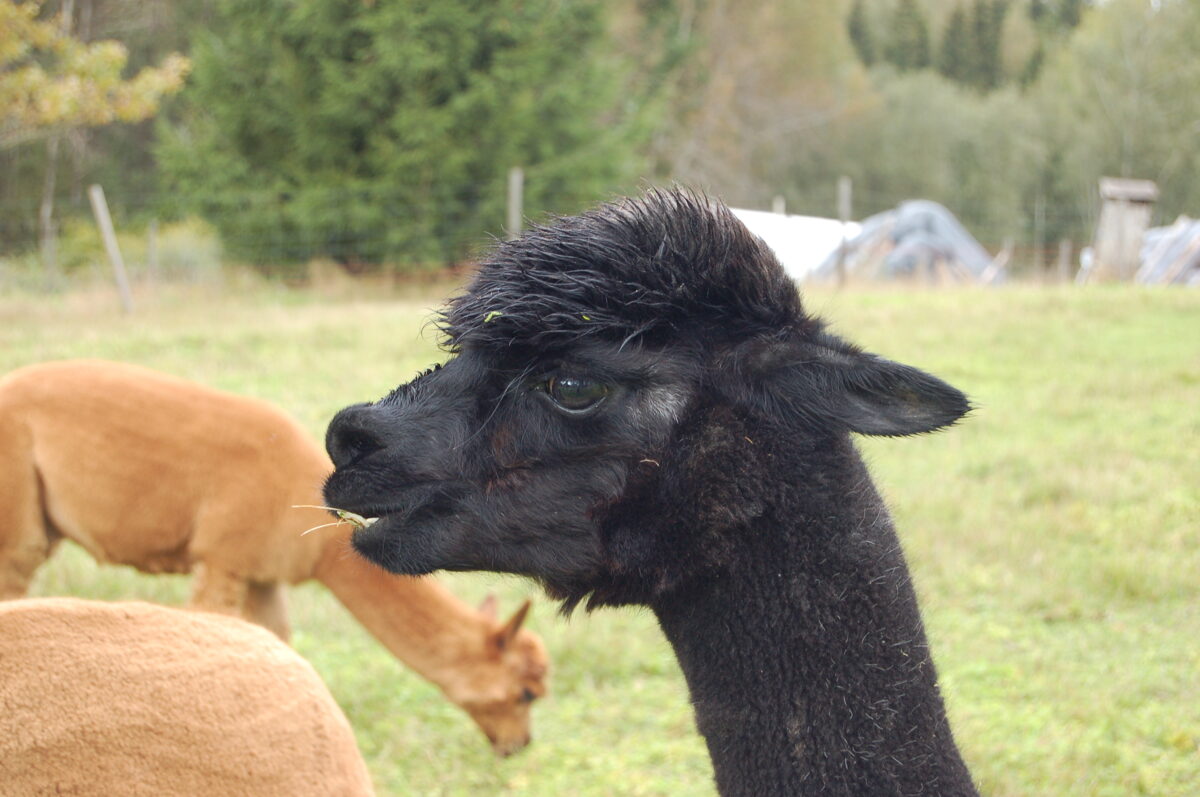 Even MrP has been joining in with the fighting.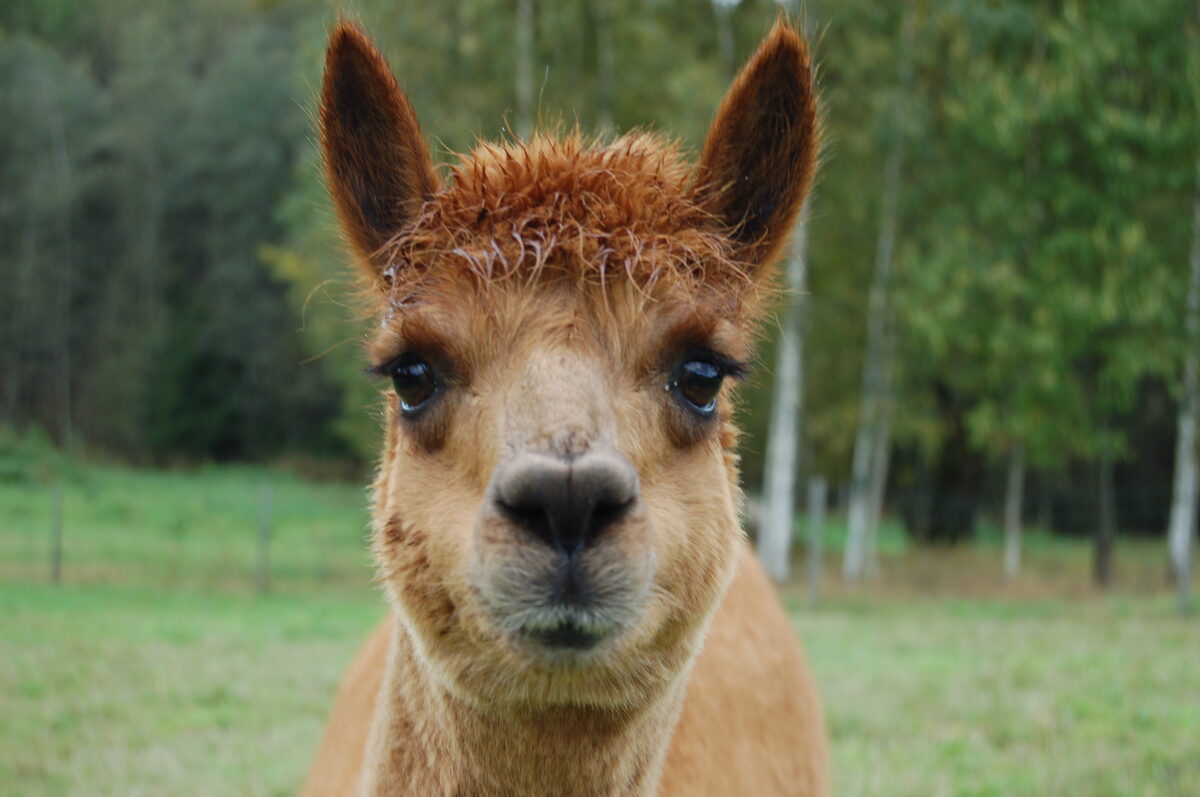 Looks like Freddie has just heard the news about a possible visit from the vet.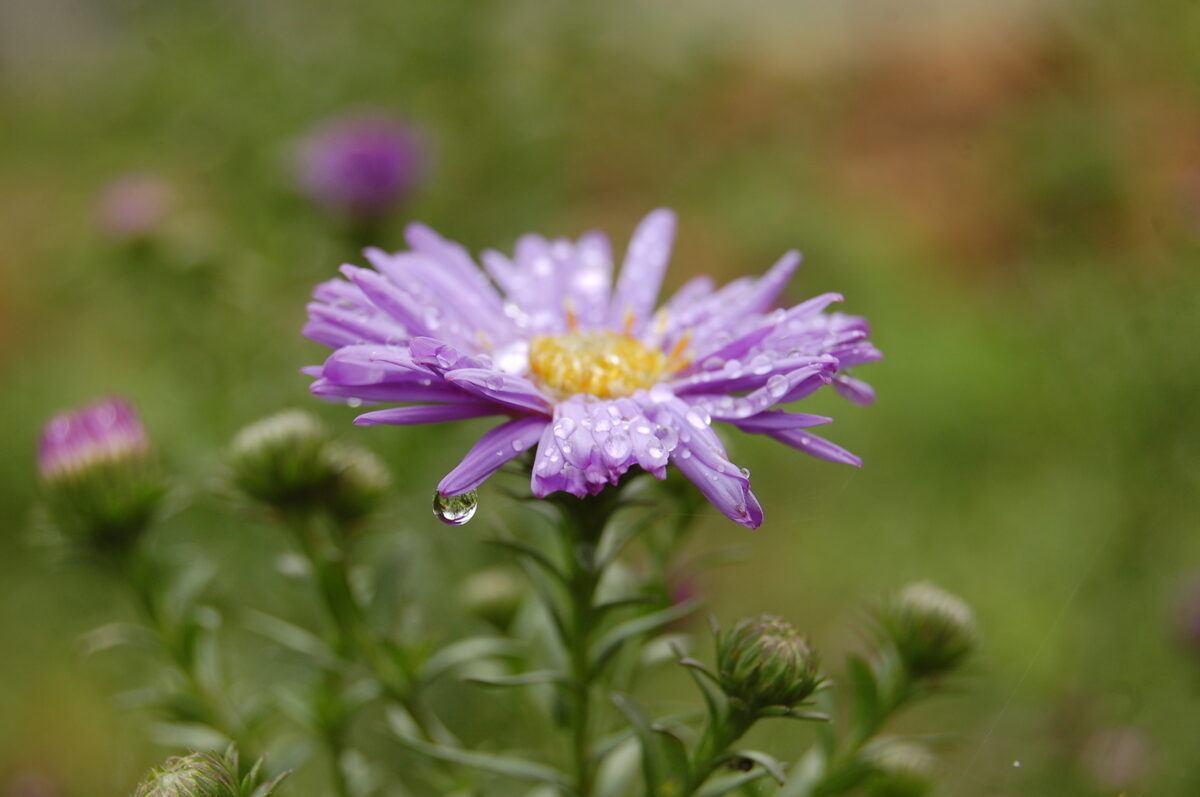 Michaelmas Daisy covered in the morning dew.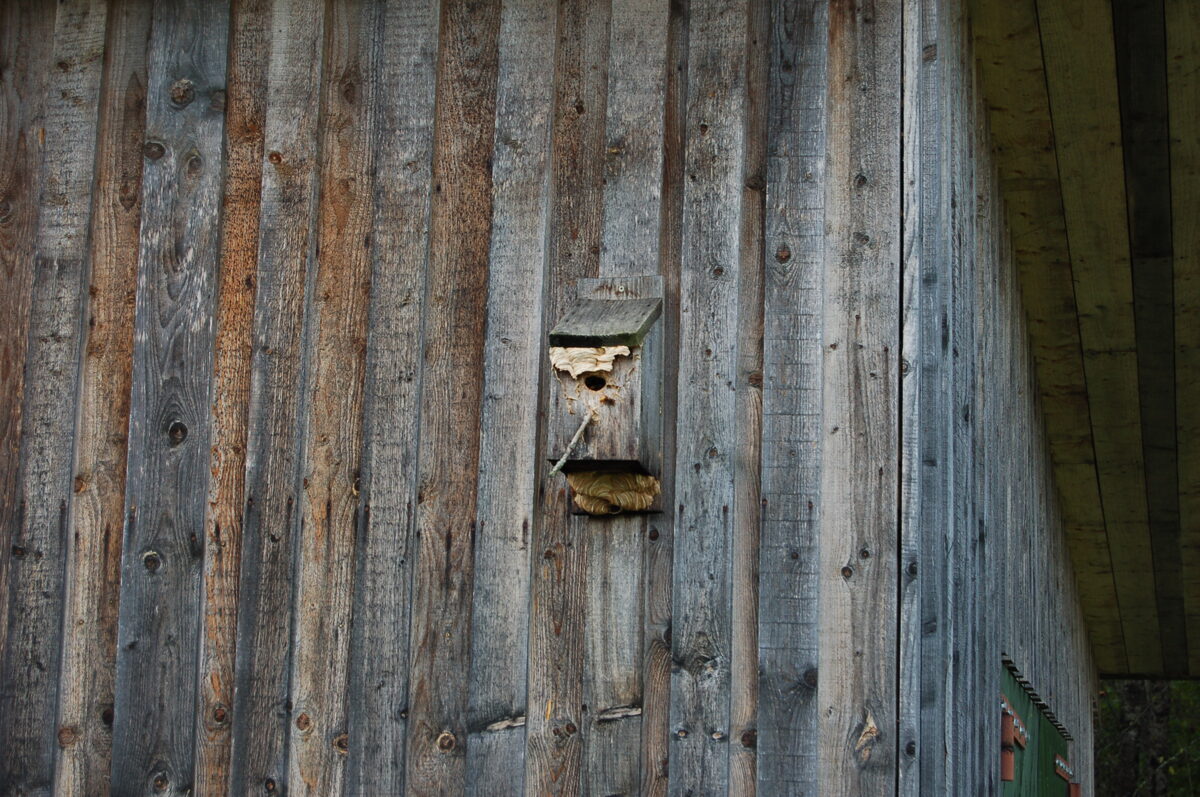 The birds nest on the barn was becoming a wasps nest, I tried fastening a hose pipe to a long stick and poking the end in to try and wash them out and ended up getting stung just above my eye. In the end the cold weather has put a stop to them.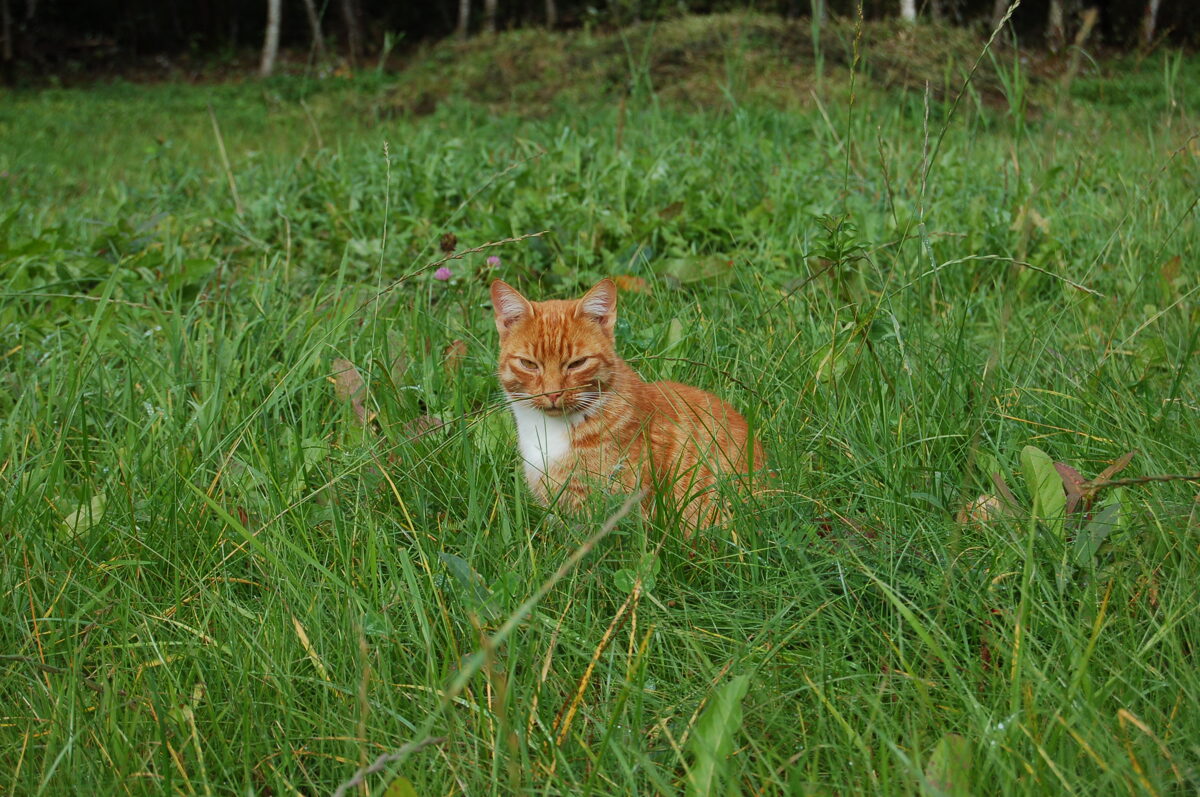 Ginger Tom, can disappear for a few days then demands attention when he comes back.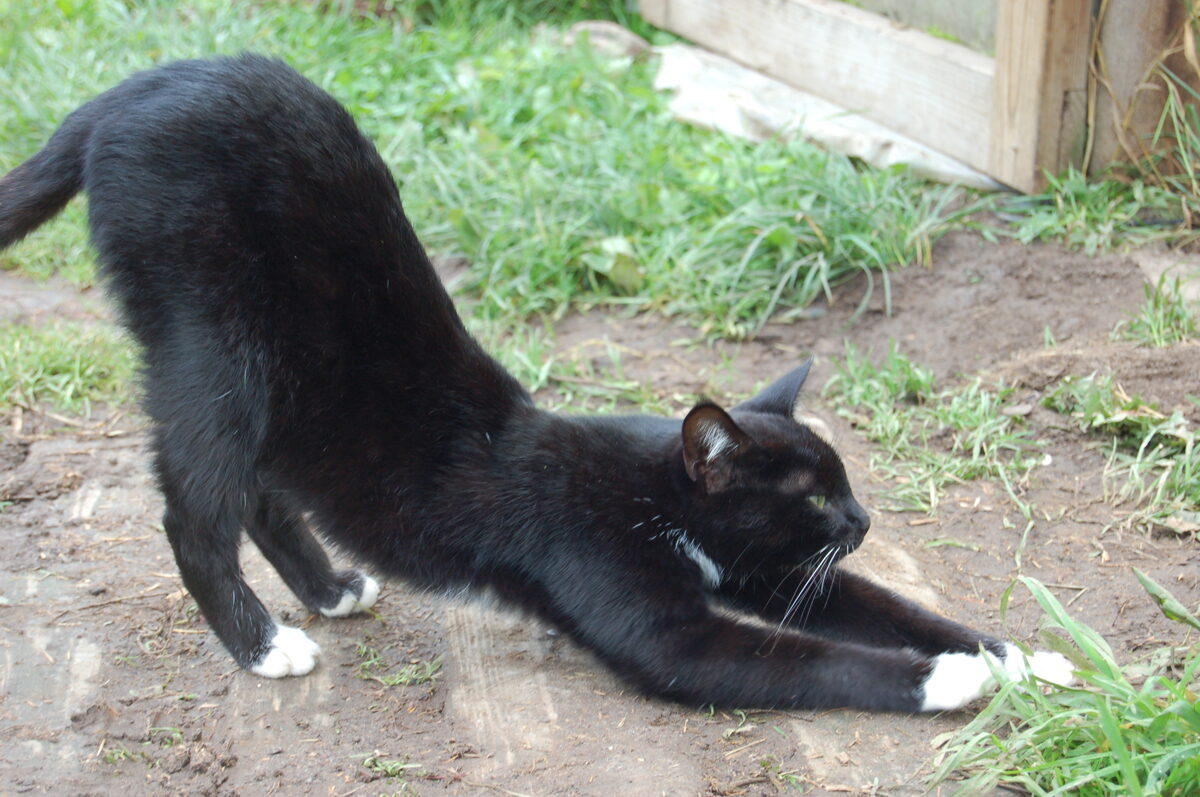 The alpacas now even have the cats doing yoga, Rocket Ron at full stretch.

No comments
Leave a reply