Normality resumed (whatever normal is....)
If you have been following these posts you will have seen we narrowly averted a disaster when all the boys escaped and went to see the girls. In the end we did manage to separate them after much running around, man handling alpacas and a lot of quick thinking. Just to cap it all once the girls were locked away, we let the boys calm down a bit before we tried to get them back into their paddock. So they thought it was fun to go and walk through and roll on some current bushes nearby, snapping some of them…….thanks boys.

That afternoon I moved the girls fence to up on the oak tree hill behind their house and the following day moved the boys fence to field in completely the opposite direction to the girls. They were now around 300m apart with a small hill in the way. All good, well that's what I thought…..On Thursday I had to take the car for some new tyres and while I was away Joanna rang to say that Josefs and Jakobs had escaped, got in with the girls and Josefs had possibly mated with Mari, but now they were back in their own paddock. I had thought of mating Josefs with Mari, it would be a very interesting combination but not just yet, don't really want babies in October next year. I am surprised Mari let him as she really doesn't like him. It was probably my fault as I had forgotten to switch on the charger unit for the electric fence that morning, when I checked I did find a snapped fence post which they may have snapped or it may have been a wild animal passing through during the night. So now every morning I religiously check both the girls and boys fence chargers are working and the fences are intact. Two pallets of fence posts are in the process of being ordered so in the spring the boys and girls will have a more permanent fence separating them.
Yesterday was toenail cutting for the girls except Chanel and Ilvija who will get done another day. Lolly did extremely well for her first time and even Vanessa just stood there with Joanna holding her. The boys will get done this coming weekend.
With the longer nights I have been able to get the spinning wheel back out and start spinning again, it is very relaxing. I love to think that you can watch the fleece growing on the alpaca, then shear if off, clean it, card it and then spin into hanks of wool which can then be made into a hat, gloves or something else. In the photos you can see some that I did earlier this year from George and Josefs for someone who wants to knit a sweater, can't wait to see the finished product.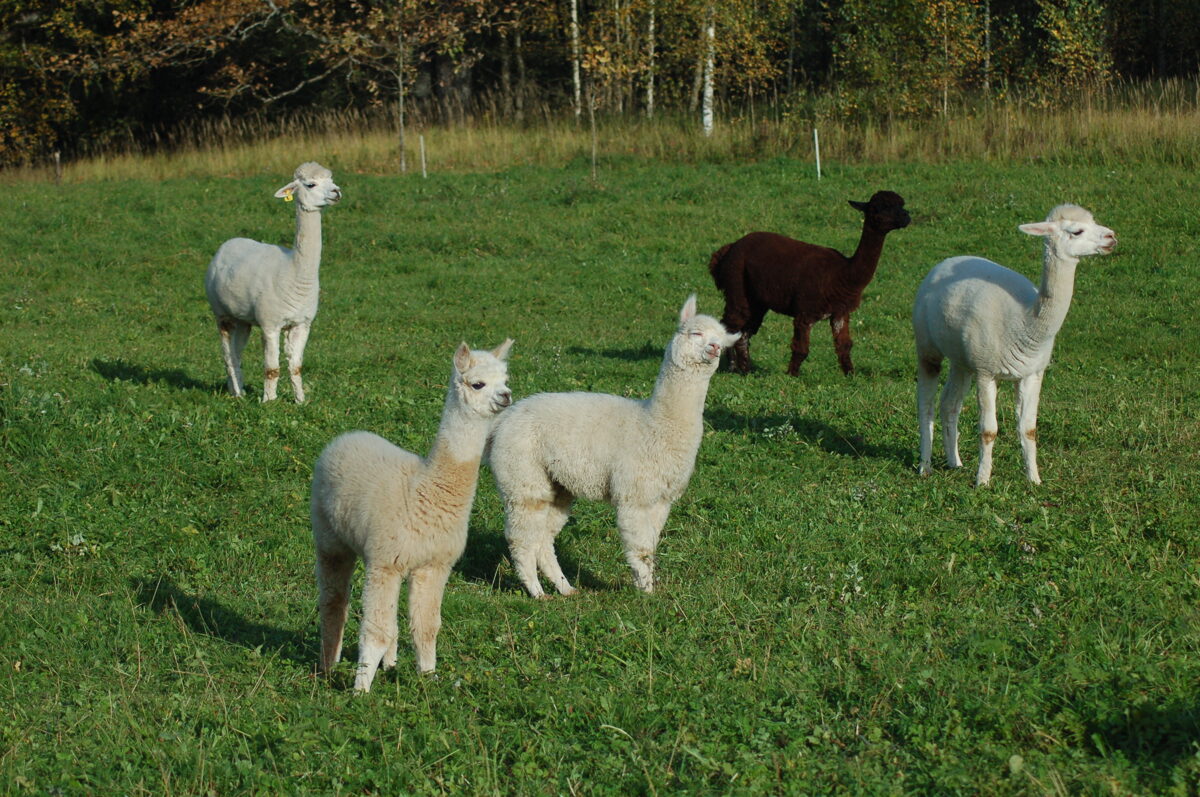 There is always one who has to mess about in the group photo.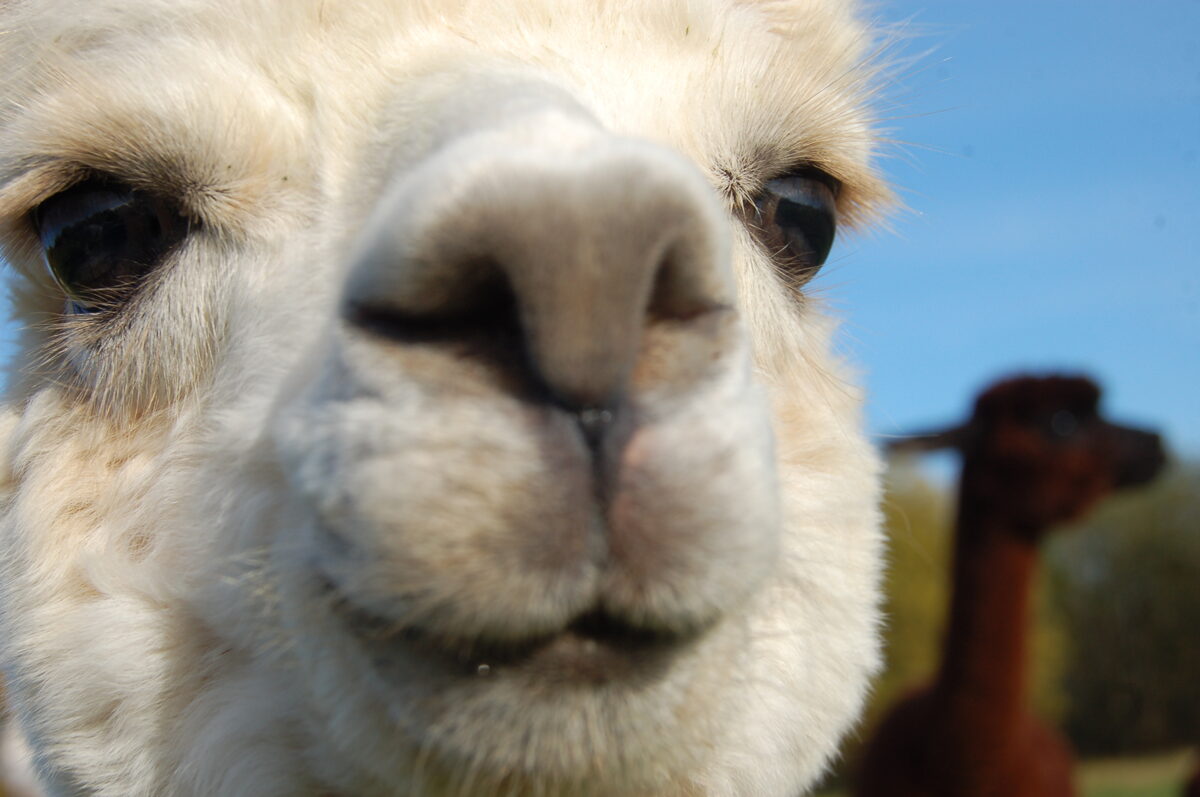 Hello Lolly, yes it's milk time....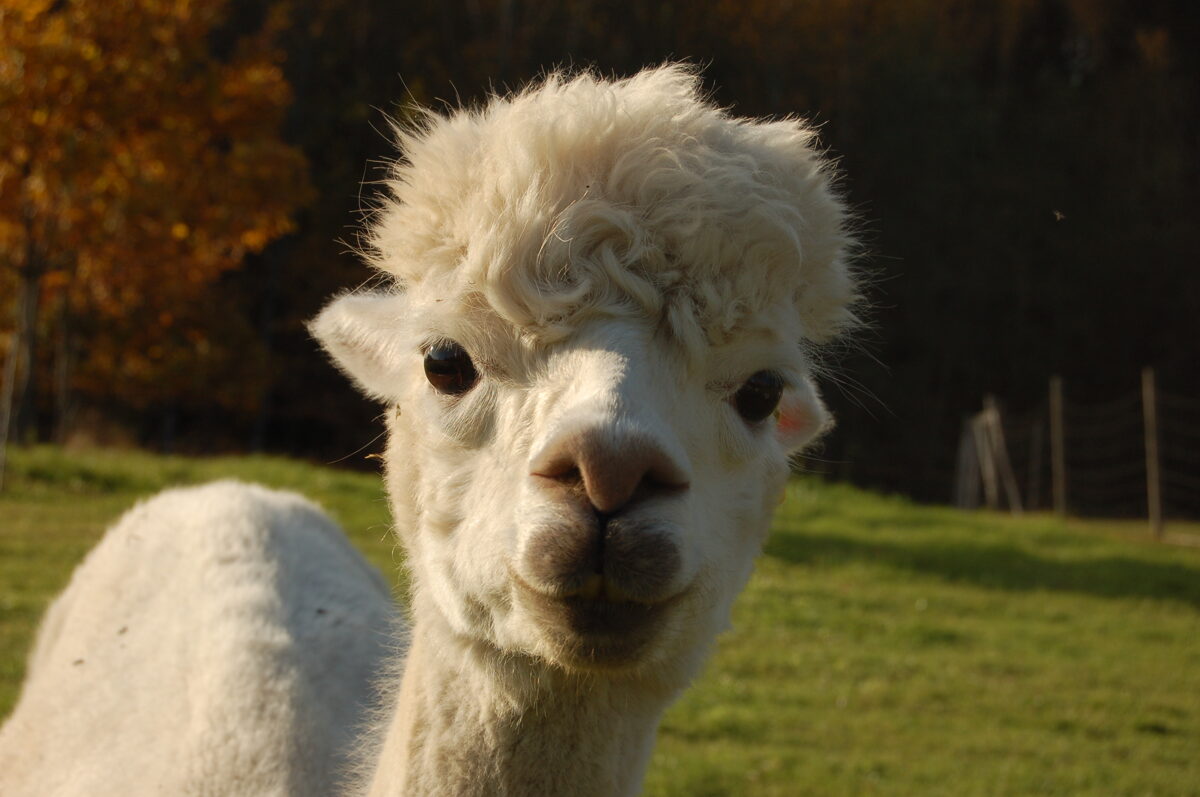 Amanda has really changed since having Karla, she will now come up and eat from my hand and will even let me stroke her.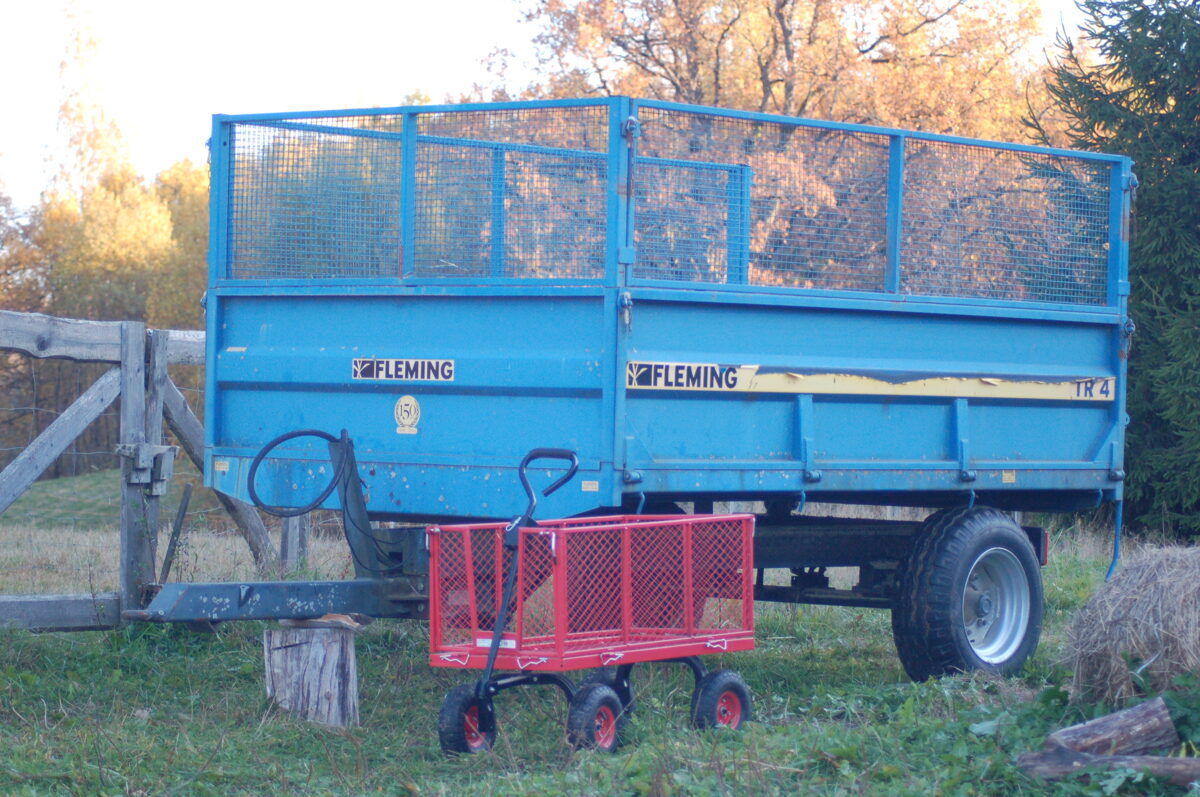 And I didn't even know she was pregnant.......would love to know who the father is.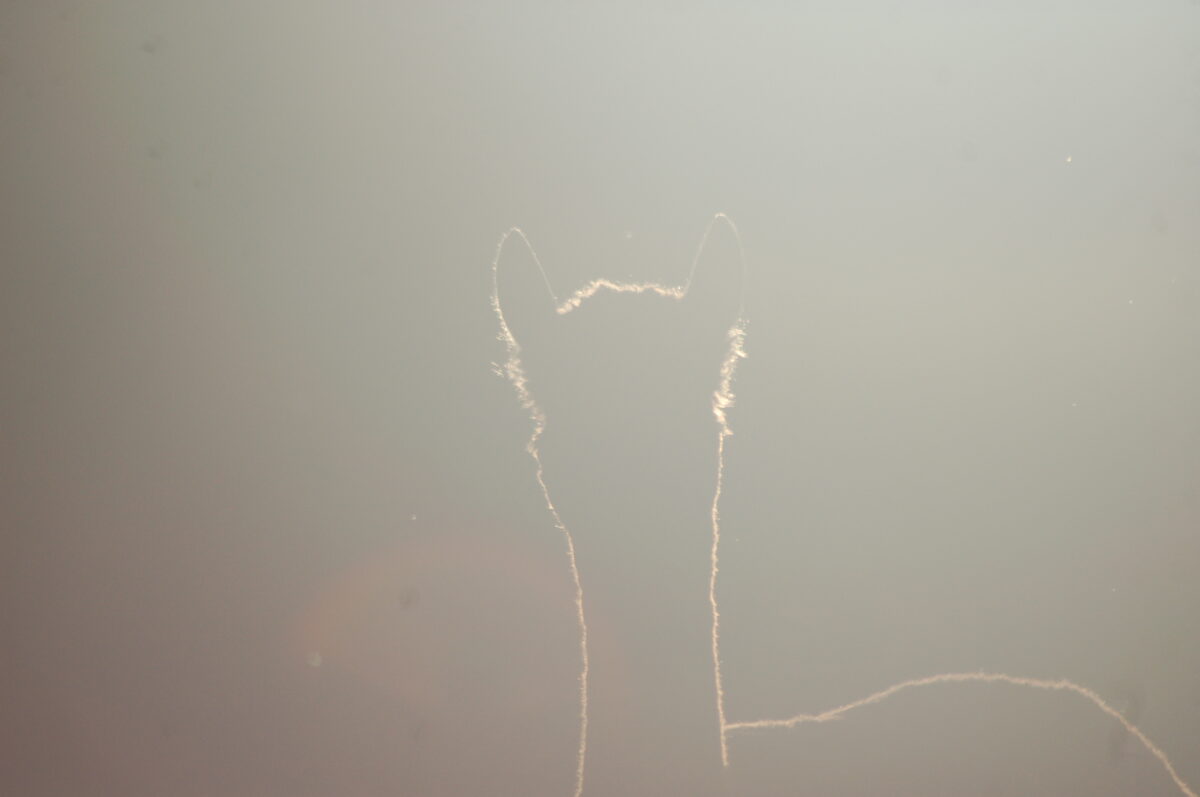 Chanel appearing out of the early morning mist..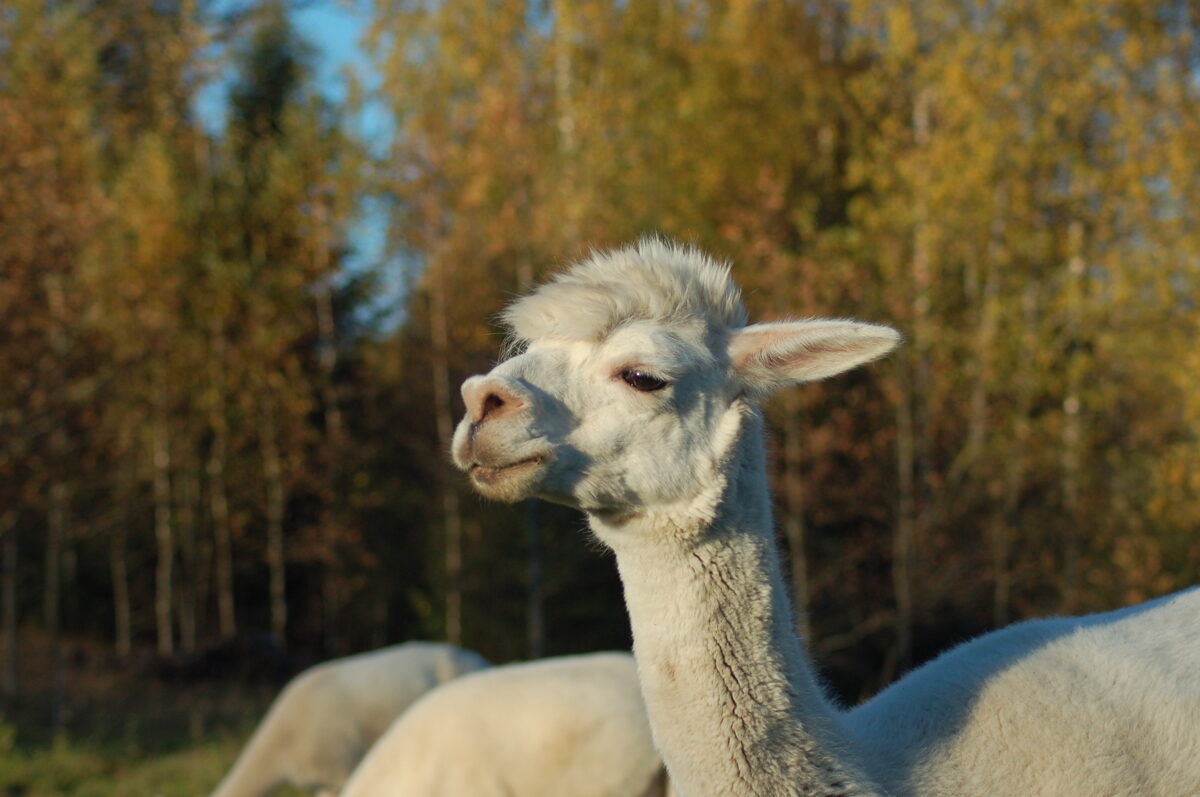 Vanessa has that same "we are not amused" look that her mum Veronica had.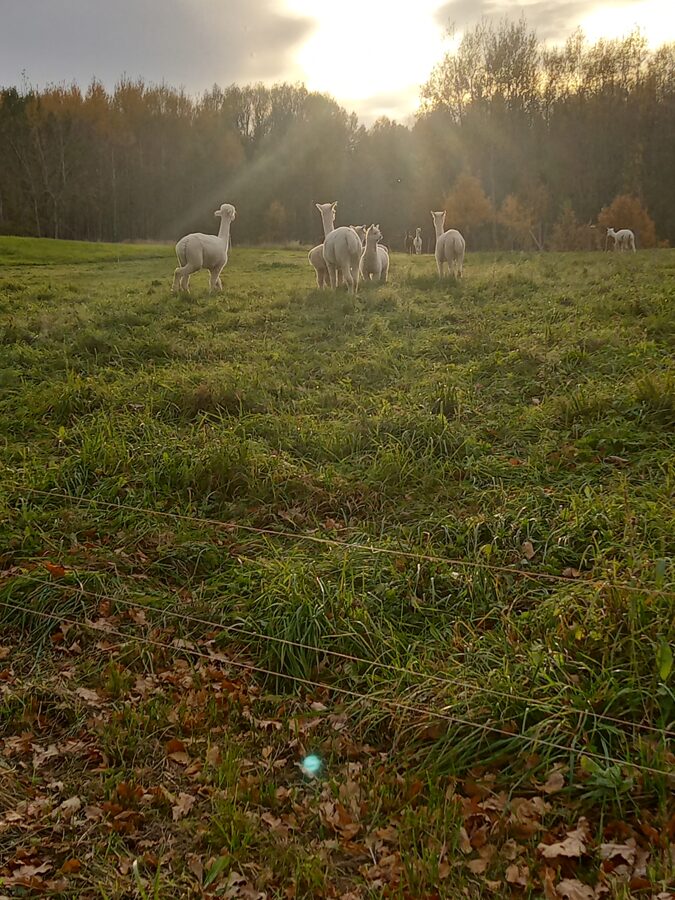 The girls making there way back to the paddocks as the sun goes down.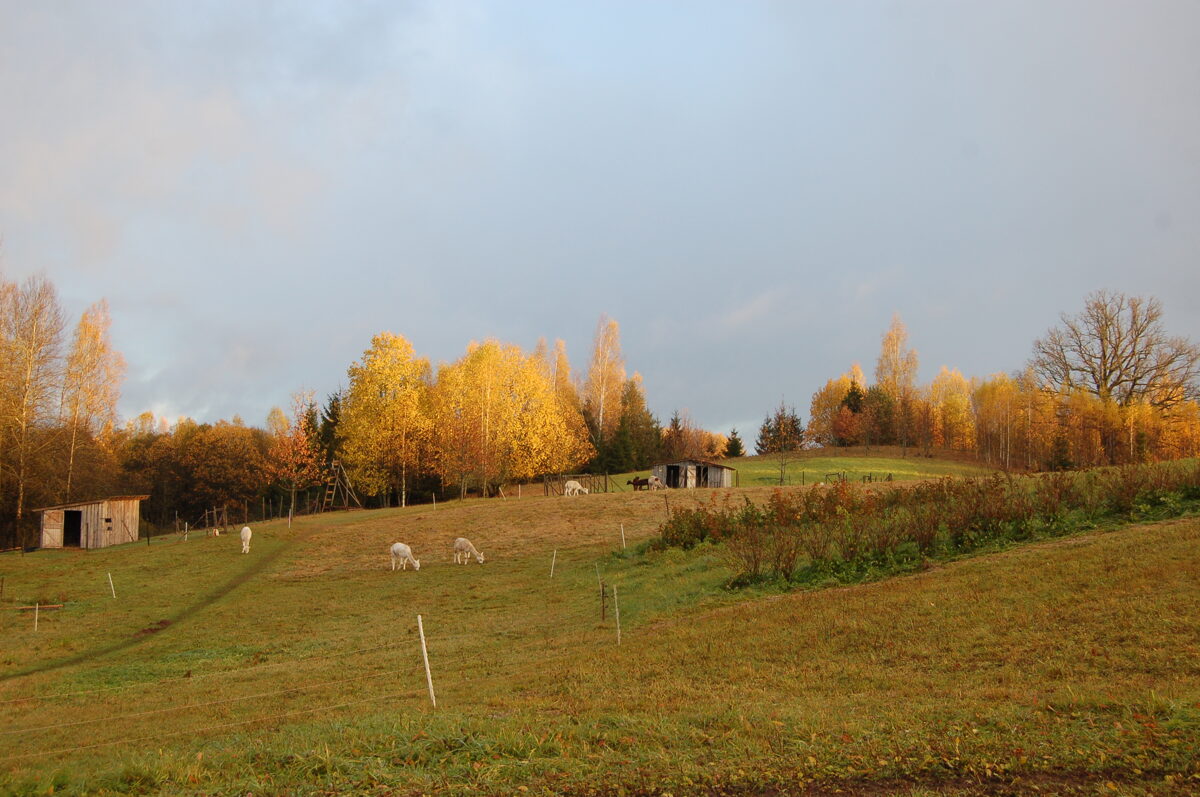 This was from a few weeks ago, a very Autumnal look. It has changed a bit since then, the strong winds have removed all the leaves.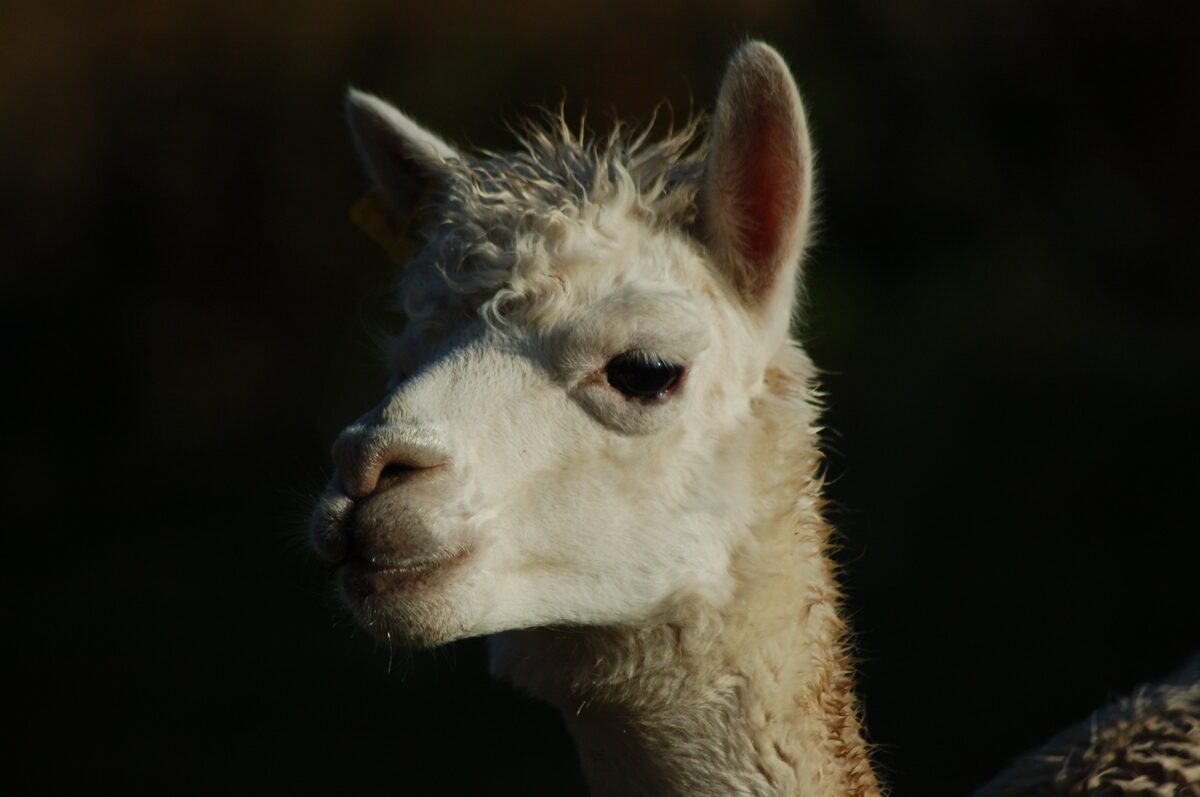 I would suspect that Silla is not pregnant with her "sitting down" performance when the boys escaped and got in with the girls.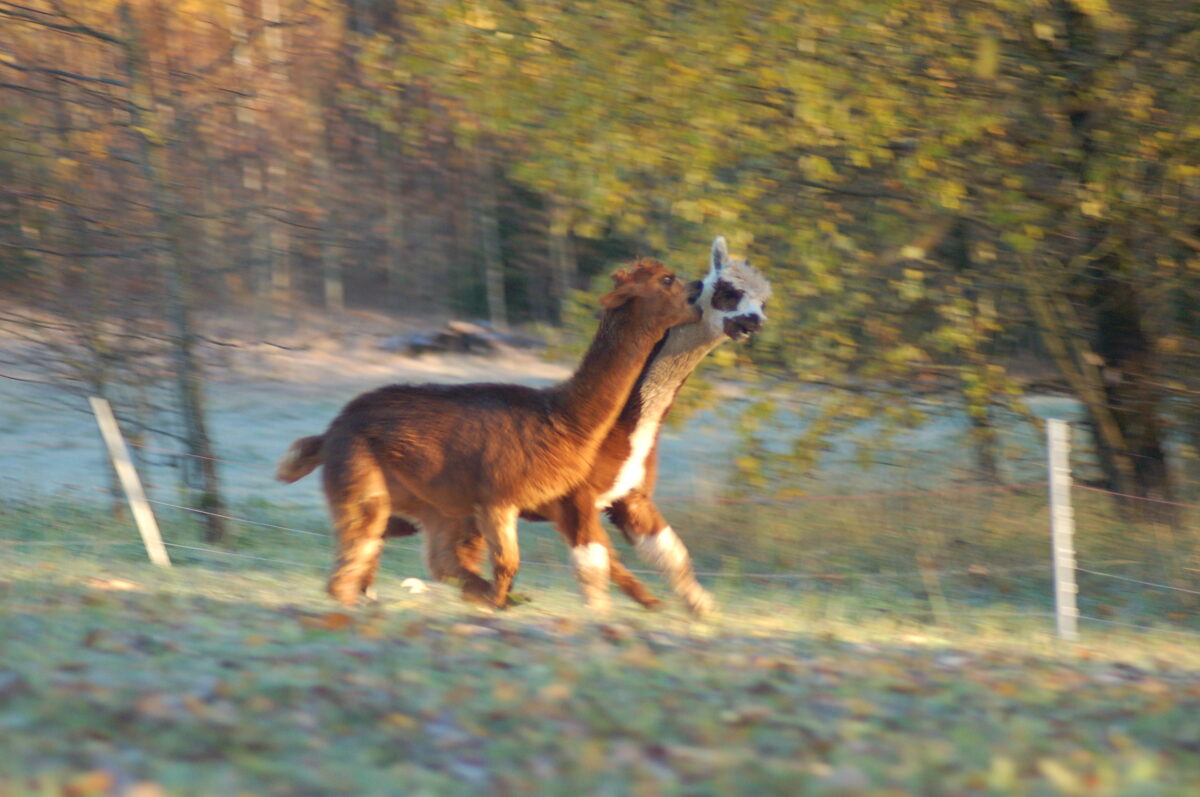 The boys have been fighting a lot just lately, here are Josefs and Freddie.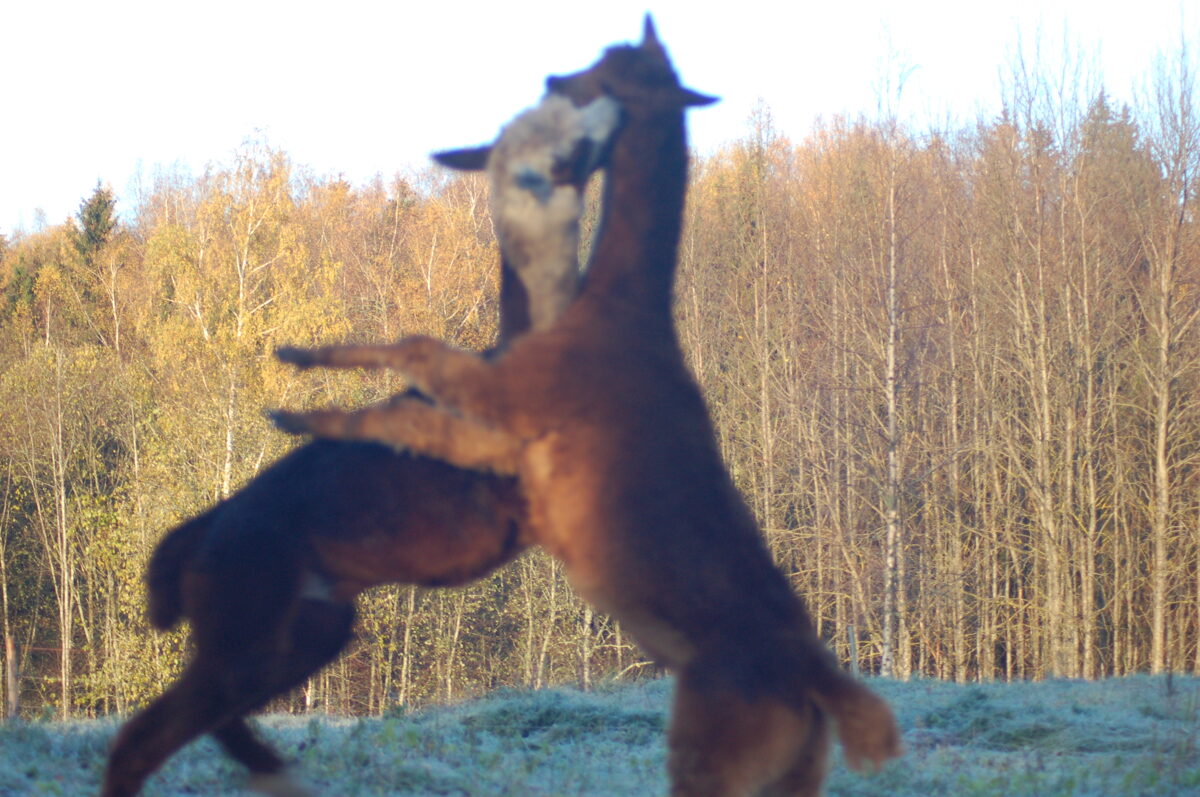 It was getting a bit serious.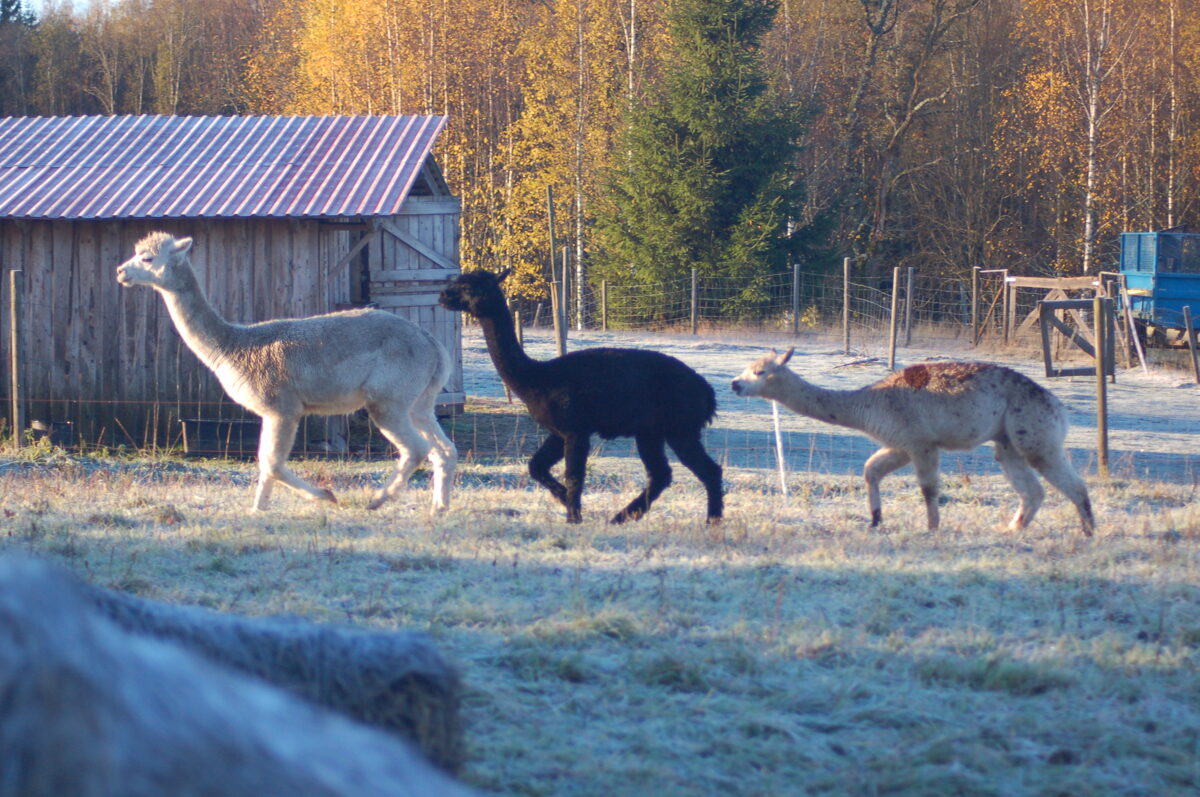 Brencis, Mr.P. and Jakobs chasing each other.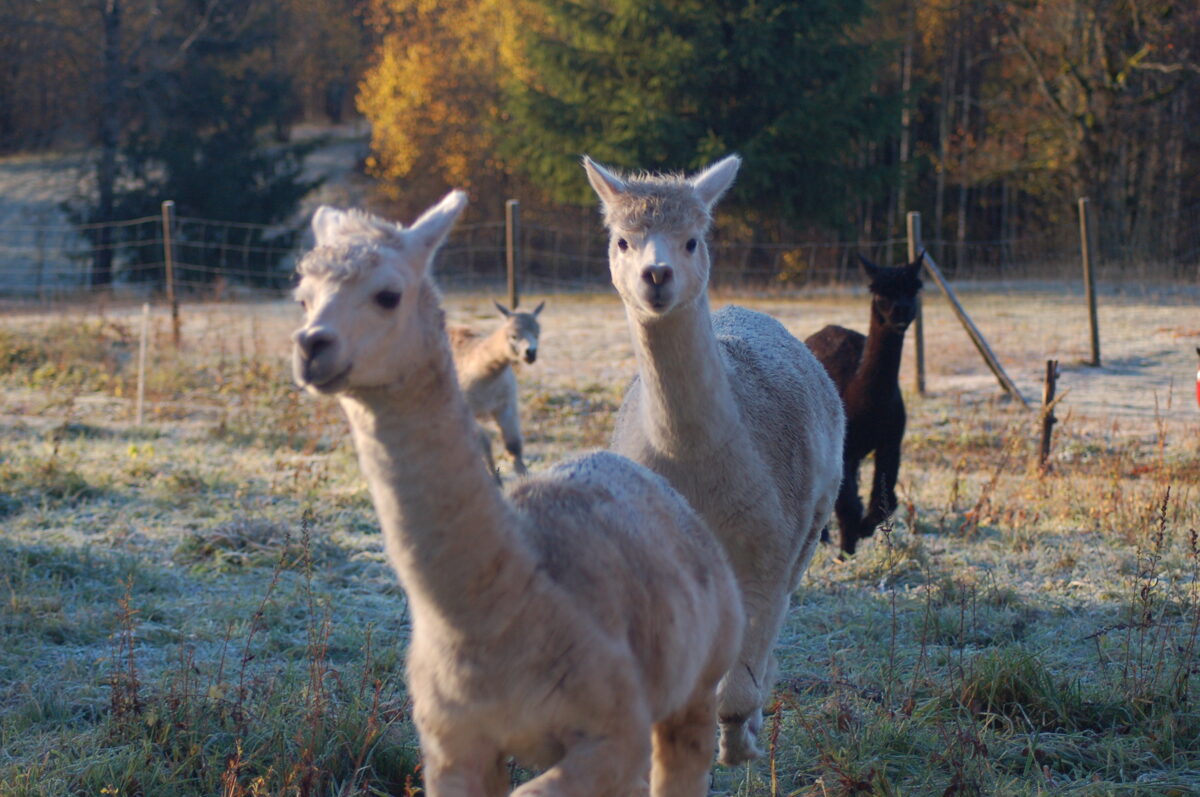 The boys were chasing each other and came towards me at full speed. Good job I trust them.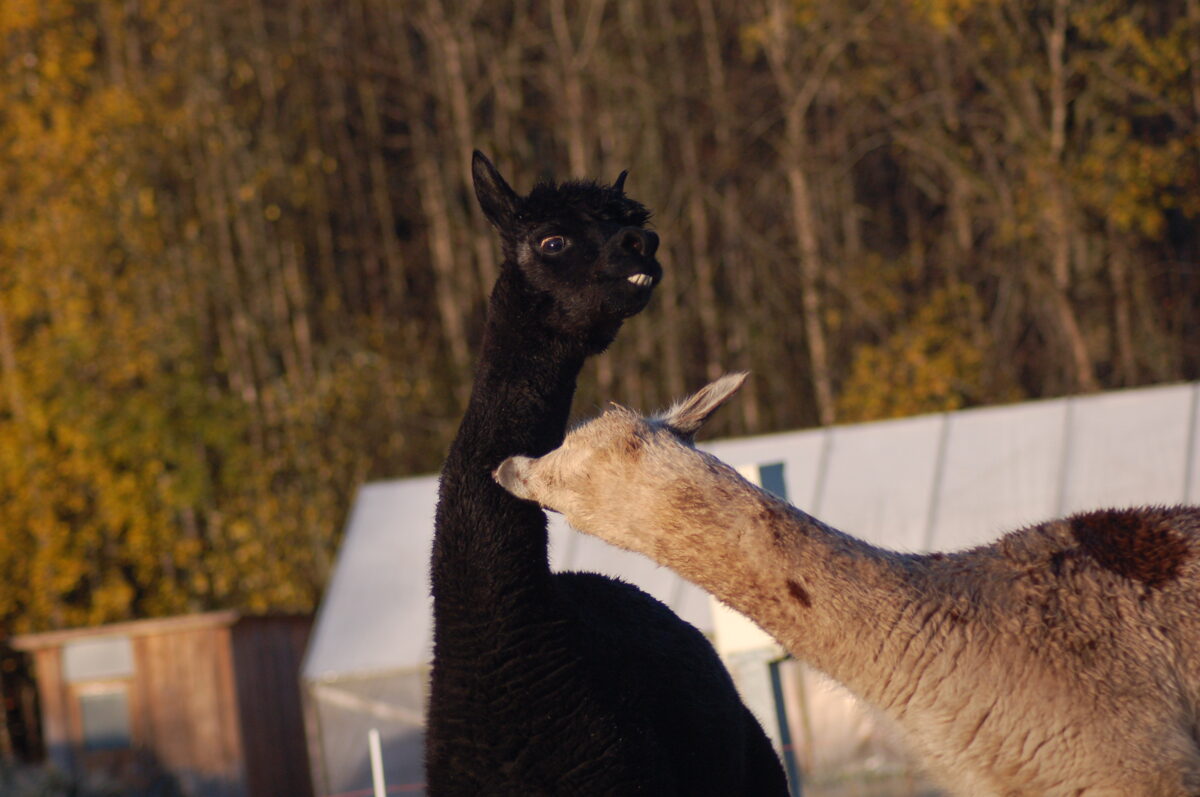 Jakobs the vampire, it's a good job we cut his fighting teeth.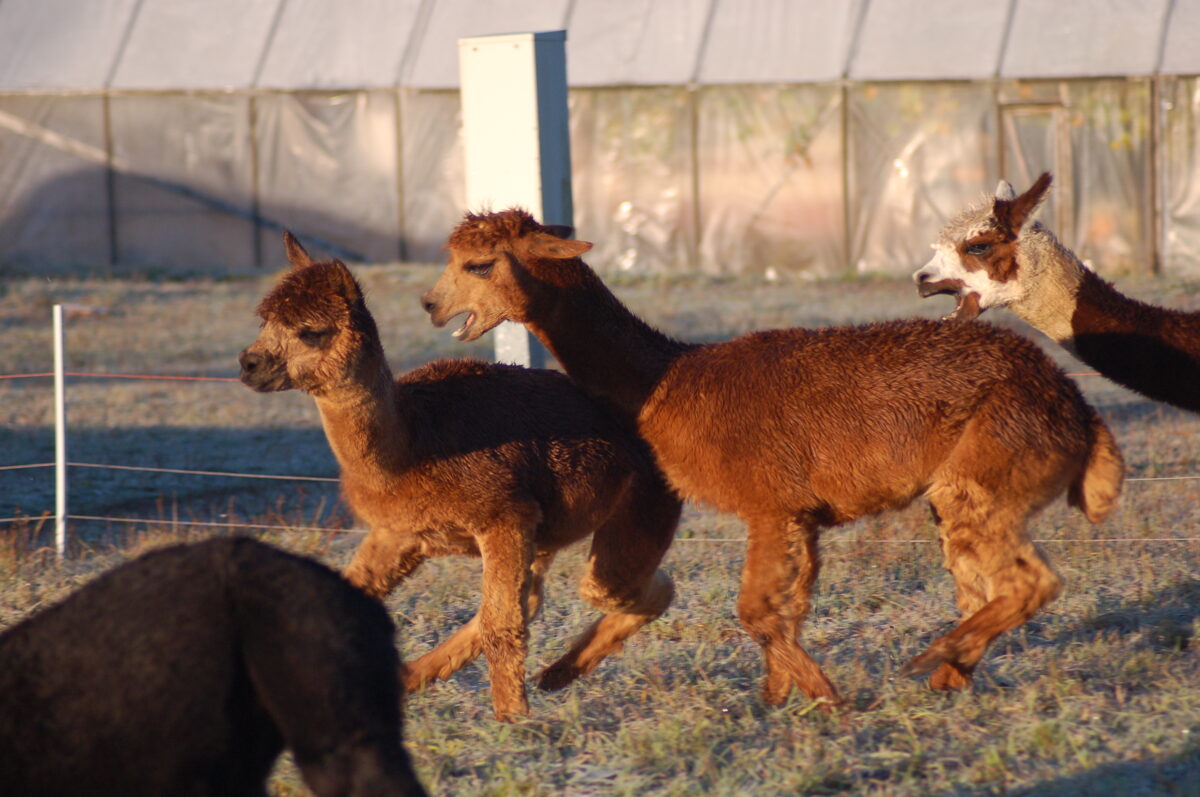 Now Freddie is after George with Josefs joining in.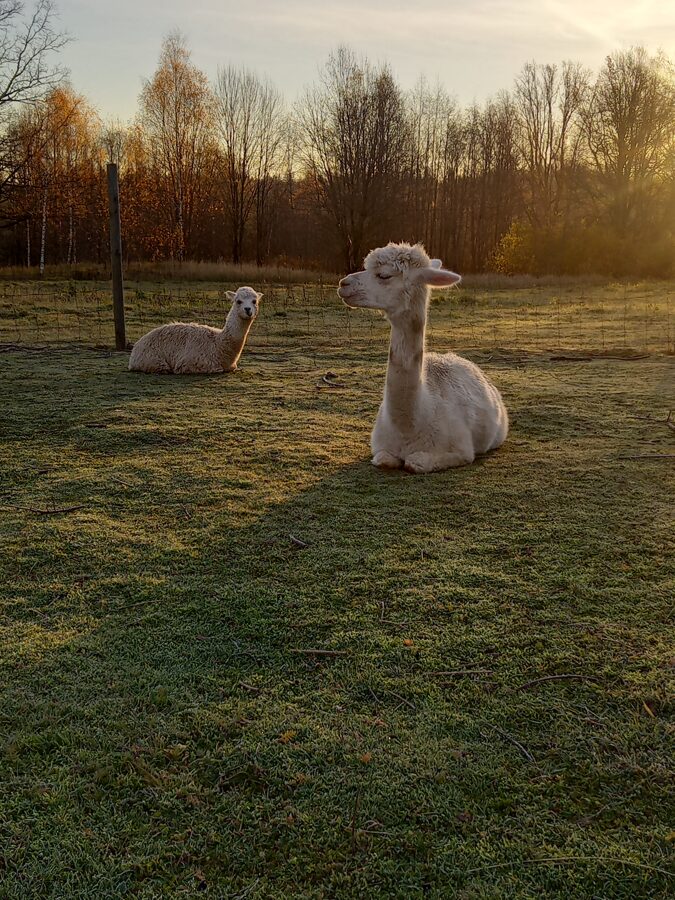 At least all is peaceful in the girls paddock. Aggie and Lolly watching the sunrise.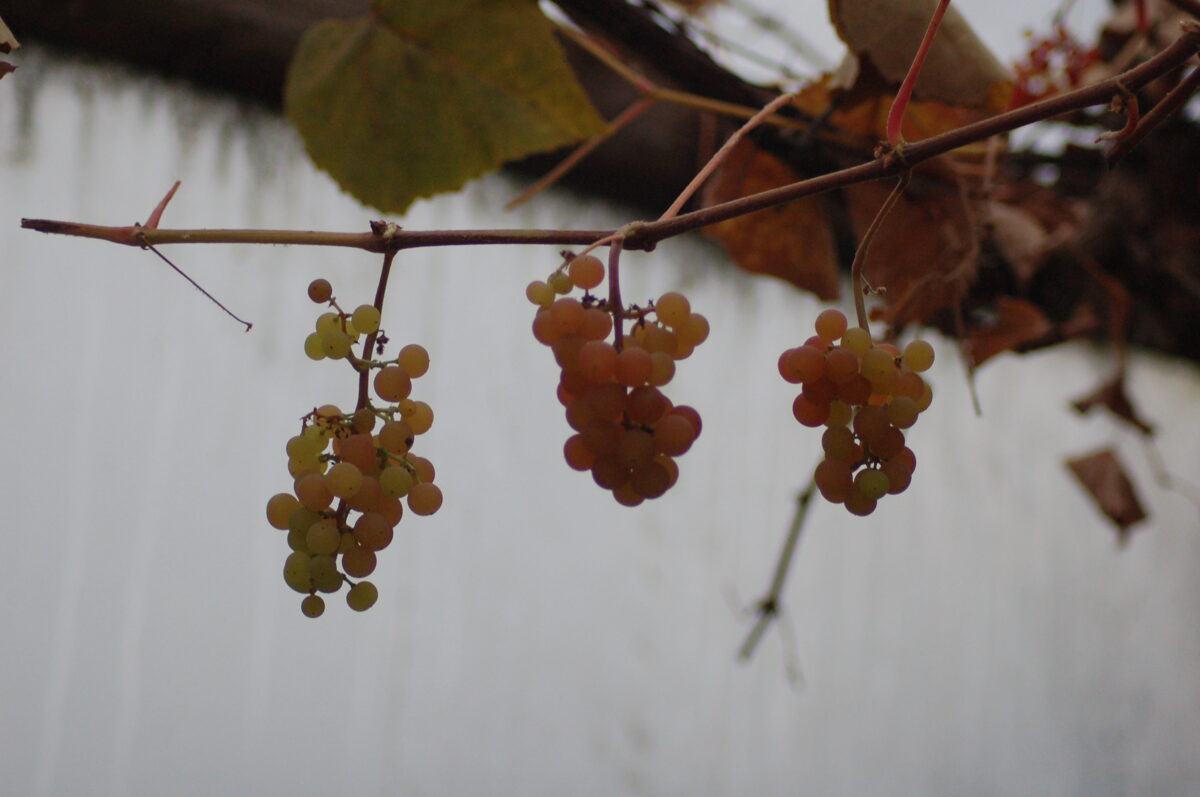 Never had a second batch of grapes before. The main crop have all gone and I wasn't expecting this second batch to ripen.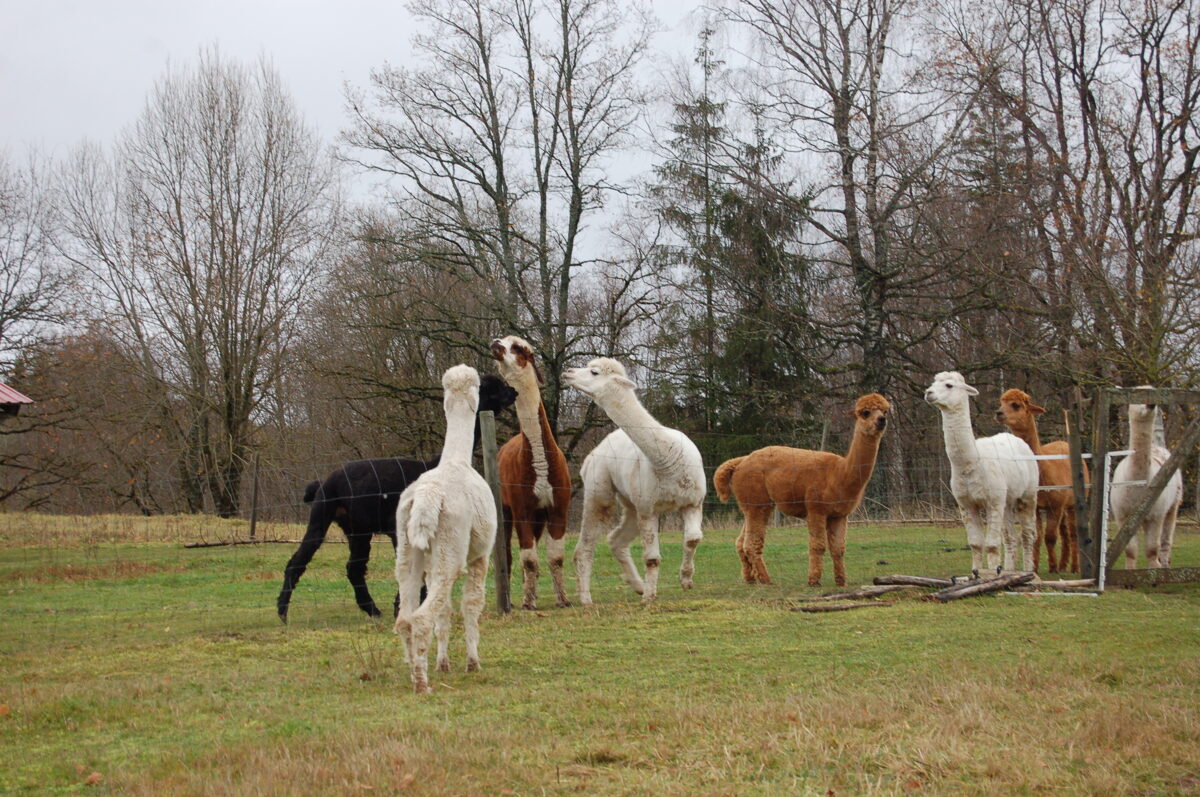 Poor Josefs is getting it from all sides, Brencis, Turbjørn and Mr.P are all spitting at him.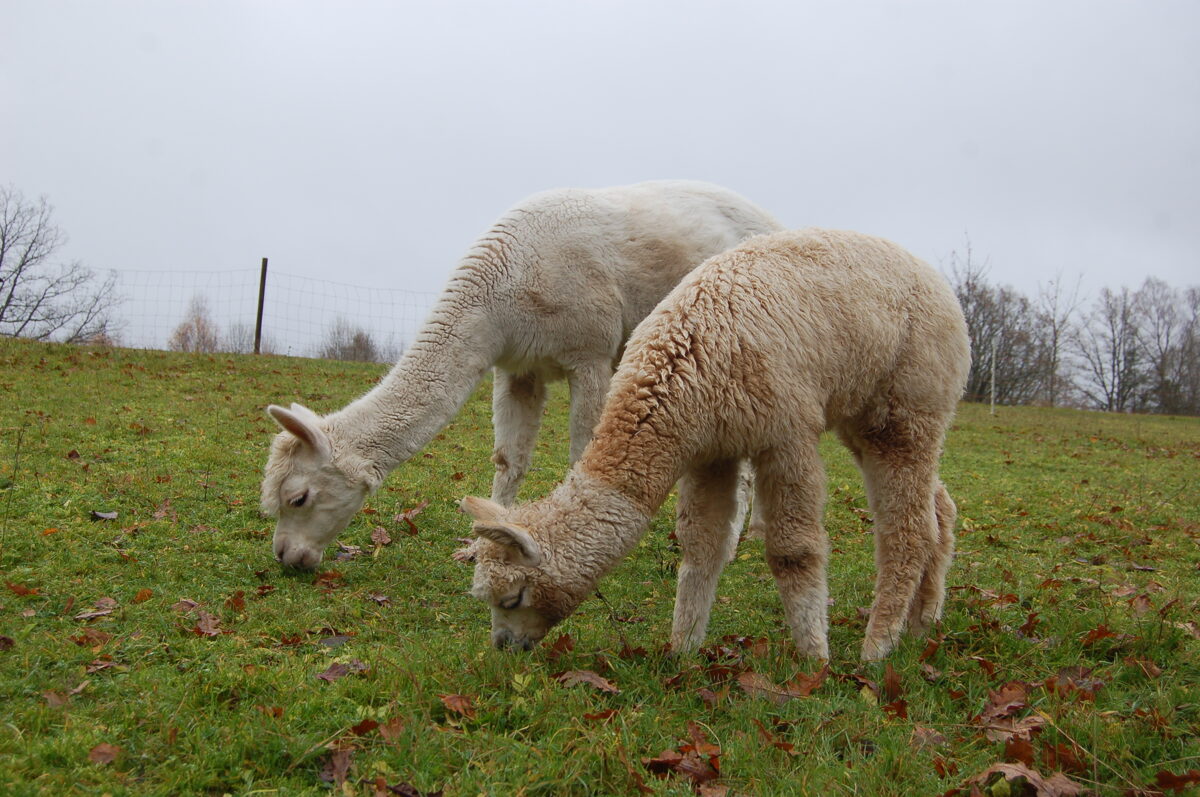 Our oldest female Vanessa (13yrs) and our youngest female Lolly (3months) eating side by side.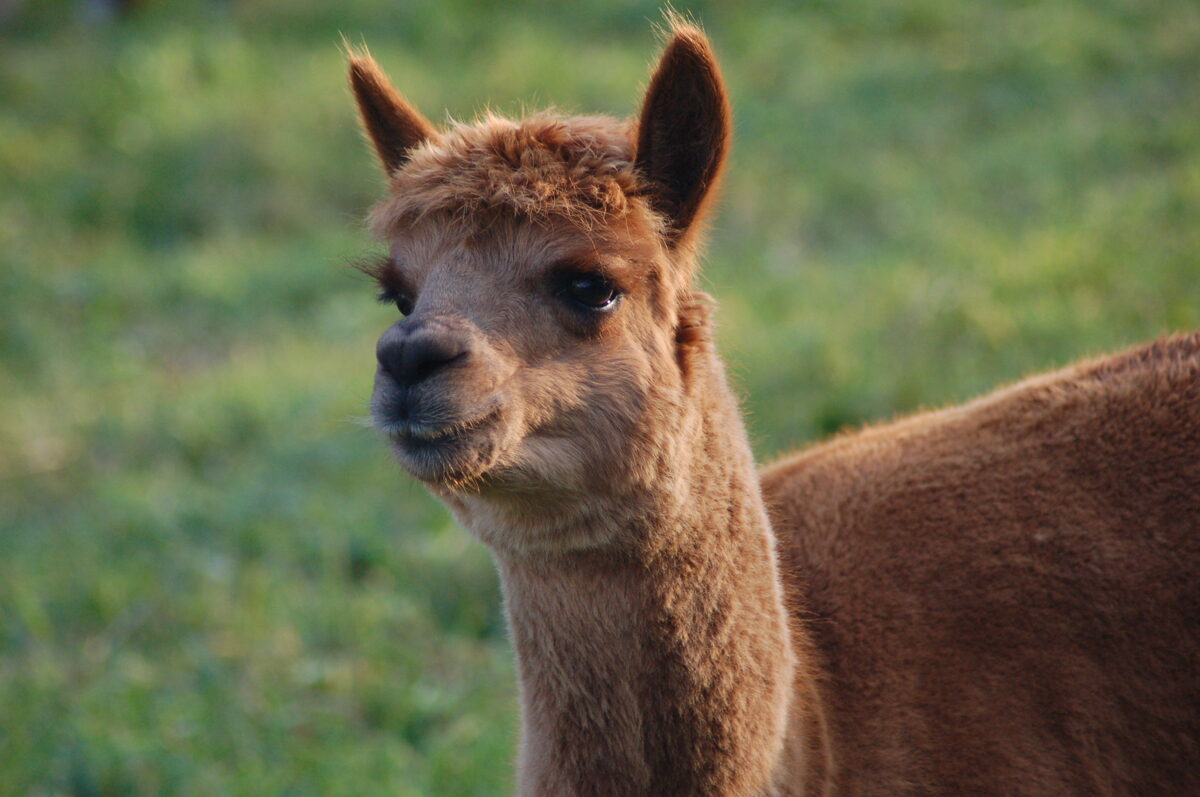 A rare moment when Freddie is not chasing the others around.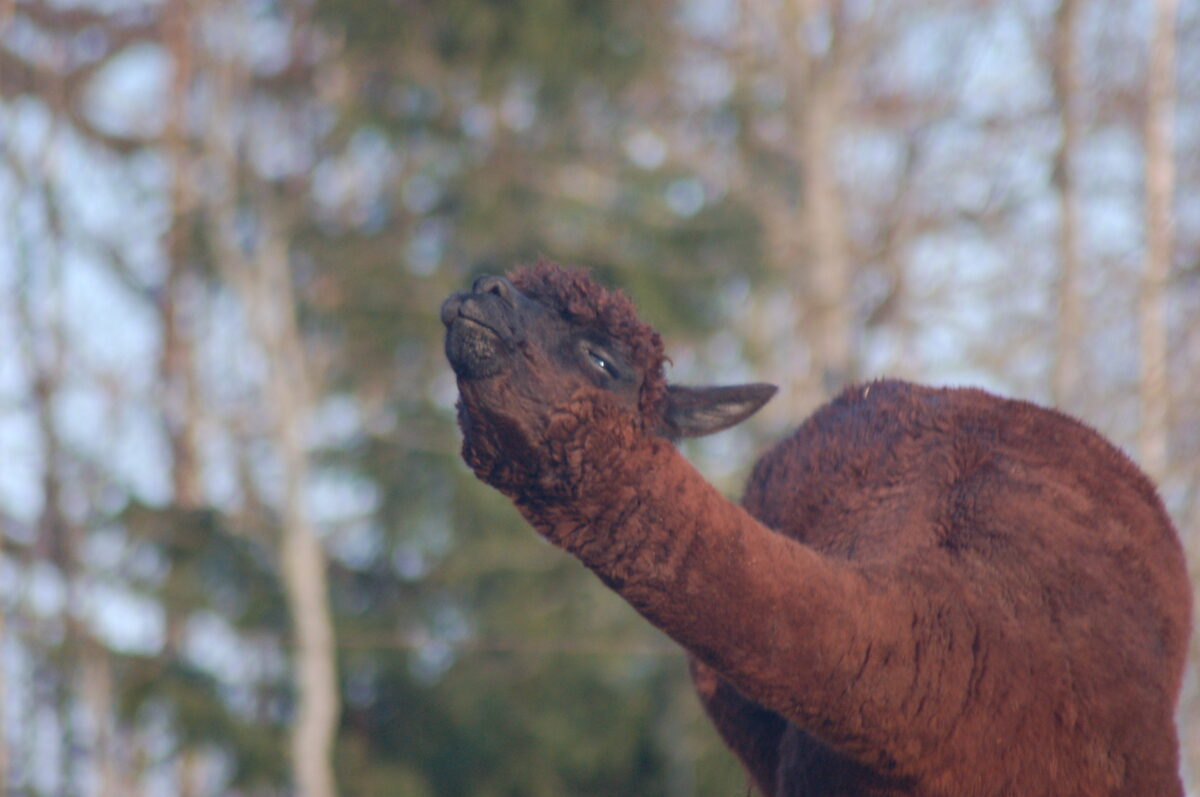 Chanel enjoying a good scratch.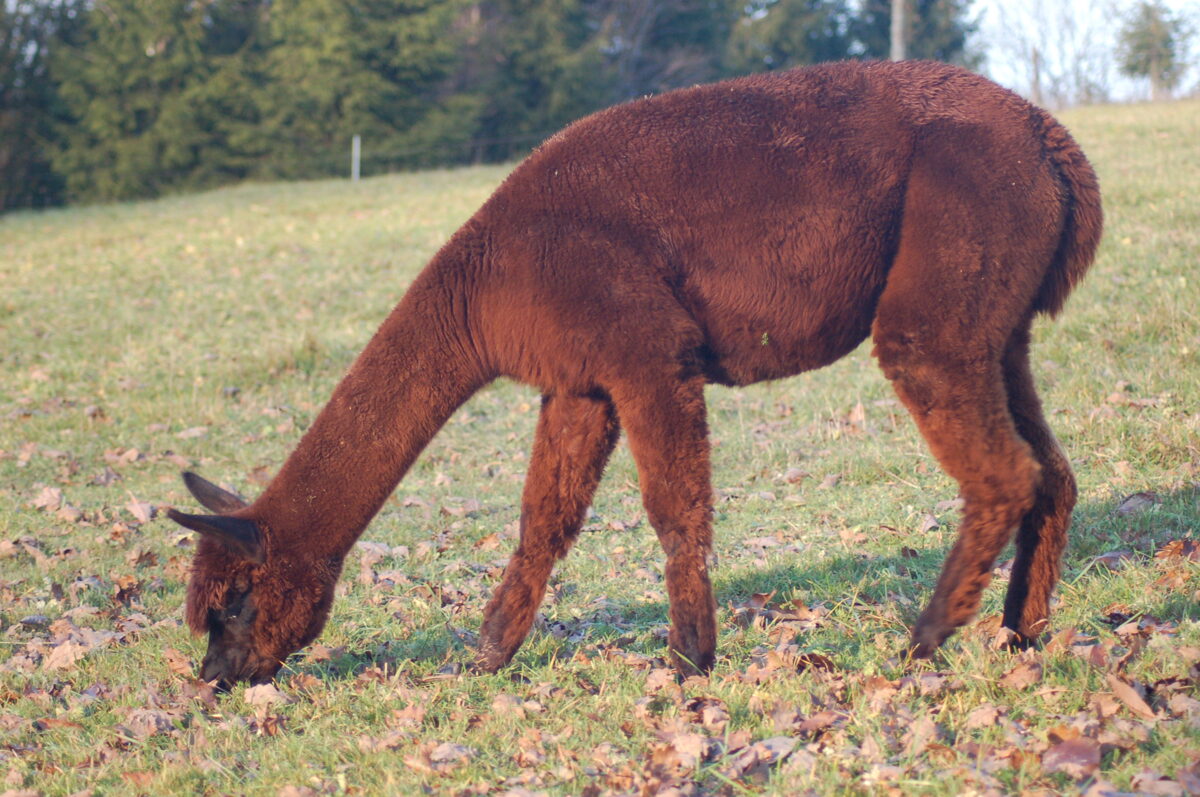 Ilvija is such a gorgeous colour.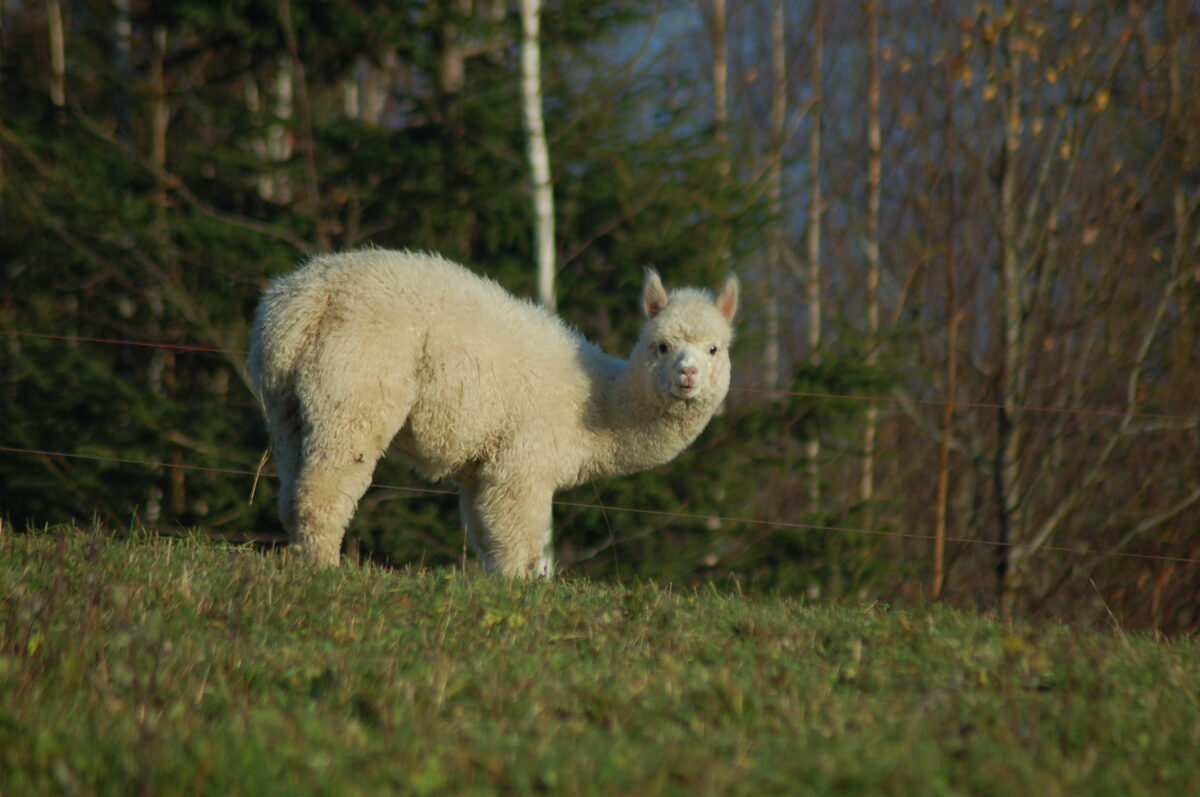 Karla has spotted me.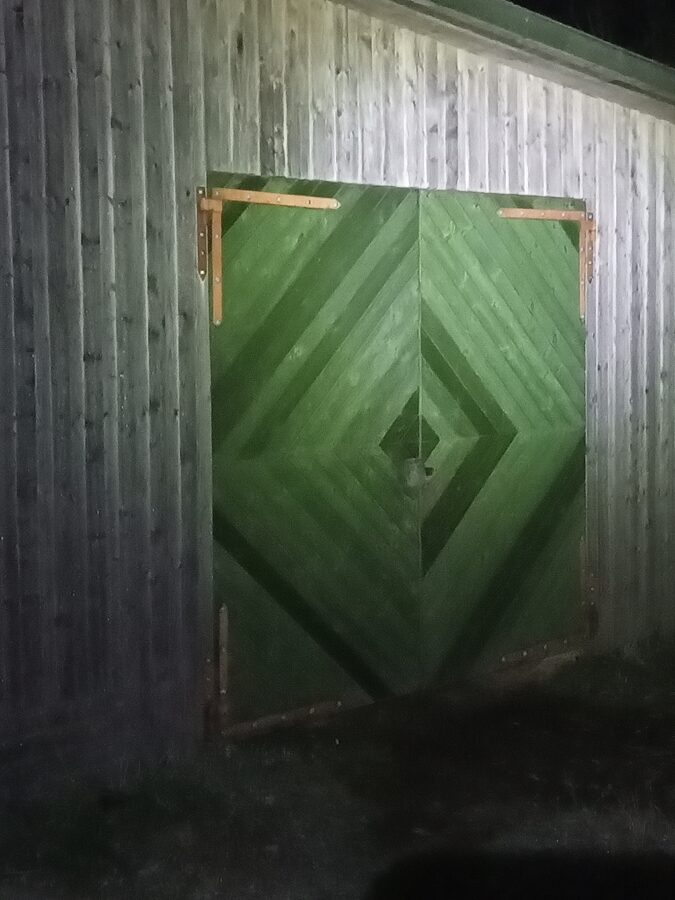 I loved the pattern on the barn door from the frost early one morning as I went to get Lolly's milk.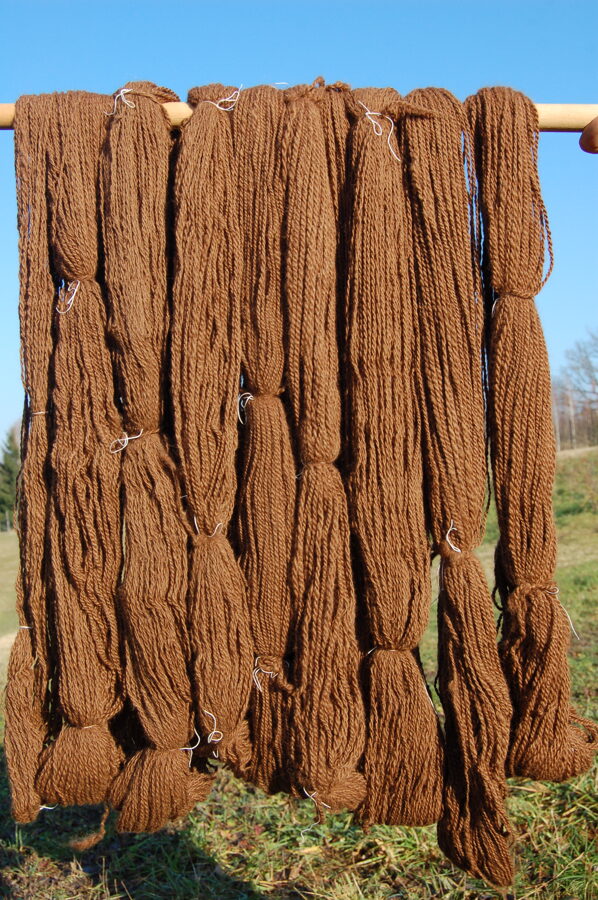 This is 1kg of hand spun fleece made from a mix of George and Josefs fleece, the customer wants to knit a sweater from it.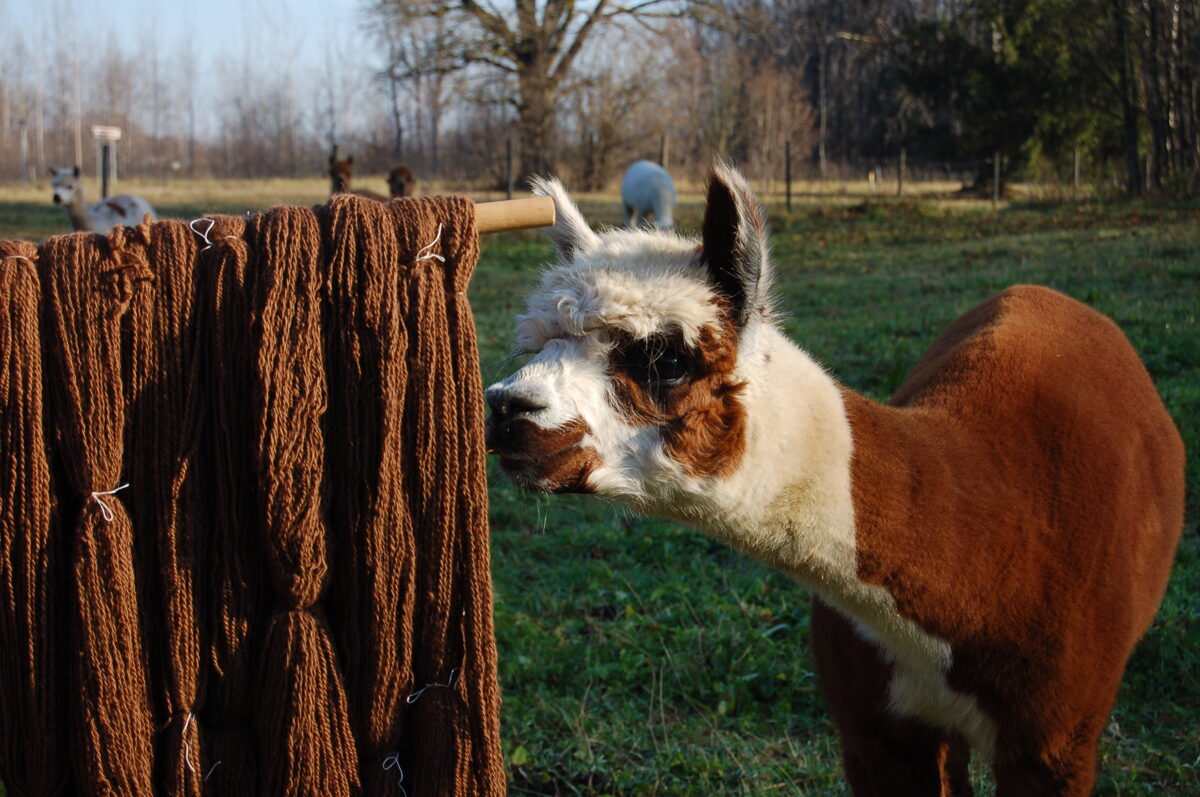 Josefs gives it his approval.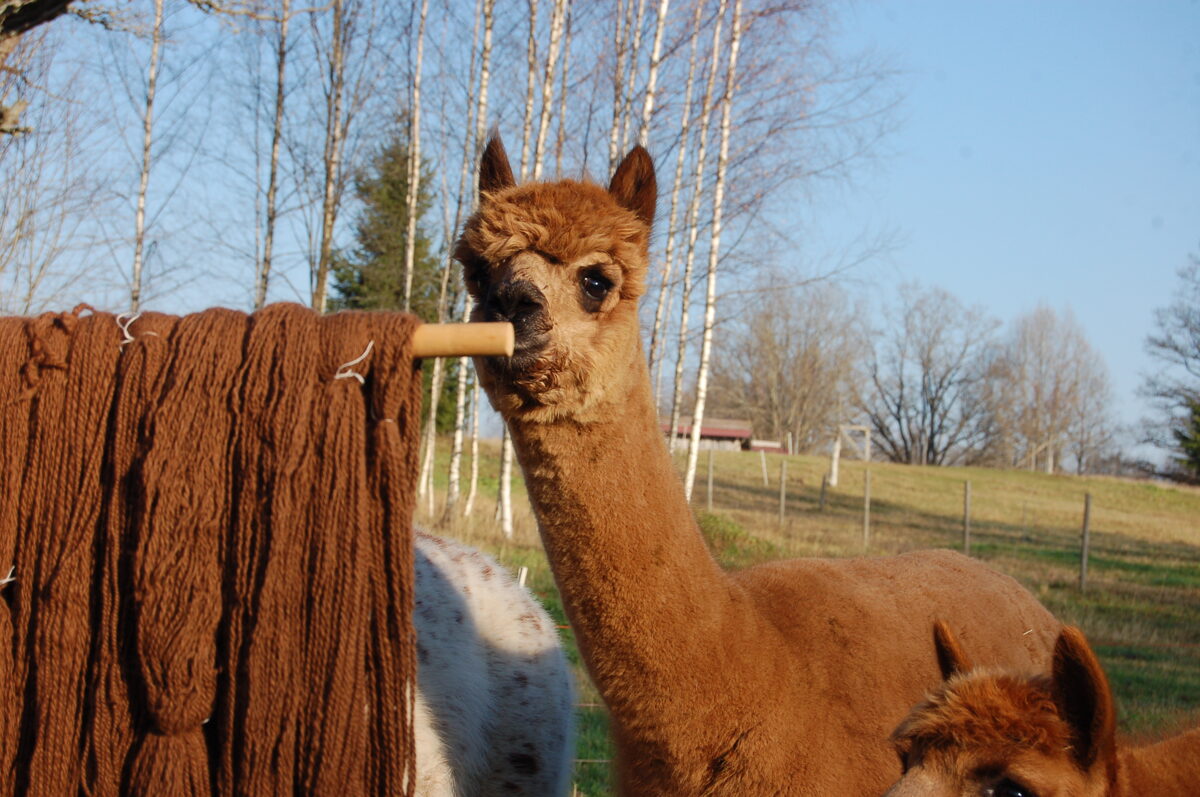 George seems quite happy about it too.
No comments
Leave a reply