Oh poo!!!
It's been a weird winter so far, it snows then warms up, one day it was -18oC when I came out in the car and by that evening it was +1oC, in fact I did see +7oC in the greenhouse at one point, I don't think the alpacas are complaining though. They have spent a lot of time inside, by choice, I do leave the door open so they can go out if they want too. Usually if it is sunny, they will venture out for a little while. Because they are inside a lot has meant I am checking on them more often and poo clearing, as I don't want it to build up to unacceptable levels. It also reduces the chance of them picking up any intestinal parasites. Over the last few weeks, I have been checking the poo samples for parasites, I am pleased to say they are reasonably free. Some did show a raised number of tapeworm eggs and I am deciding whether to treat or not as when reading up about it, most say tapeworm is not a big problem in alpacas and doesn't need treatment whereas some say it can cause weight loss. I am more concerned that I did see a lot of mites in the poo samples, way more than I usually do which suggests there is a very high level of them in the bedding and on the alpacas. Possibly because it hasn't been really cold for any real length of time which would kill them off. Strangely though, apart from Chanel who usually reacts to mites, none of the others are showing any signs of mite issues.
In the mornings I have been giving Turbjørn a pot full of soaked Lucerne and Camelibra pellets to try to help him gain weight. He is a very bright alpaca and when I go in makes his way past all the others into the smaller side of the alpaca house while I get anyone else out and close the gate. He stands there while I put it on a tray, literally salivating and smacking his lips. We don't have weighing scales so I can't say for certain he is putting weight back on and his body score (a simple way to assess the condition of an alpaca by feeling its spine) is still very low but he really seems to be moving much better and seems much more alert, so I presume it is doing him some good.

I have only had a couple of chances to take Lolly out for a walk due to the snow which is a shame as I would like to take her out more often. I did take her up past the boys who came out to see her. I don't think she was that bothered at all. I am aiming to have her weaned by early February so she is now down to one ¾ full bottle three times a day and the midday feed will be dropped soon.

I have been studying just lately and have just completed an online course in alpaca behaviour and training, it was fascinating. Now the hard part is putting it all into practice, not as easy as it looks. I will be going in at the deep end as I aim to work mainly with Chanel who is perhaps the most difficult of all my alpacas. She is the one with skin issues that need dealing with and is of course the one who doesn't like being handled, wish me luck. I am also in the middle of an on-line course in alpaca health management, which again is fascinating, it's organised by a specialist alpaca vet. I have lots of "bits" of information floating around in my head and it's been good to have some order and structure put to it and learn the reasons behind some of it.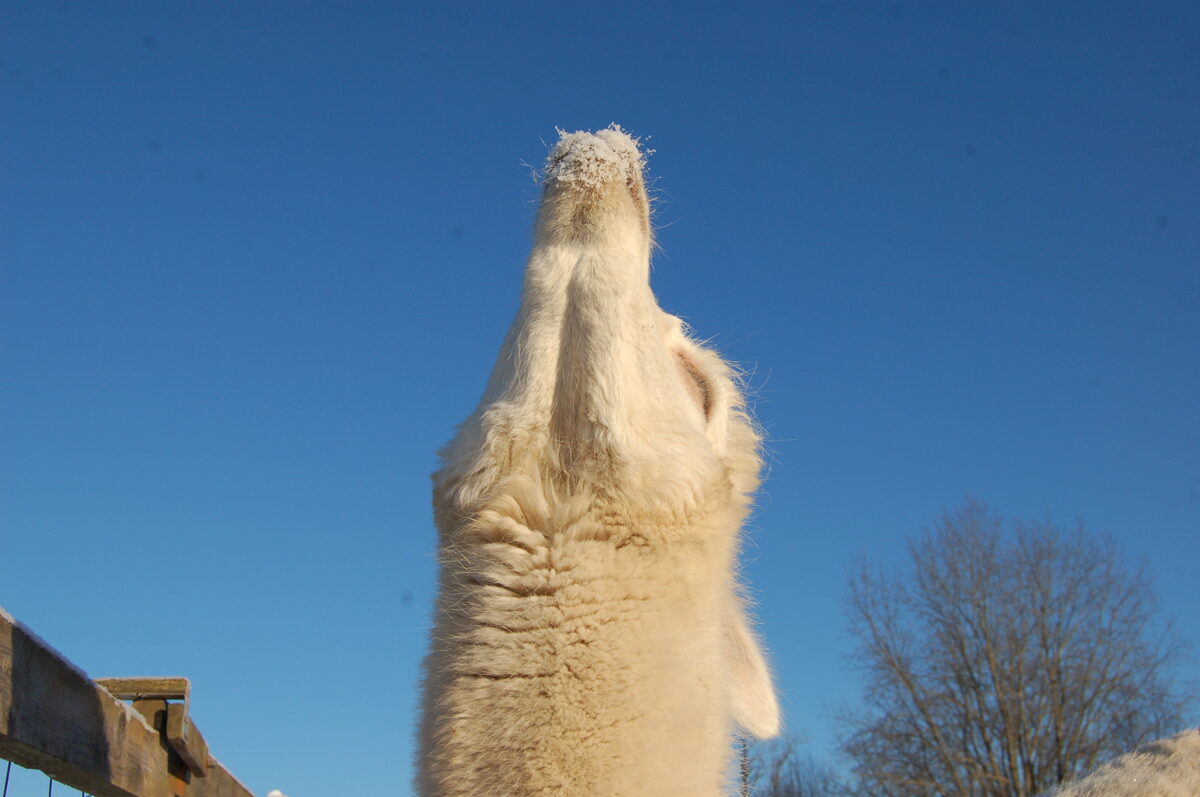 Awwooooooo Brencis practicing his wolf impressions.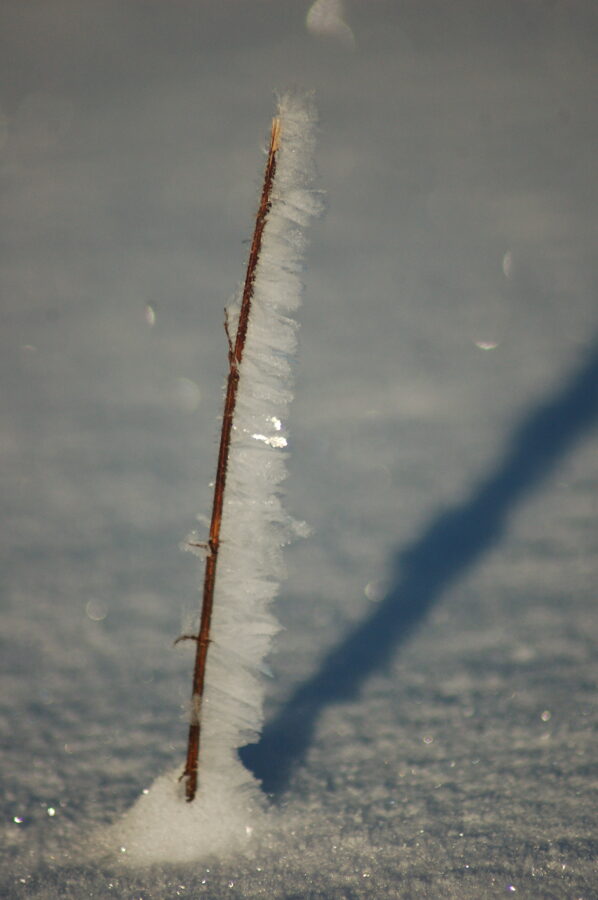 Long ice crystals on a stem on a cold frosty morning.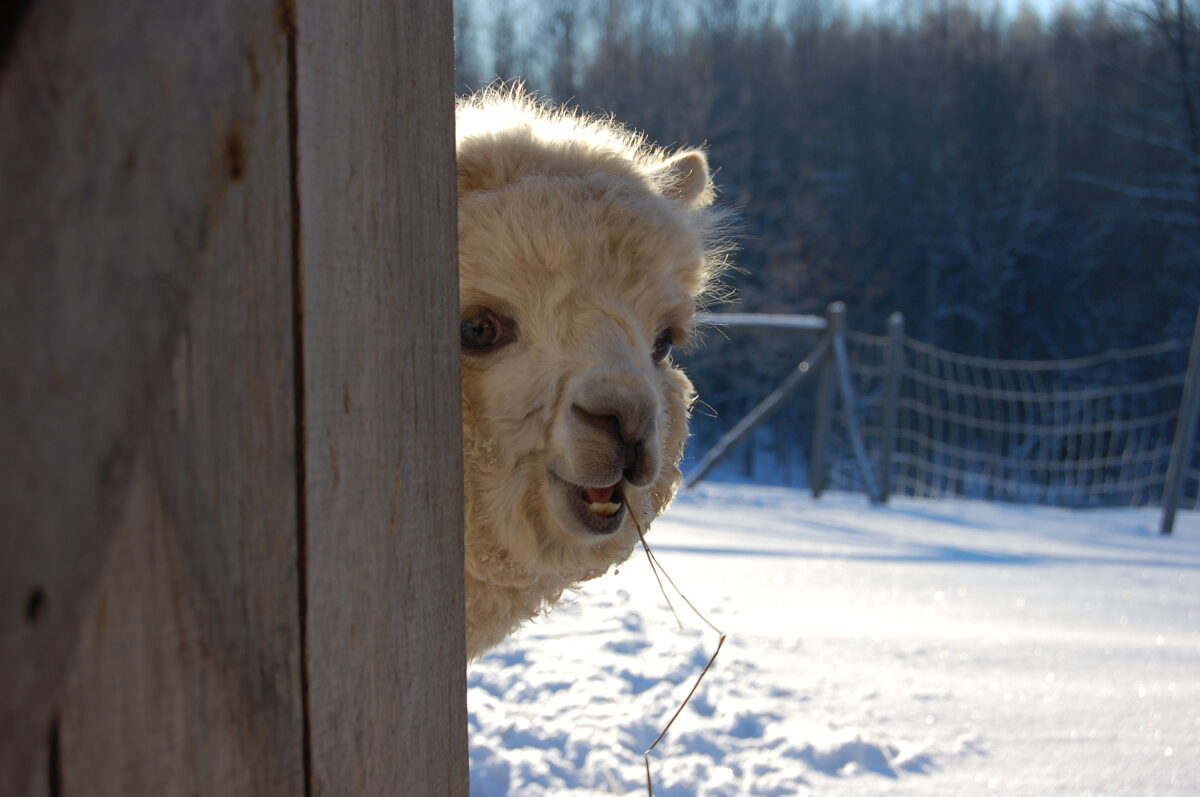 Peek a boo says Lolly.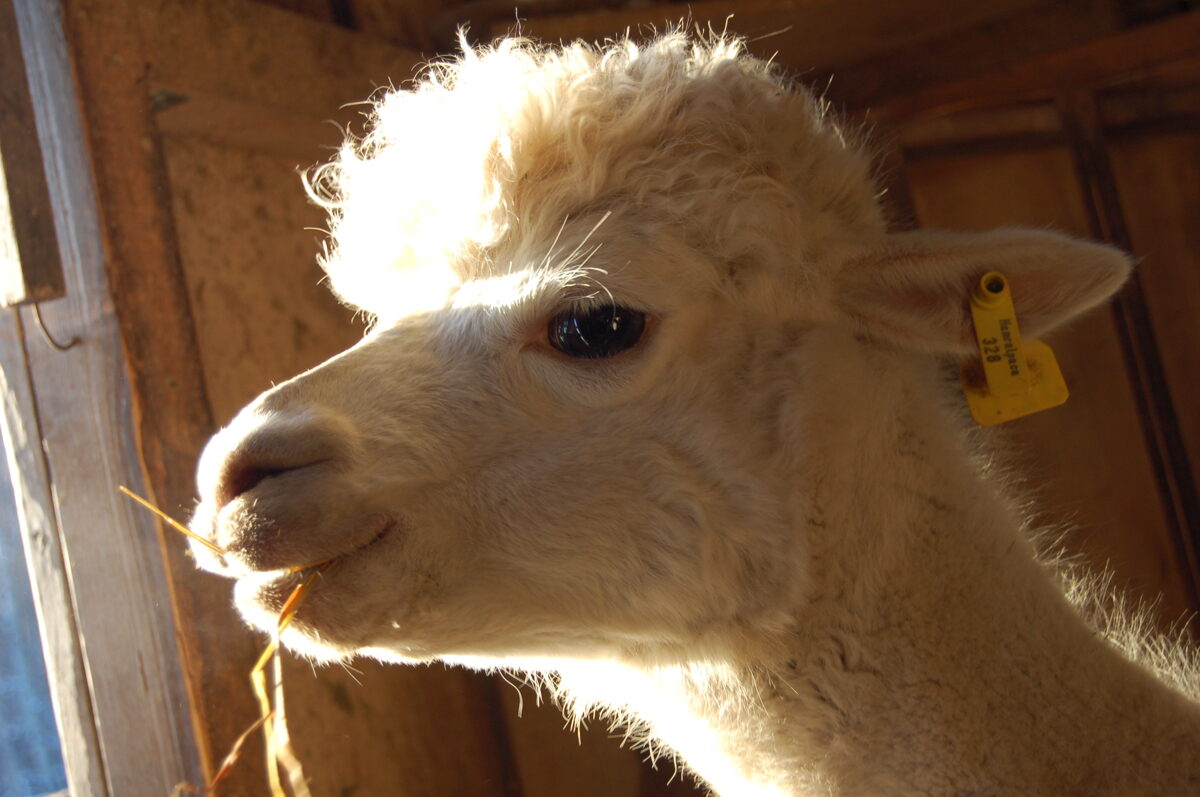 Amanda glowing in the afternoon sunshine.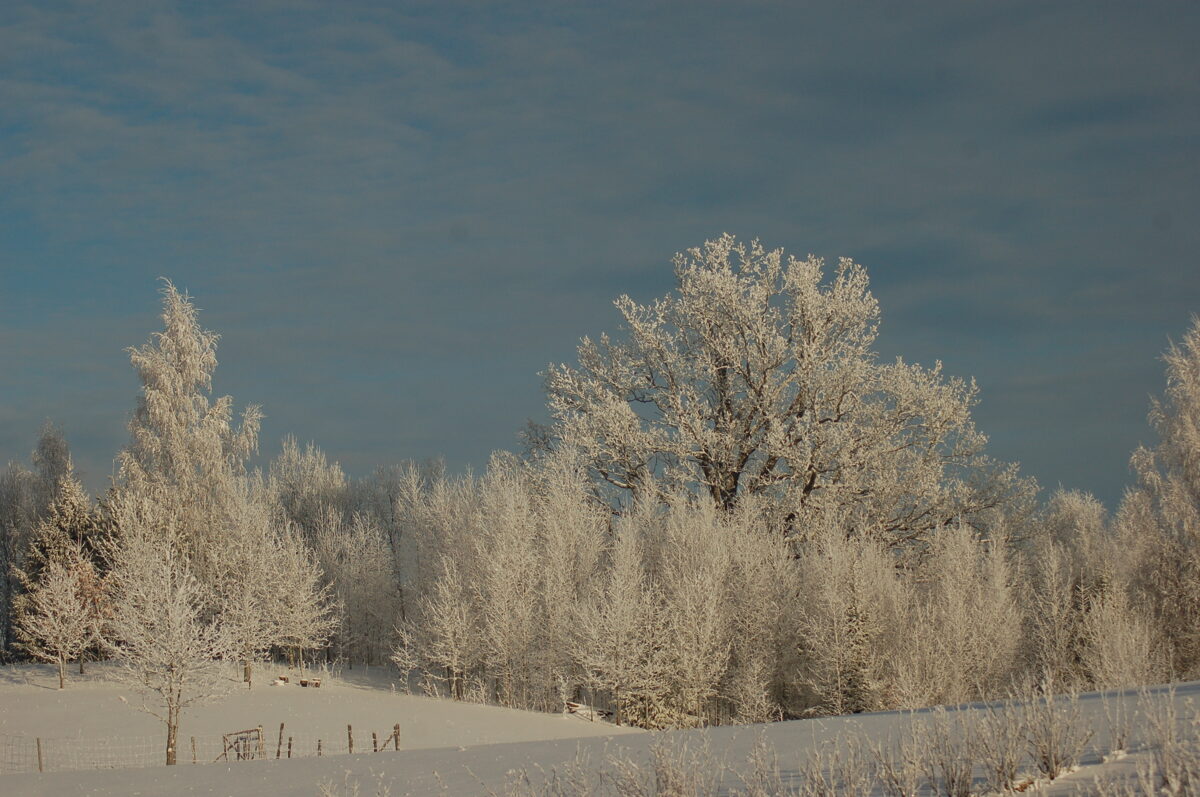 I know I keep saying it but I just can't get over how stunningly beautiful winter can be.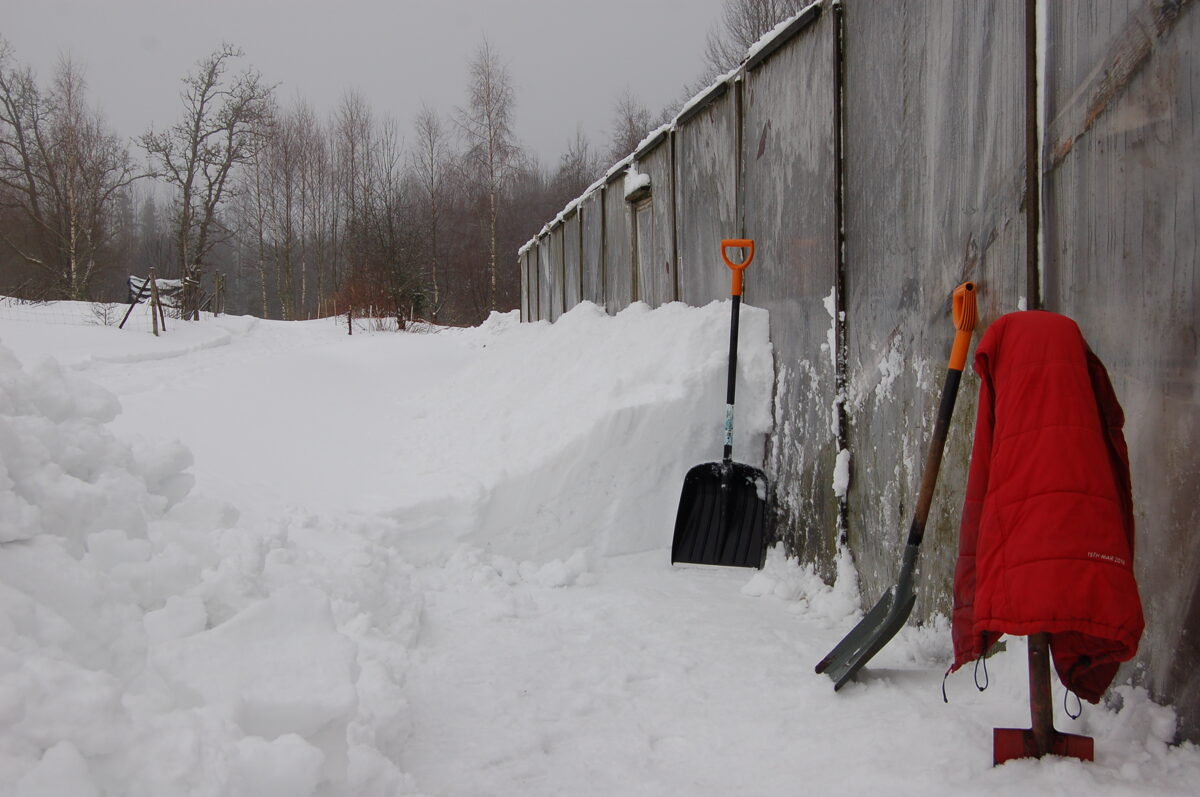 But also hard work, I decided to clear the snow from the sides of the greenhouse.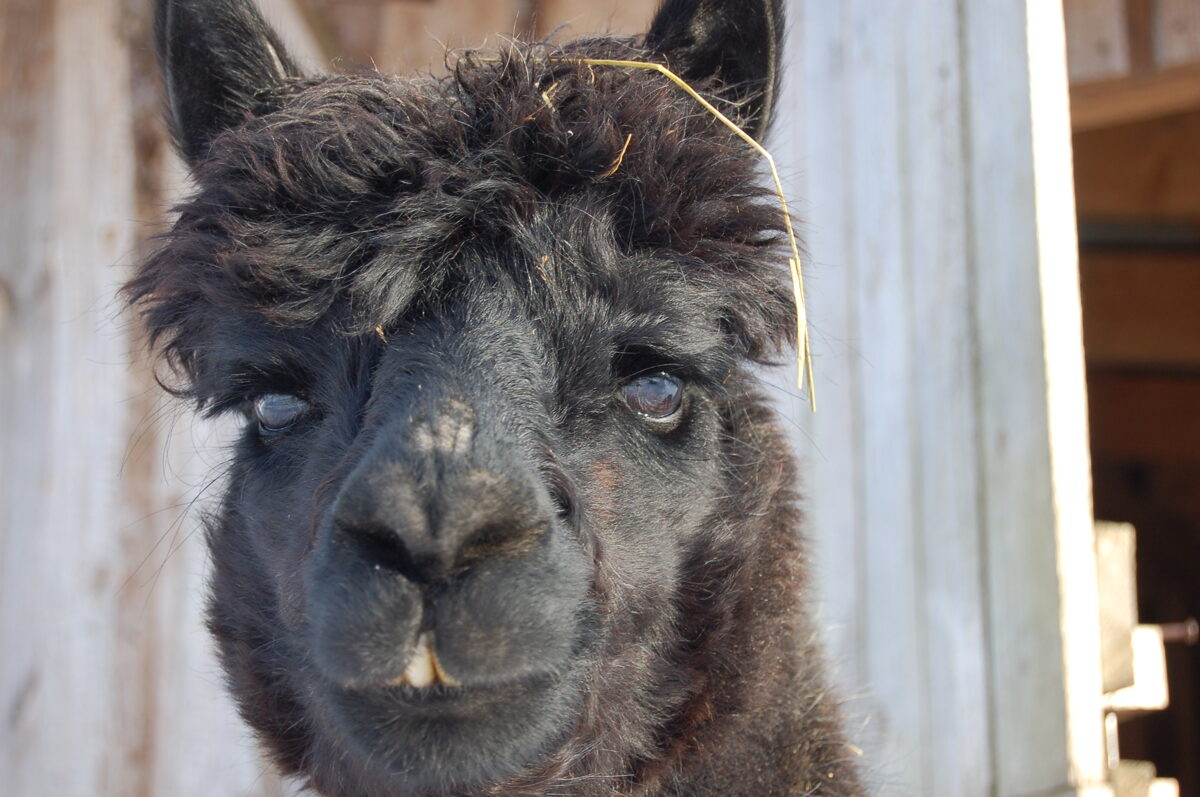 Over the Autumn and winter Mr. P has shown no signs of his breathing problems, it's usually in the spring when it starts.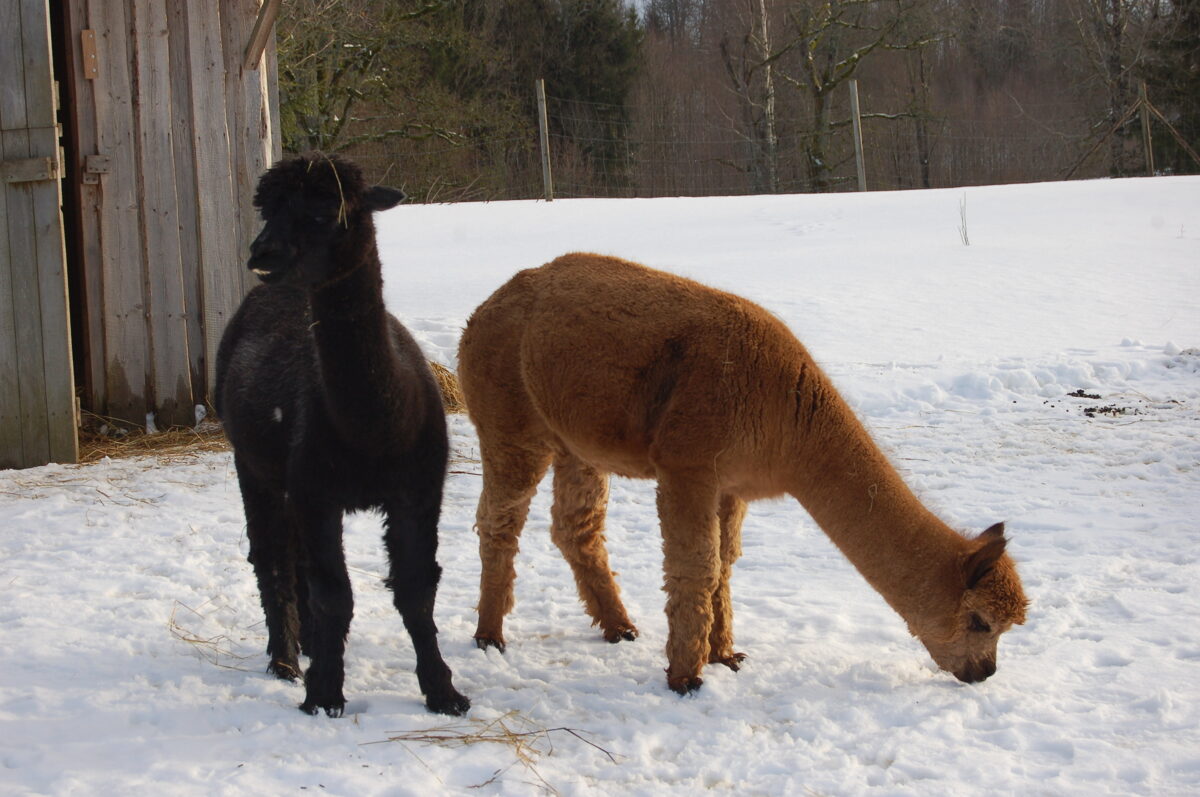 George and Mr. P out in the afternoon sunshine.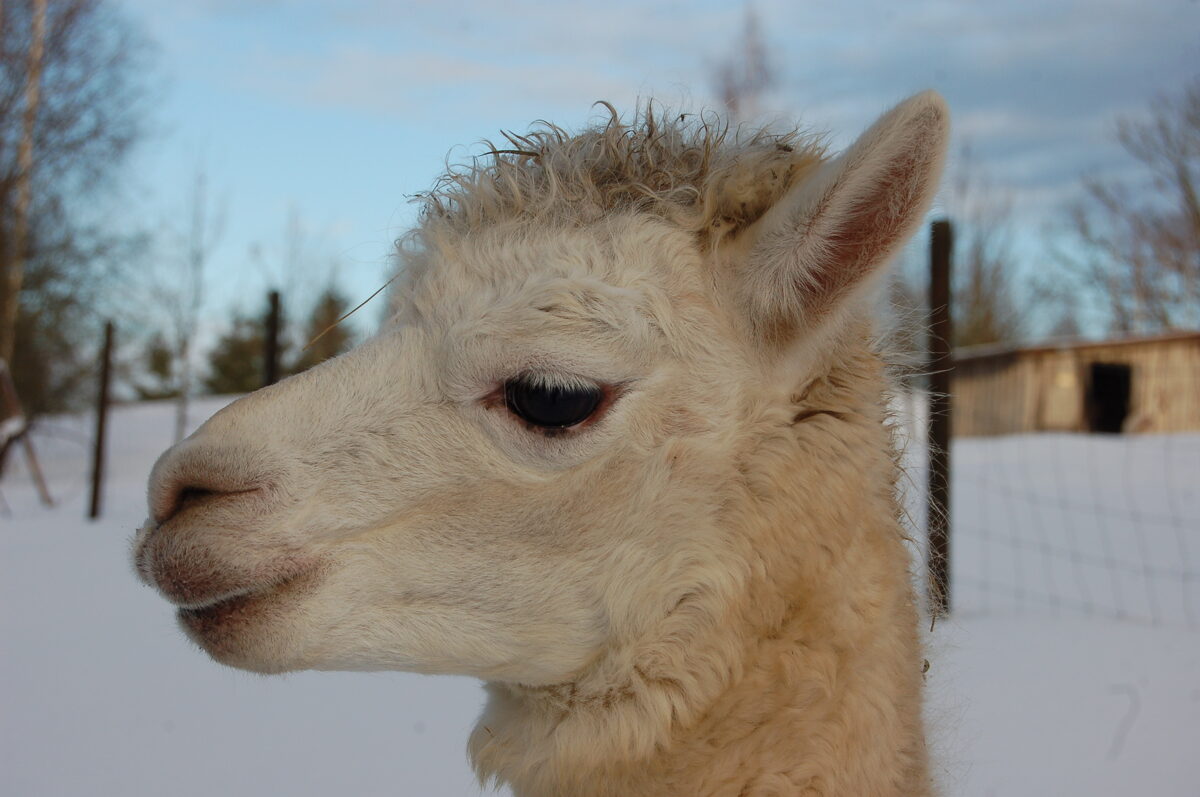 Our very creative scarf designer Silla, I have been talking to her about possibly doing workshops this year.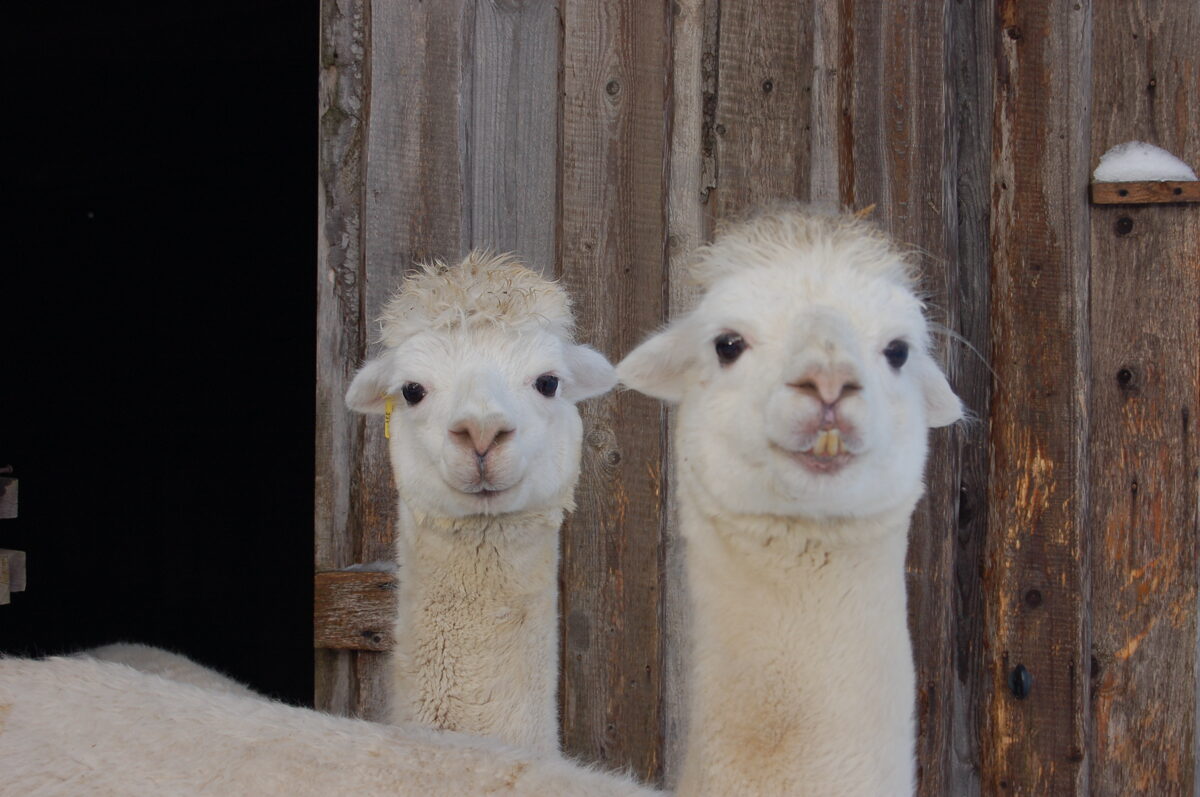 Mother and daughter, Vanessa (mum) on the left and daughter (Valeria) on the right.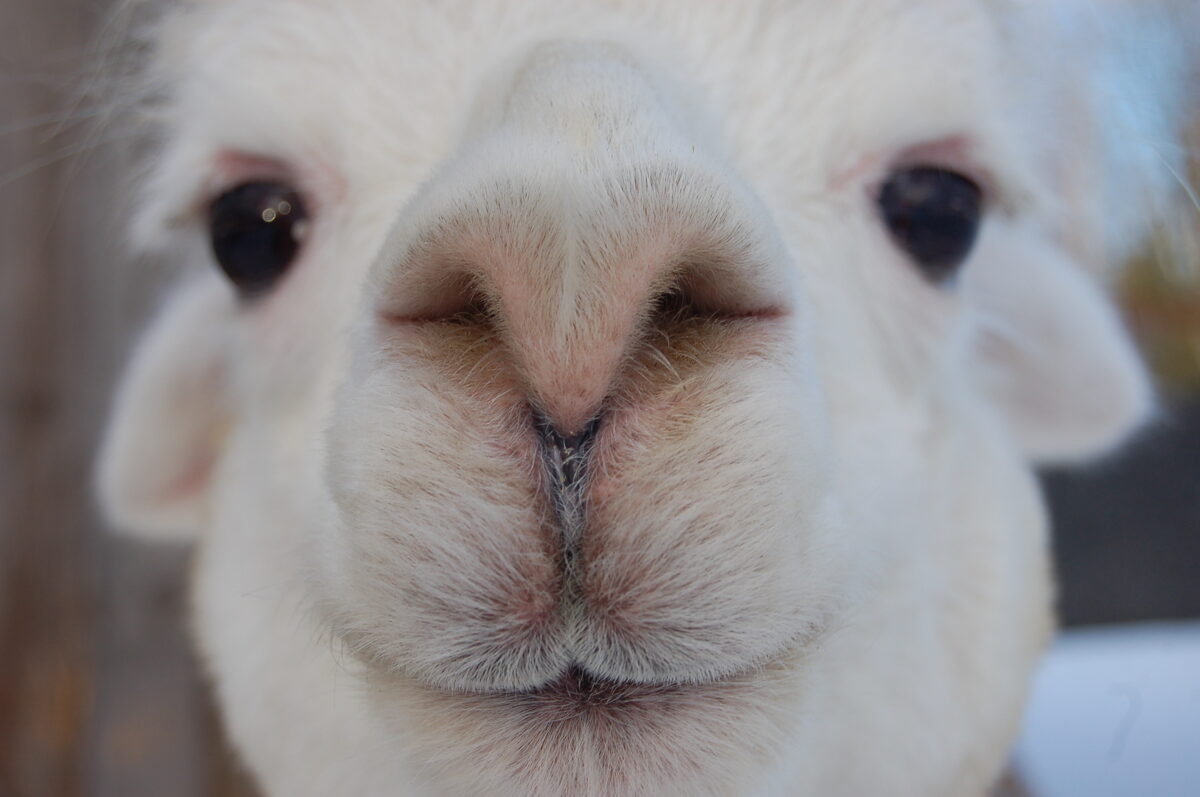 Close up of Vanessa's smile.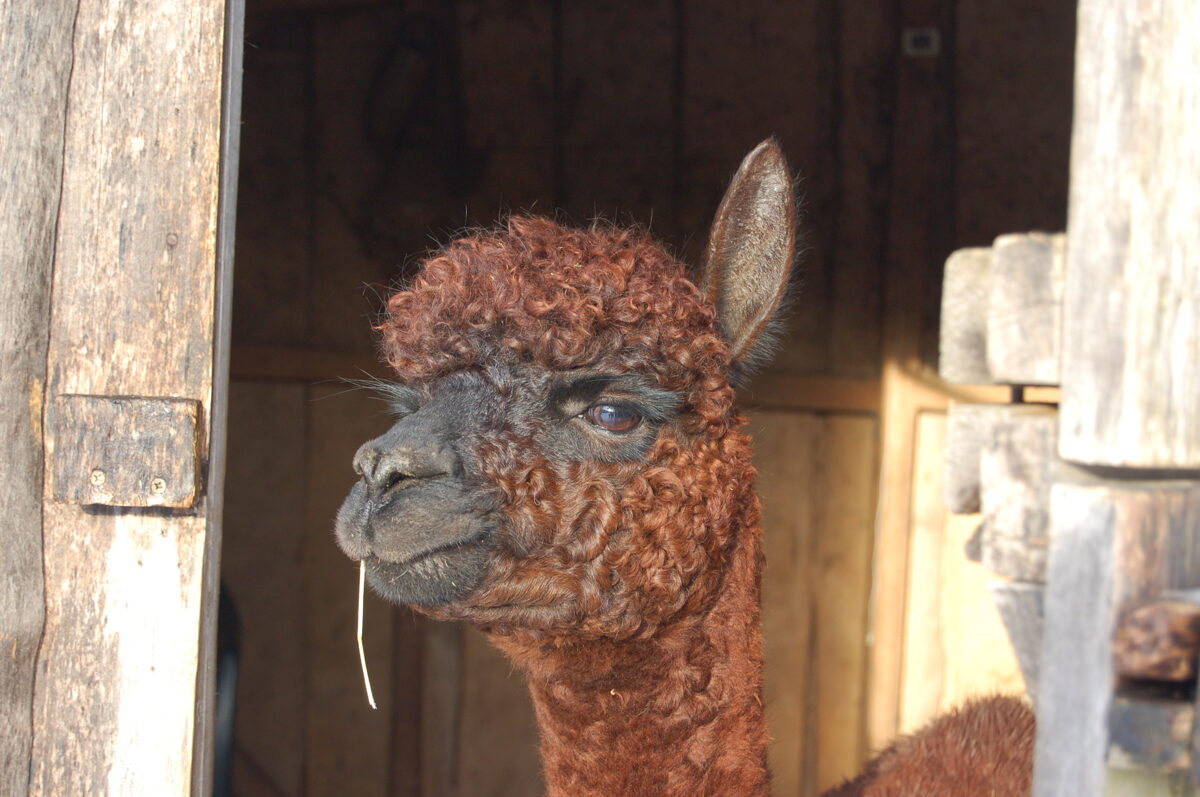 I shall be practicing all my handling and training techniques on Chanel.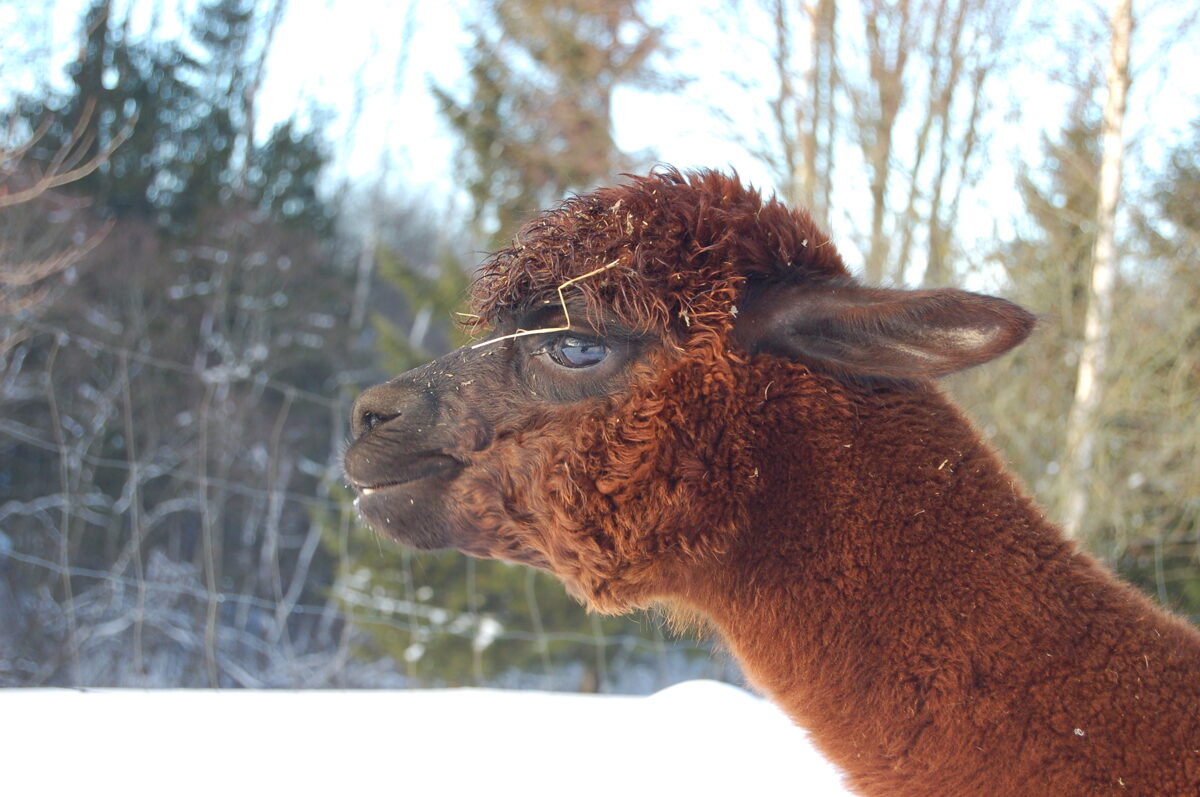 Still waiting to find out if Ilvija is pregnant.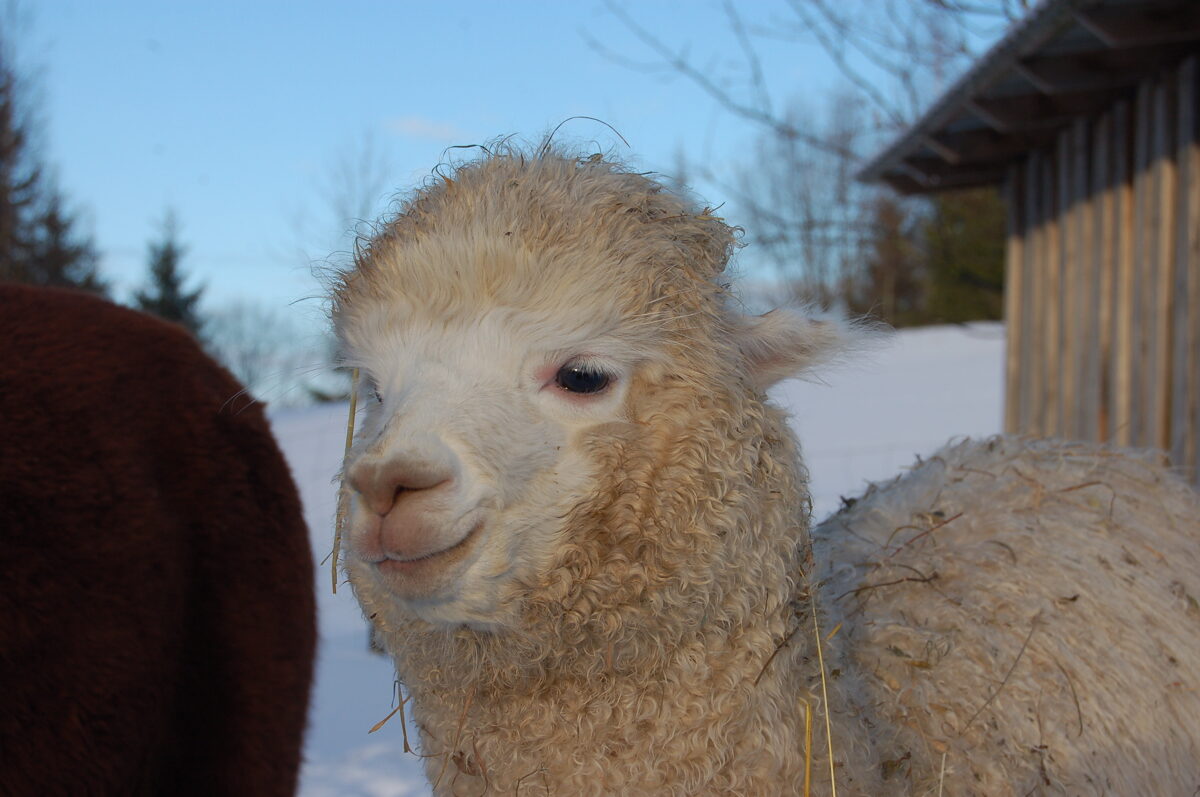 Karla is growing fast.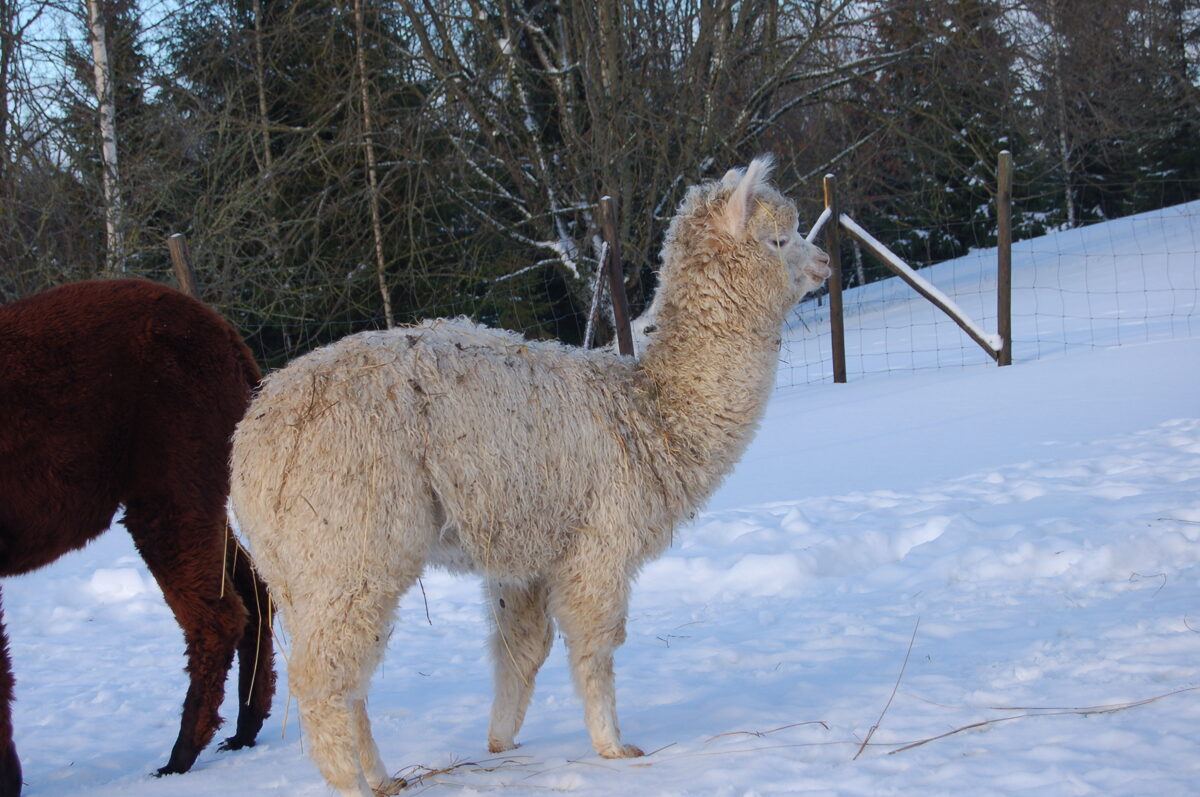 Her fleece is a bit of a hay magnet though, she is usually covered in bits of hay.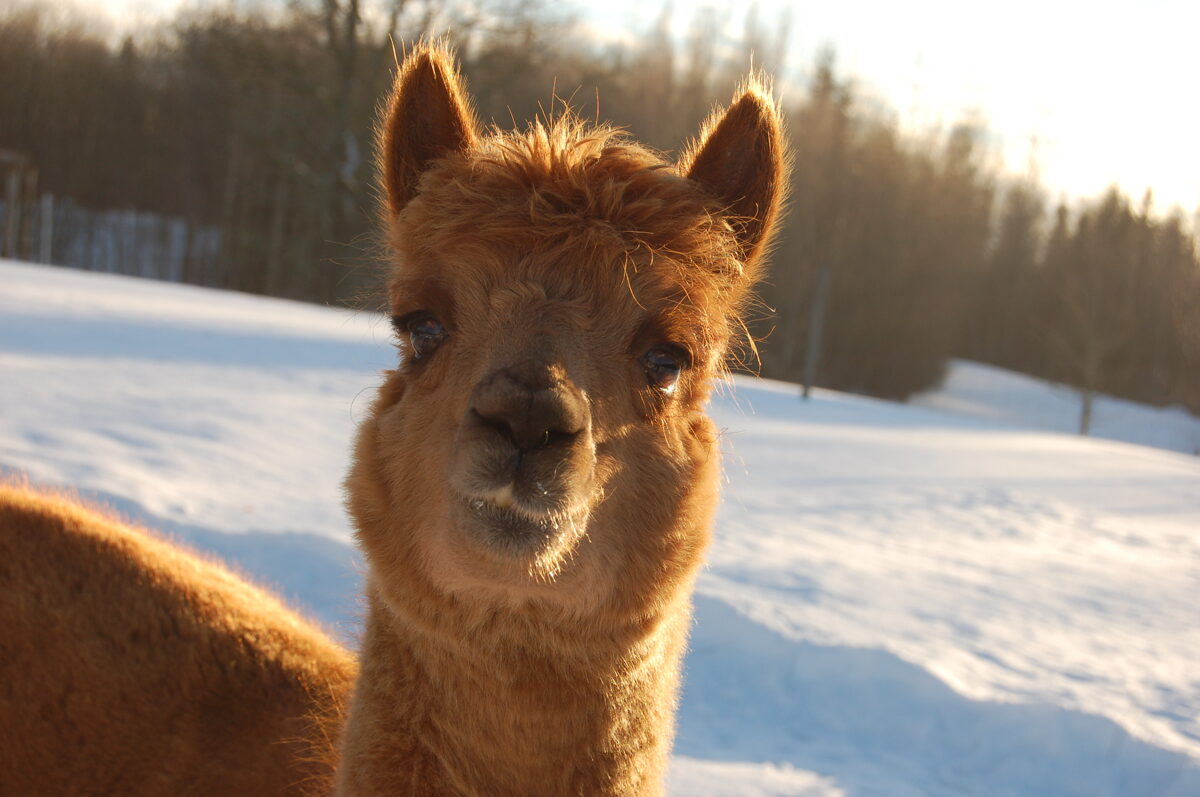 Freddie.also glowing in the afternoon sunshine.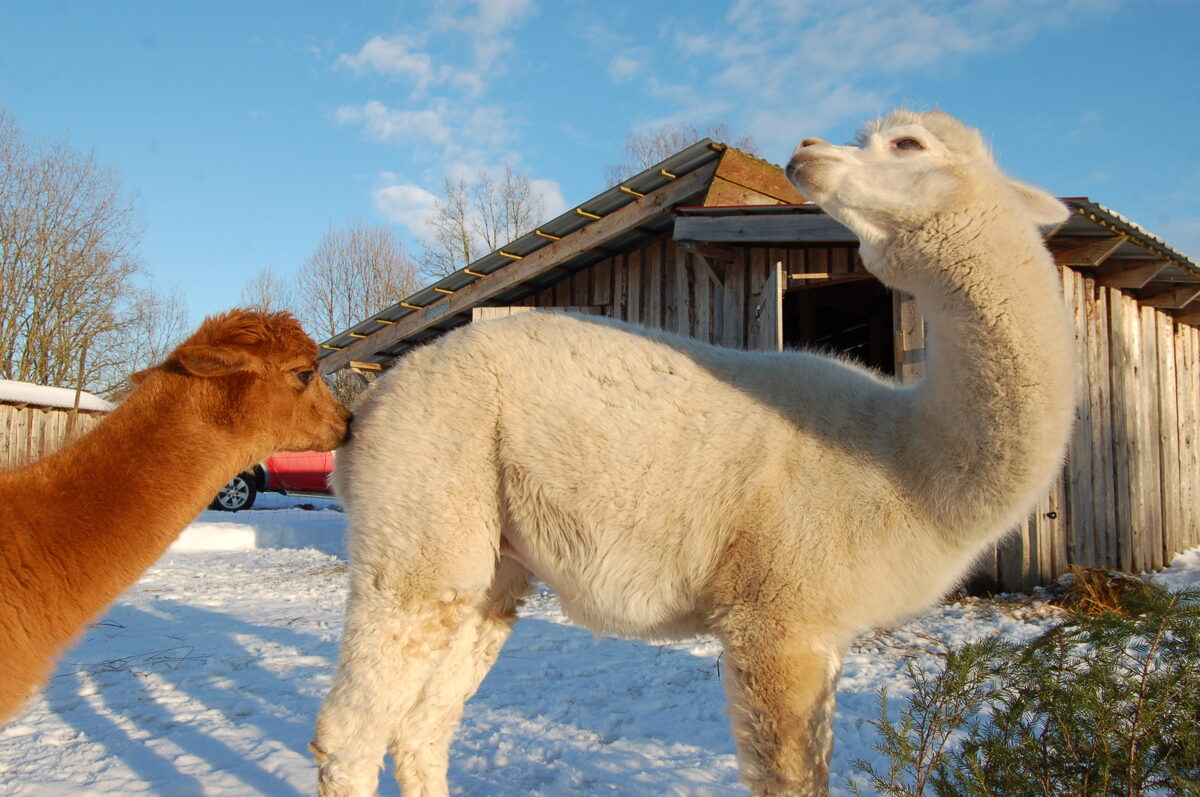 Errmmm Freddie I wouldn't do that if I was you, I don't think Brencis is too pleased.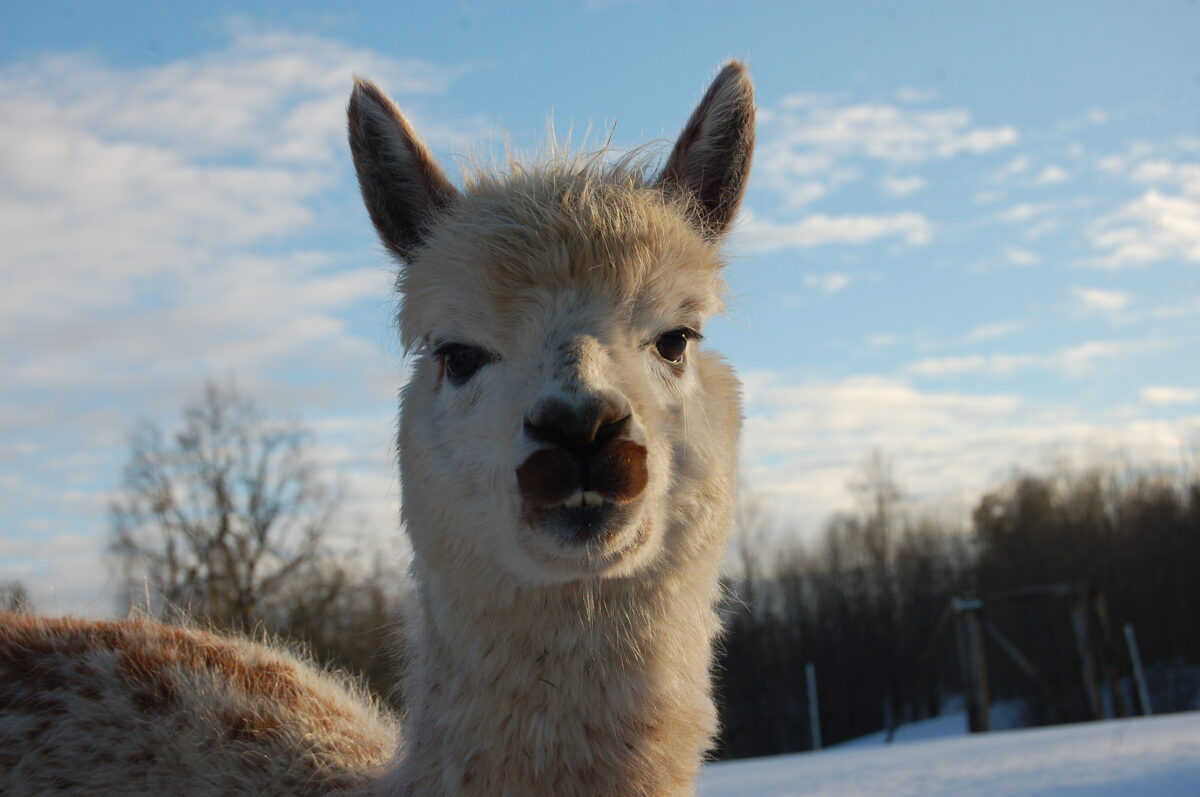 Jakobs might look cute but you have to watch him, he usually pinches the food from Freddie's tray when I pop out to close the other door. He doesn't do it if I am stood there.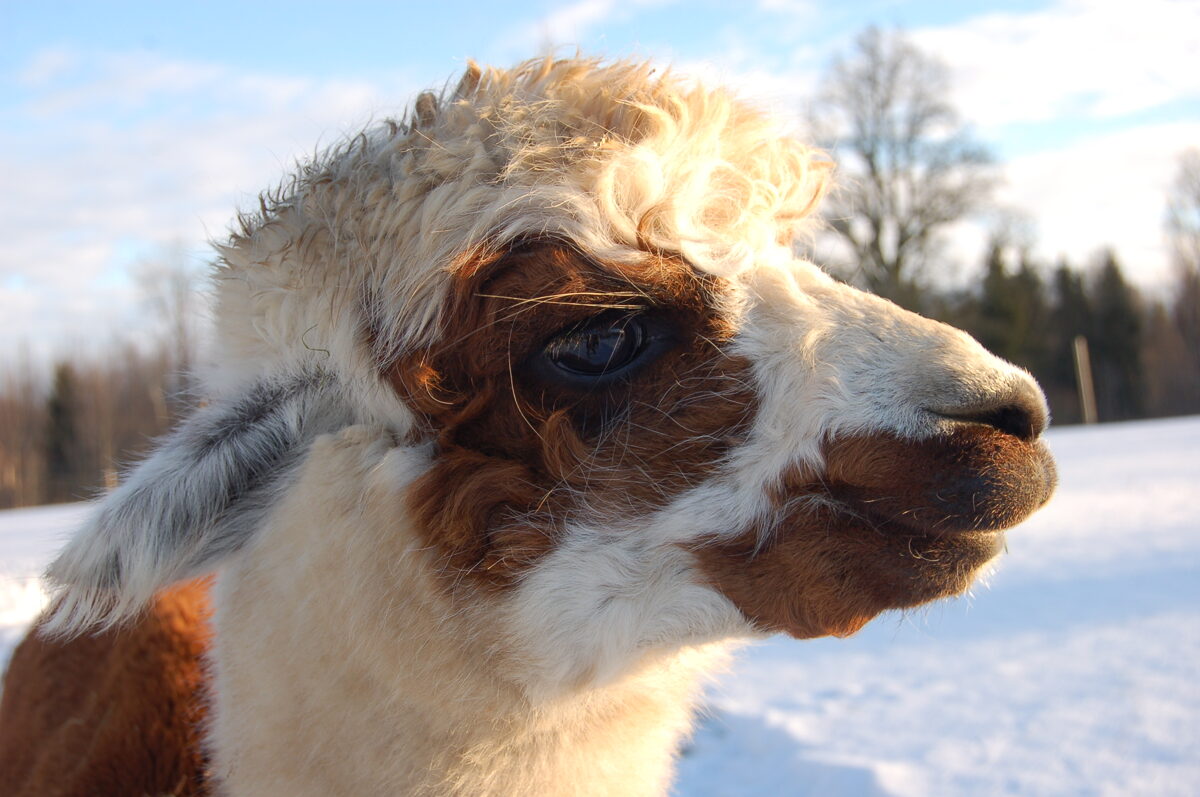 Josefs is just so cute though.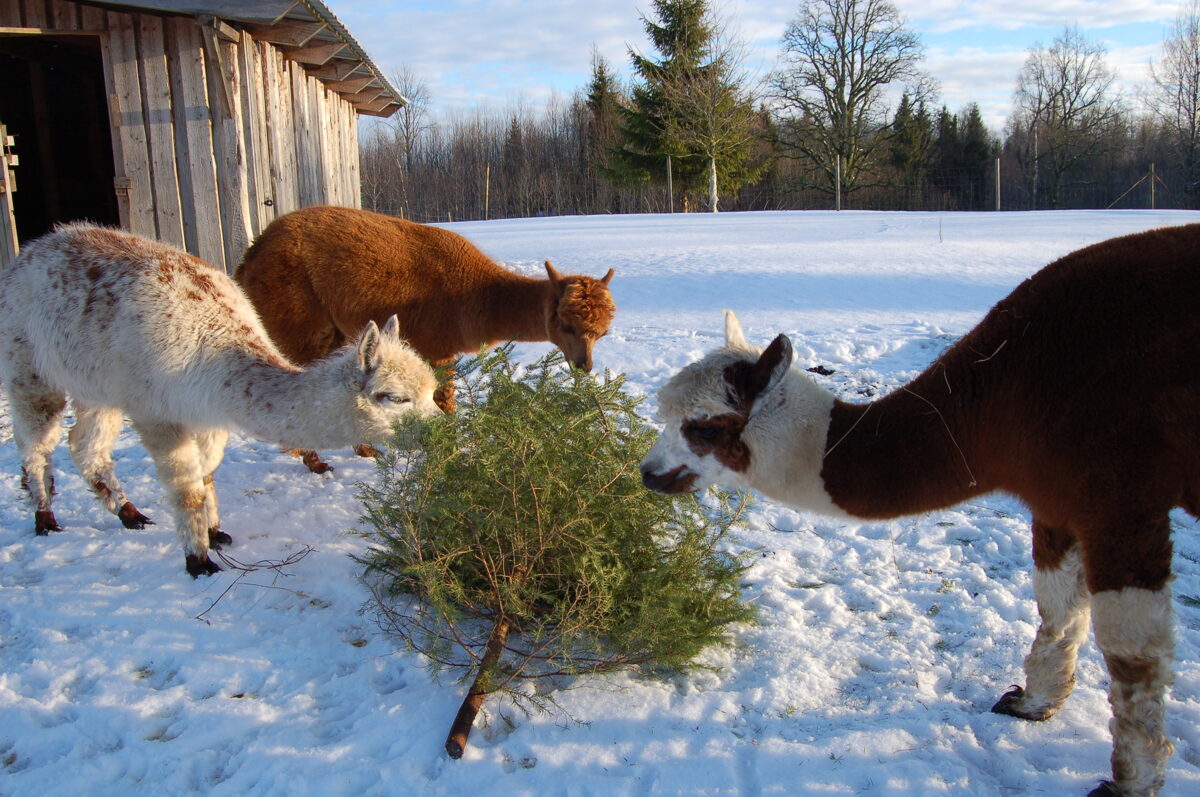 Jakobs, Freddie and Josefs tucking into our Christmas tree.

No comments
Leave a reply