New Arrivals
It has been quite a while since I have given a full update on what has been happening here at Griezites Alpakas, so sorry it's a long one this time. During that time, we have welcomed two new arrivals, Amanda finally gave birth to Marvin and the wonderful Lelde has started her 8-week internship with us, but more on both of those later.
I managed to finish all my bookings for shearing alpacas and then did my own alpacas, just in time. I had done the girls in little groups and left the boys till last, the day after I did the boys the temperature went through the roof, it was 28 – 30oC. The poor alpacas would have really been cooking if they still had full fleece. The warm weather also meant we could get started washing Chanel to treat her skin issues. She has a lot of hard, cracked, crusty skin which needs to be removed, so we wet her, use a special shampoo, and work the crusty areas. She has been done four times now and it is making a big difference, she is moving a lot easier. I made a small area just outside the door with some posts and fence wire, we get her into it, then I put a small lead around her neck to help control her. Problem is she usually sits down but at least she will let us do it, remember this is Chanel we are talking about, famous for redecorating the inside of the alpaca house in spit whenever you touched or even got near her. Three out of the four times she has been done she has just calmly sat there. The time she didn't was because we had a few issues separating her from Ilvija so she was on edge.
Mating season is now underway, Silla is being mated with Jakobs and Mari with Josefs and the last time she saw Josefs she wouldn't let him mate so a sign she may be pregnant, we will see if it's the same on Friday when we take him back. We did have a miracle happen, while Jakobs was mating with Silla, Vanessa sat down on the other side of the fence, and I sat next to her, and she let me stroke her!!!!!! I wondered if she was receptive to mating so the next day, I took Josefs down and after a couple of spits she sat down and let him mate with her. My jaw hit the floor; this was the first time in three years of trying she has let a male near her never mind mate with her. Tried again a few days later and same again so fingers crossed. That now just leaves Antonia and Valeria, I have been chatting to the vet and we are going to try some hormone therapy to see if that will make them more receptive to mating. Just as an aside, when Josefs was mating with Vanessa, Amanda who gave birth to Marvin five days earlier came and sat down next to Vanessa on the other side of the gate suggesting she is ready to be mated again.
About a month ago out of the blue I received a phone call from someone asking if they could possibly come and do an eight-week placement as part of her Batchelors degree in tourism. She lives locally, so came that afternoon and we chatted about what would be involved/expected from both sides. She came and helped with some of the shearing and officially started 1st of July. Lelde speaks Latvian, some Russian and English, so if the fact we don't speak Latvian was putting you off visiting then now is the time come. She is getting used to the alpacas and them with her, did her first alpaca walk on Saturday and even got to see Marvin being born. She is great, fits in so well and just what we needed.
As already mentioned, Amanda gave birth to Marvin (aka Marvellous Marv or Mr Marvellous or just plain Marv). I suspected she was in labour that morning so after all the routine cleaning jobs were done, I rushed to get a hay bale to put fresh bedding on the floor, just finished that when she stood up and began pushing. The head and legs appeared, another few pushes and they were out, at this point it is quite common for the mum to wander around with the cria half in half out for five, ten even fifteen minutes. But Amanda stood for a minute one more push and he was out. He is a very light fawn in colour with a white head and possibly a white ring around his neck. We were a little concerned at first in that he had trouble holding his neck straight and it looked a little kinked which was making it difficult for him to feed. Our neighbour came to check him and put a splint on his neck to help support it which made it better for him. He was kept in for the rest of the day as it was cold and wet, we came every two hours during the first night to make sure he was feeding. Next morning the sun was shining so we let him out and he never stopped running around, so there's not much wrong with him then. I noticed when he was feeding, he had to keep stopping and was almost gasping for breath, I suspected it had something to do with the splint either crushing his trachea as he was bending his neck to feed or was making him hold his head in the wrong position as he was feeding possibly crushing his nostrils against his mum's udder. So, we took off the splint and he has been fine since and his neck has remained straight. Mum's milk must be good stuff as his pilling on the weight. It's funny now seeing Karla and Lolly who I thought of as the "young'uns", you can now see how much they have grown in a year when you compare them to Marv. They remind me of the early teenage years when your body is not quite a child's and not quite an adult's. Lolly is fascinated with Marv and follows him around and likes to sniff him, Karla is not so sure about her younger brother getting all her mum's attention now.
So now we are just waiting for Ilvija to have her cria she is due 14th July.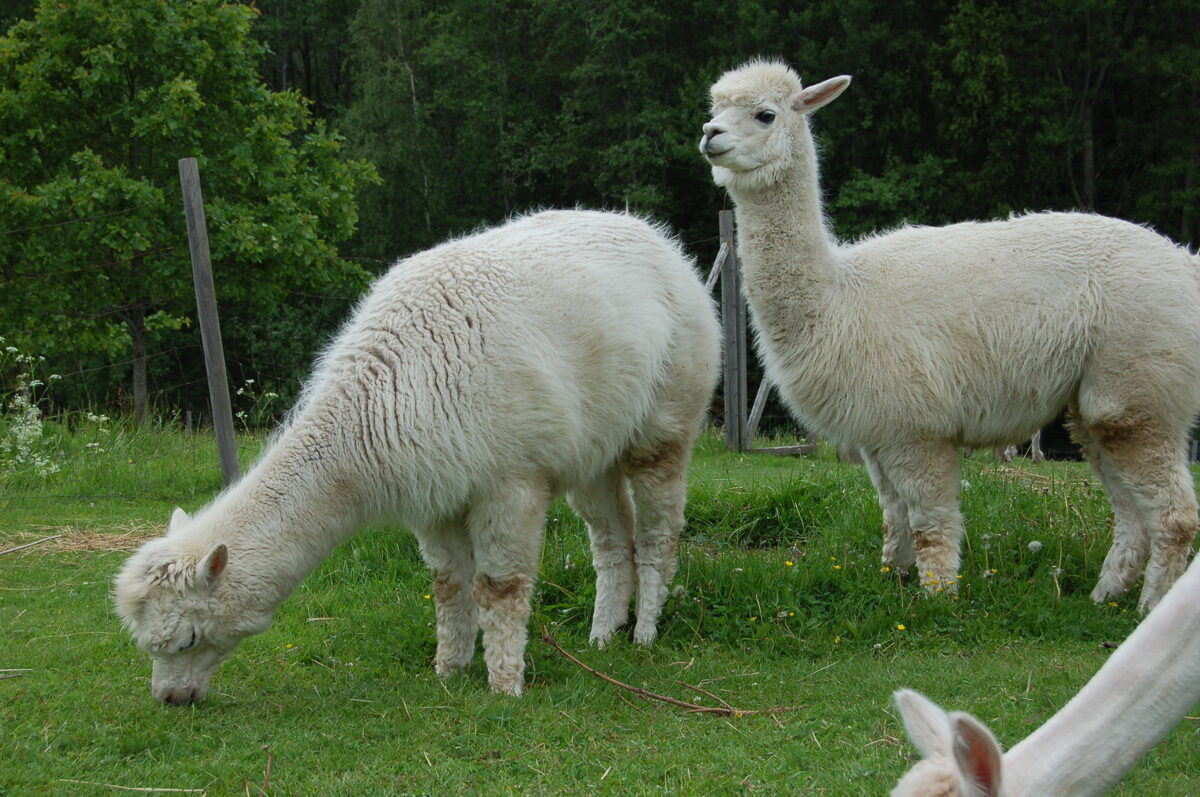 Silla and Antonia before shearing, I bet they are so glad they were sheared when the temperature went up.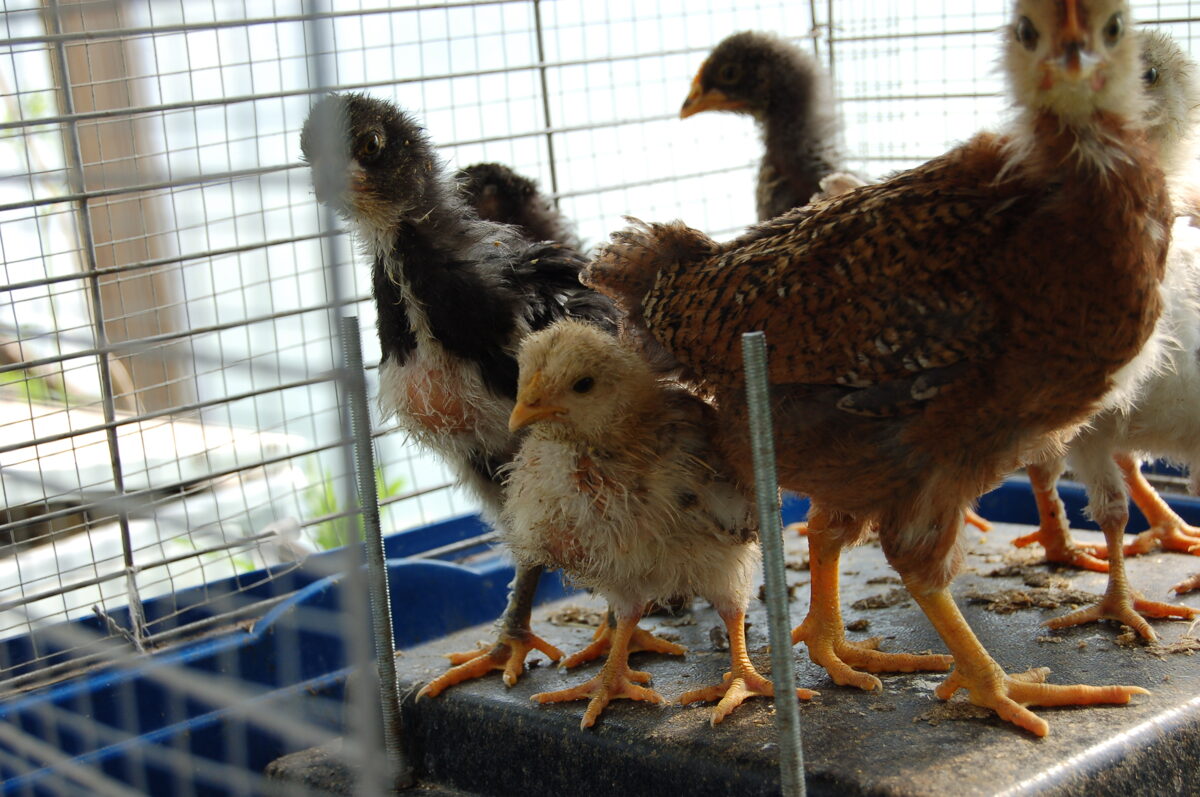 Some chicks we hatched early May and are now well overdue to go into one of the chicken arks.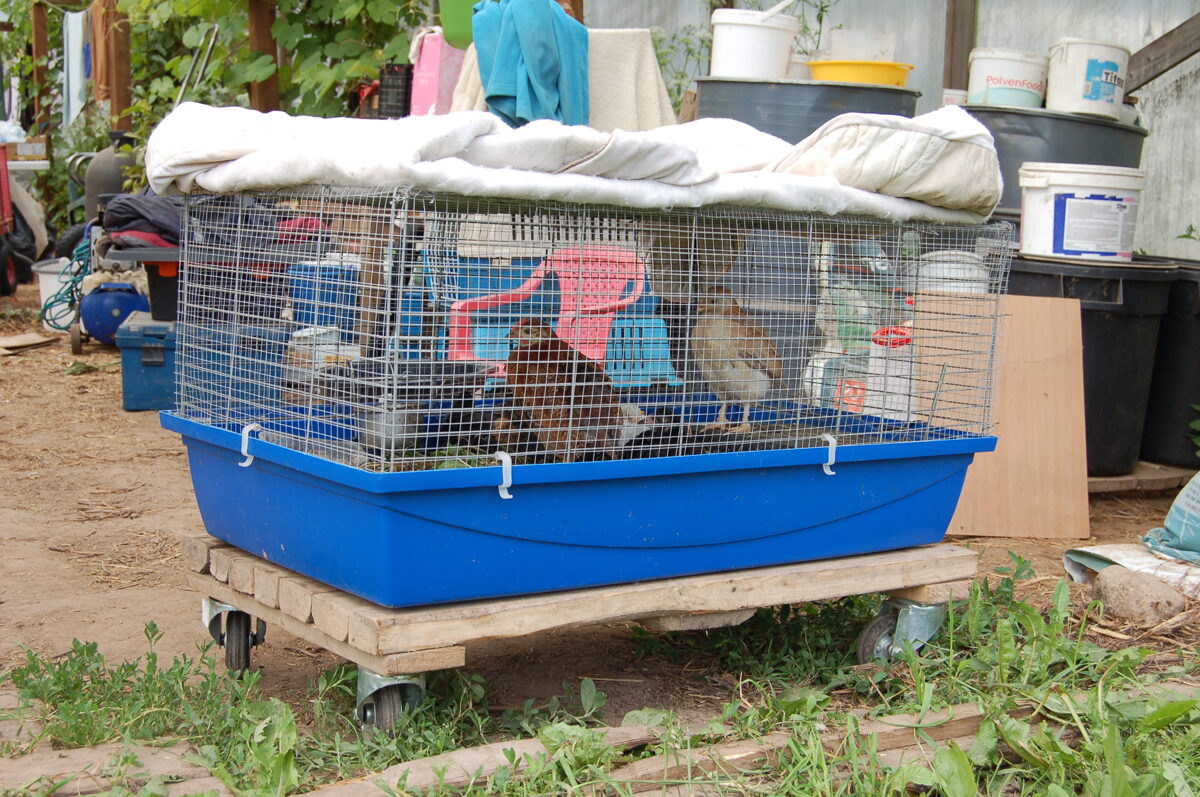 We raise them in this hamster cage till they are big enough to go outside. The cage is on the trolley so it can be moved outside when it gets too hot in the greenhouse.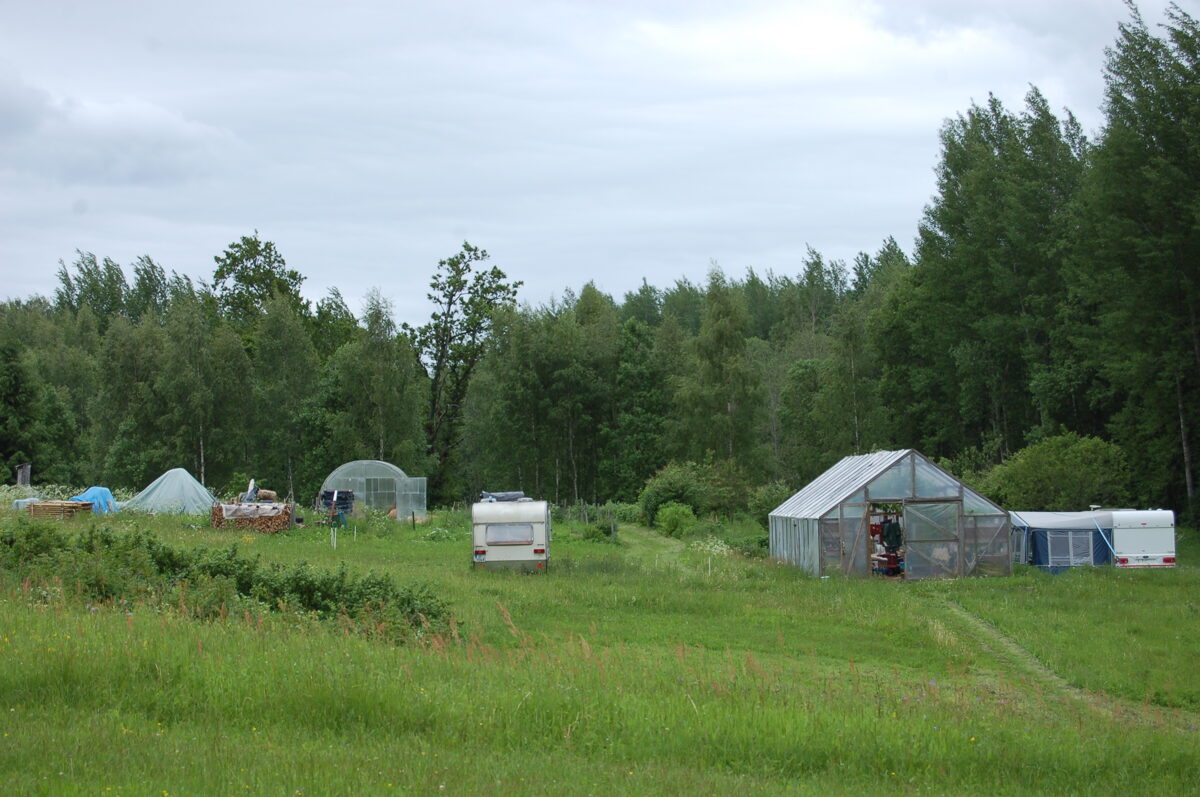 Another new arrival is the second caravan (to the right of the greenhouse). My son brought it from the UK when he and his family came to visit in May. Hopefully soon they will start on building the summer house which will be where the white sticks are to the left of the other caravan.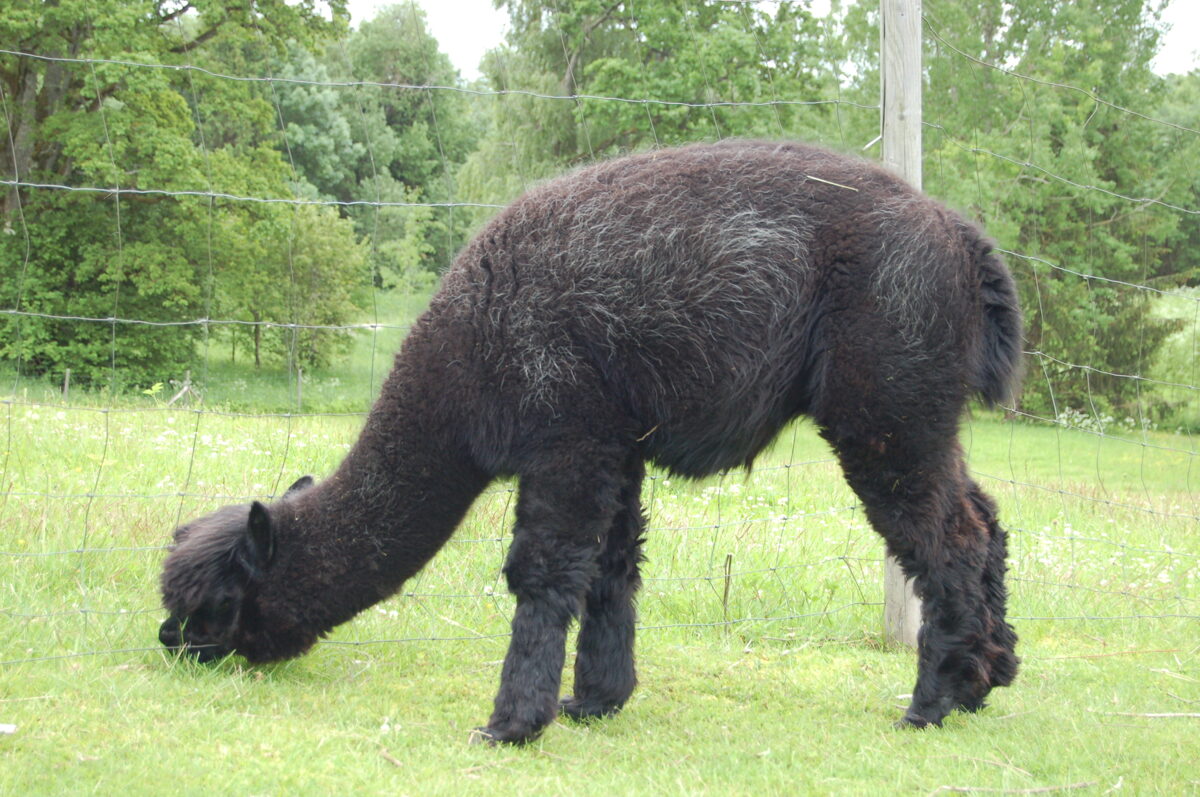 Mr. P. before shearing, I keep mentioning the longer grey fibres he is getting as he gets older, here you can very clearly see them.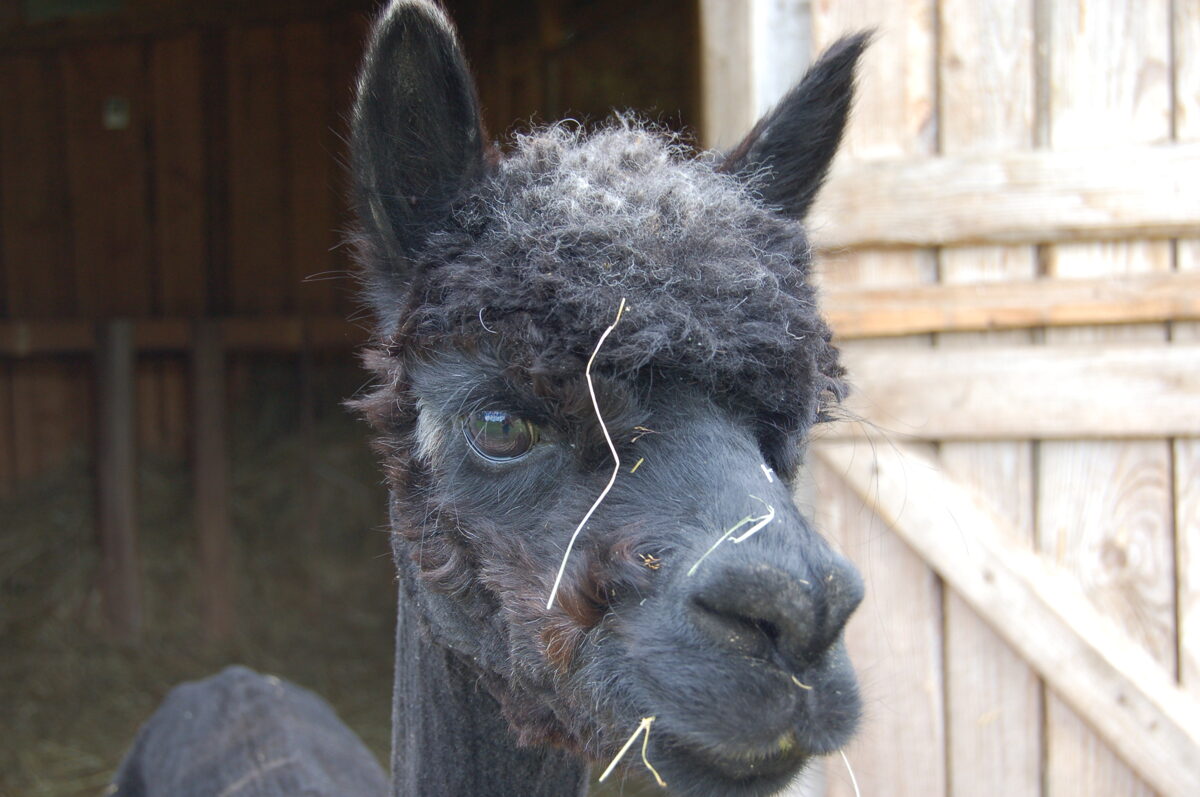 Look at the grey on the top of his head. Quite distinguished don't you think?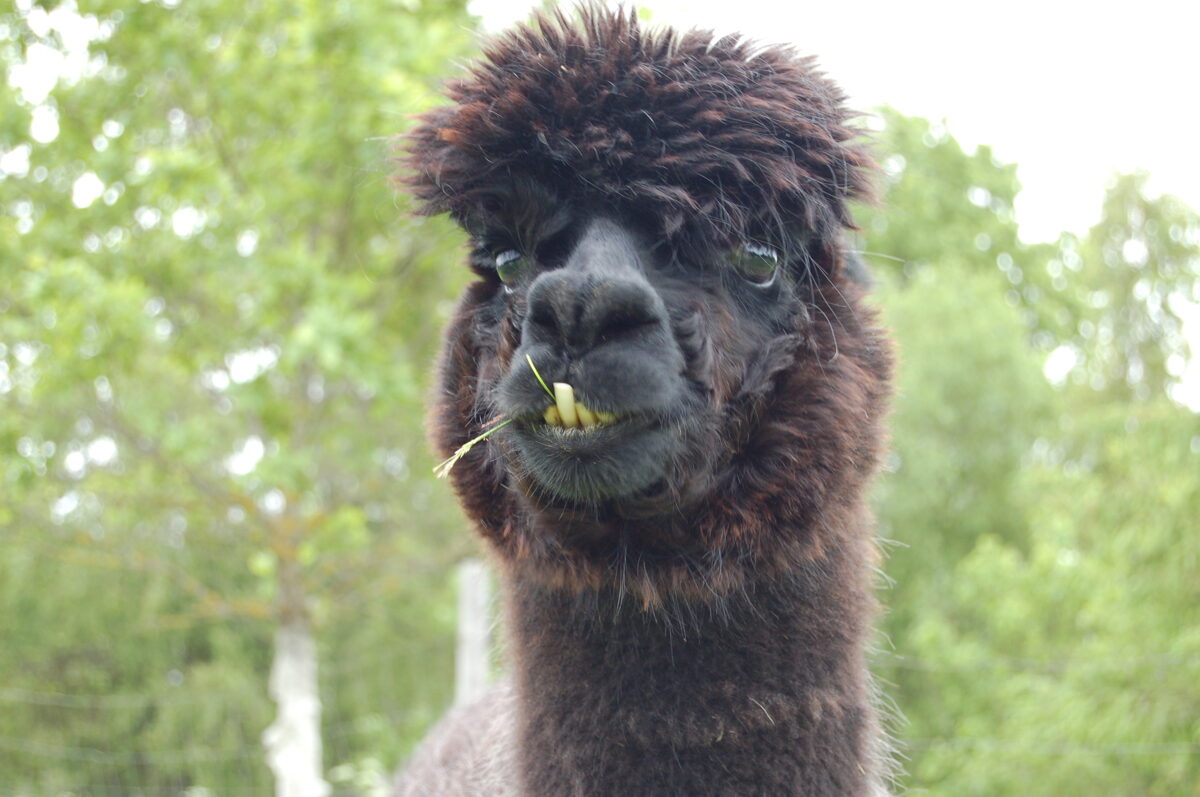 He also got his "tooth" cut the others were also that length but broke off just before shearing.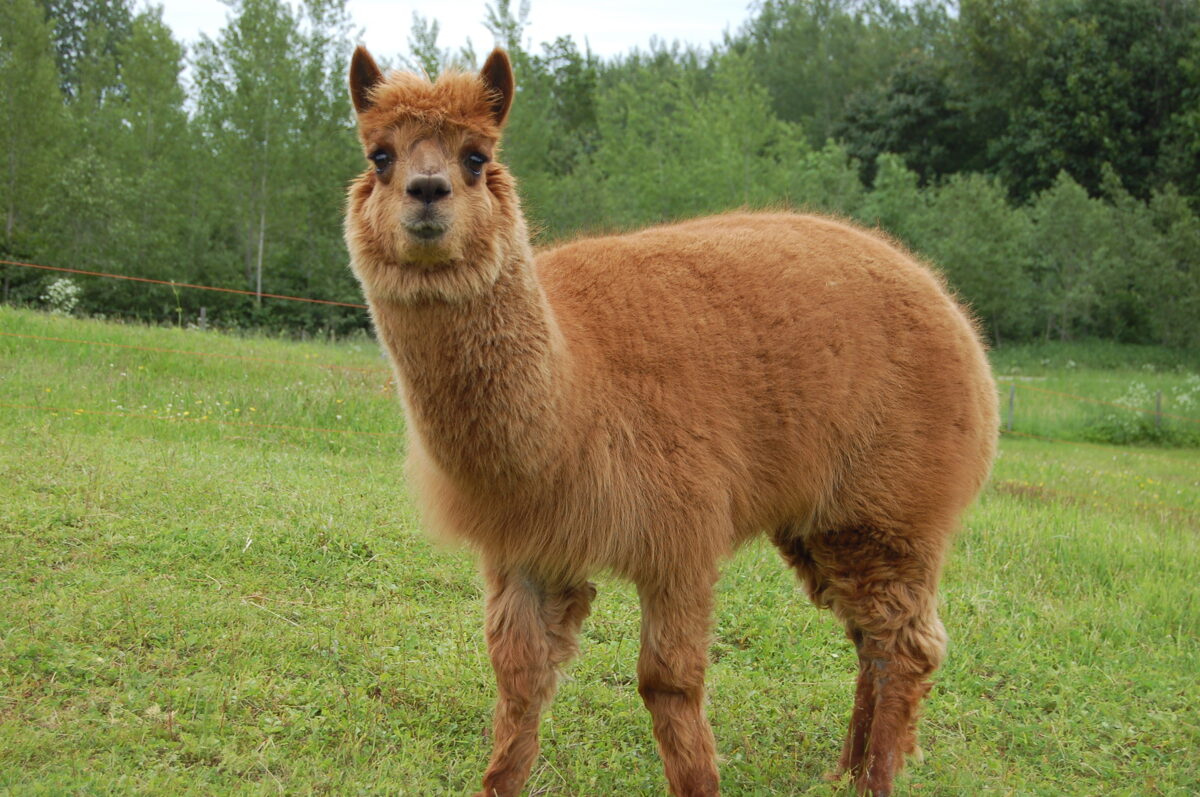 Freddie pre shearing.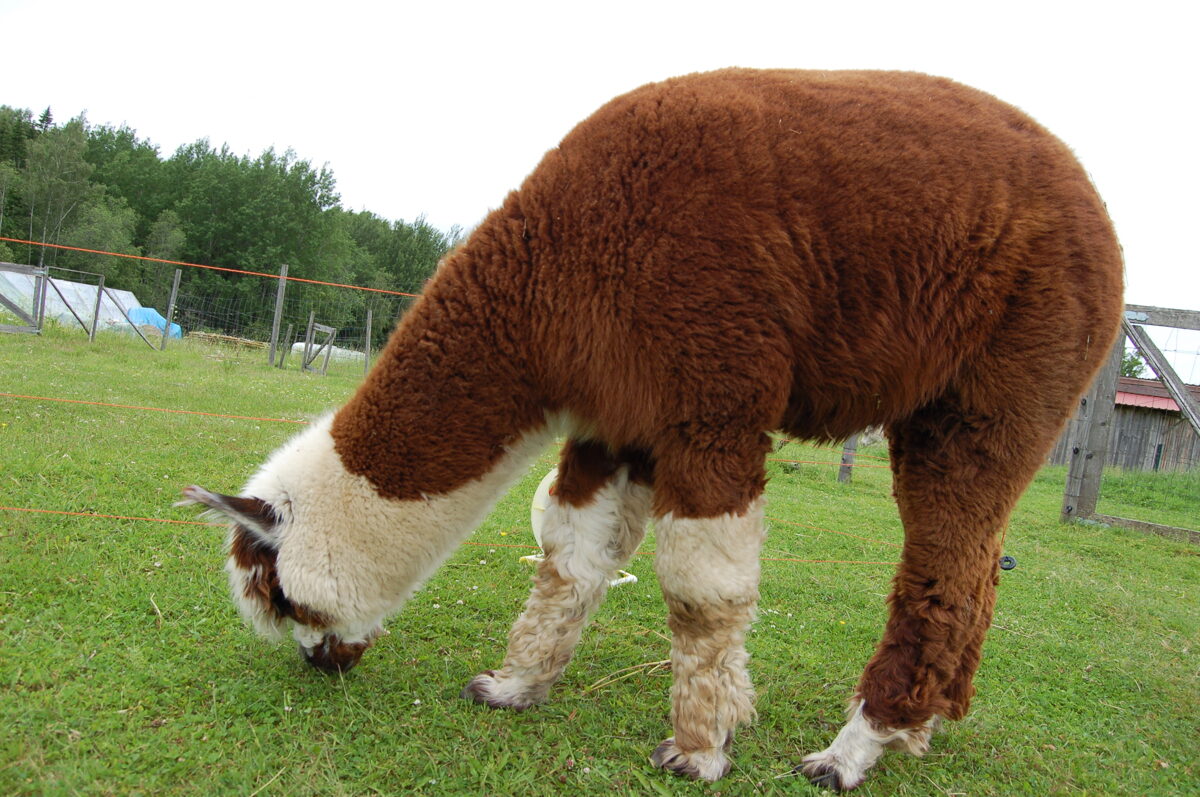 Josefs pre shearing.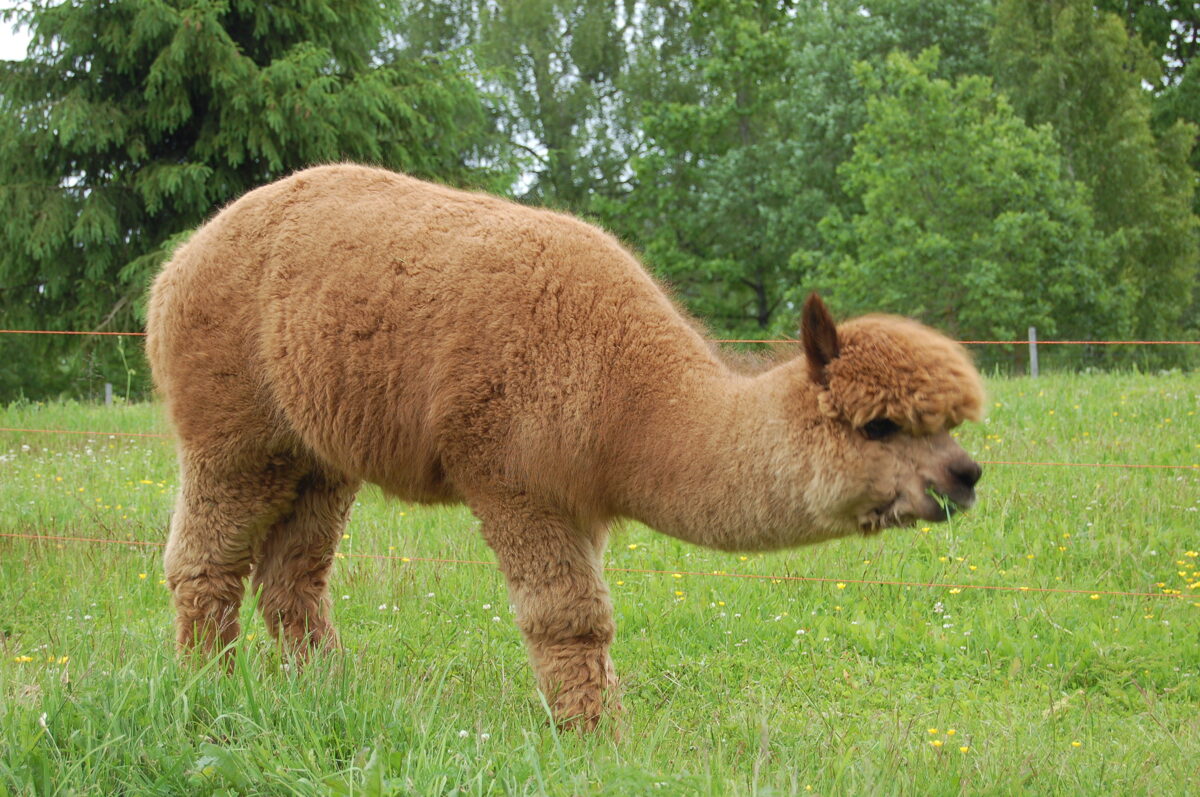 George pre shearing.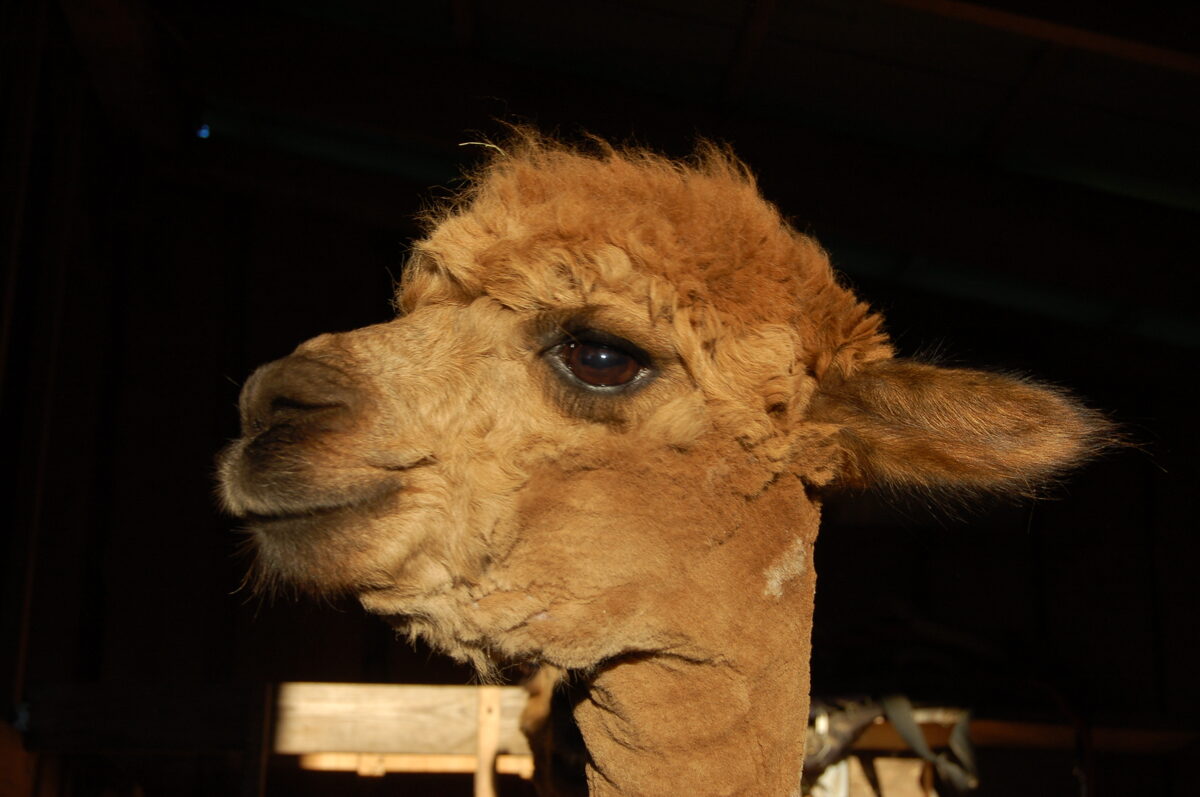 We noticed after shearing, George is starting to get these distinct lighter patches on his neck, there are more on the other side.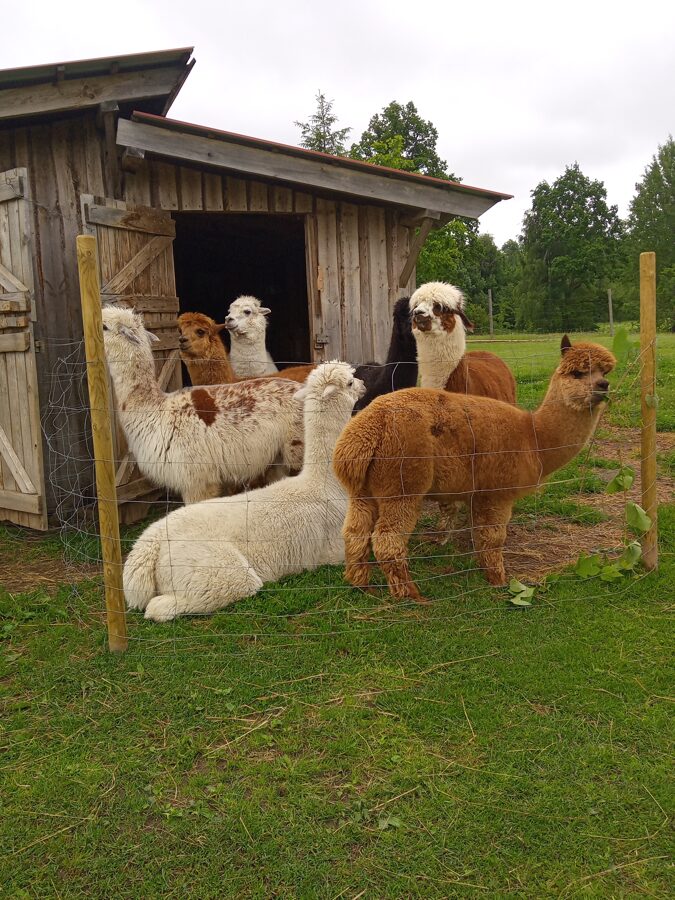 Waiting room at the hairdresser's. I make this little fence so they have a bit of room, then take them inside and through into the other side for shearing.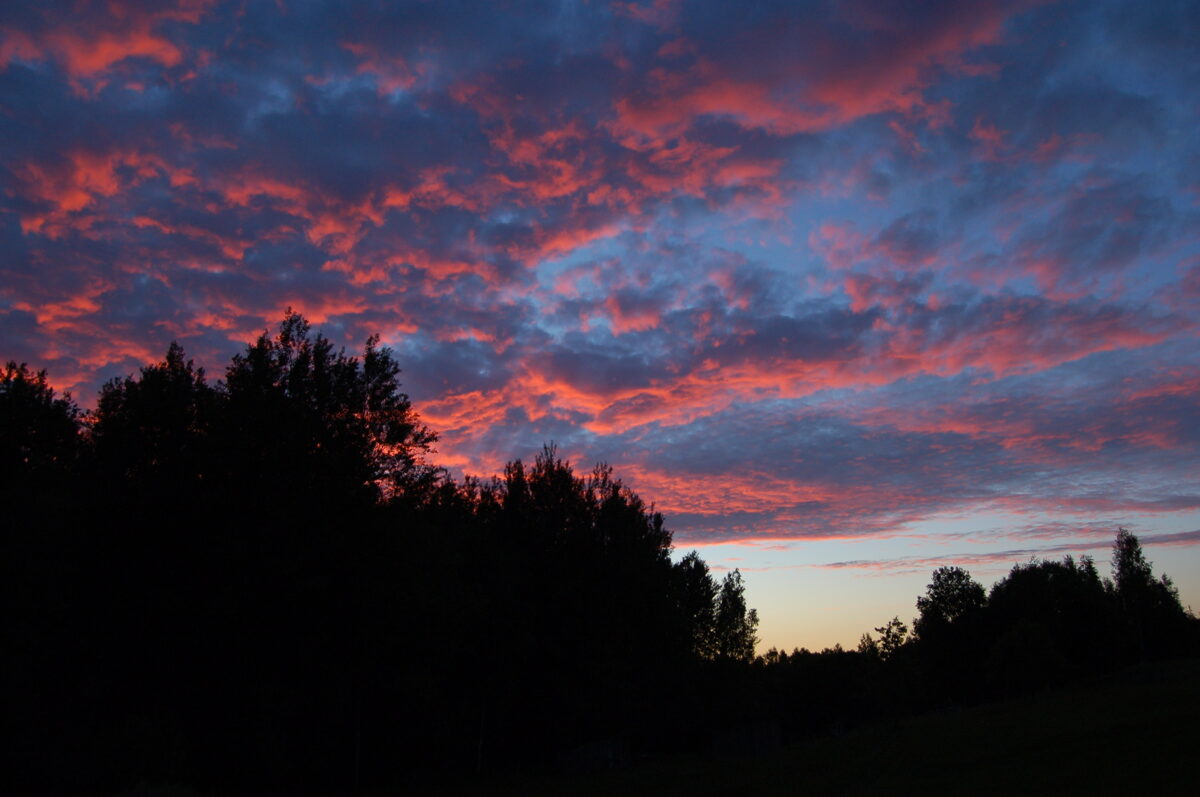 A very nice sunset.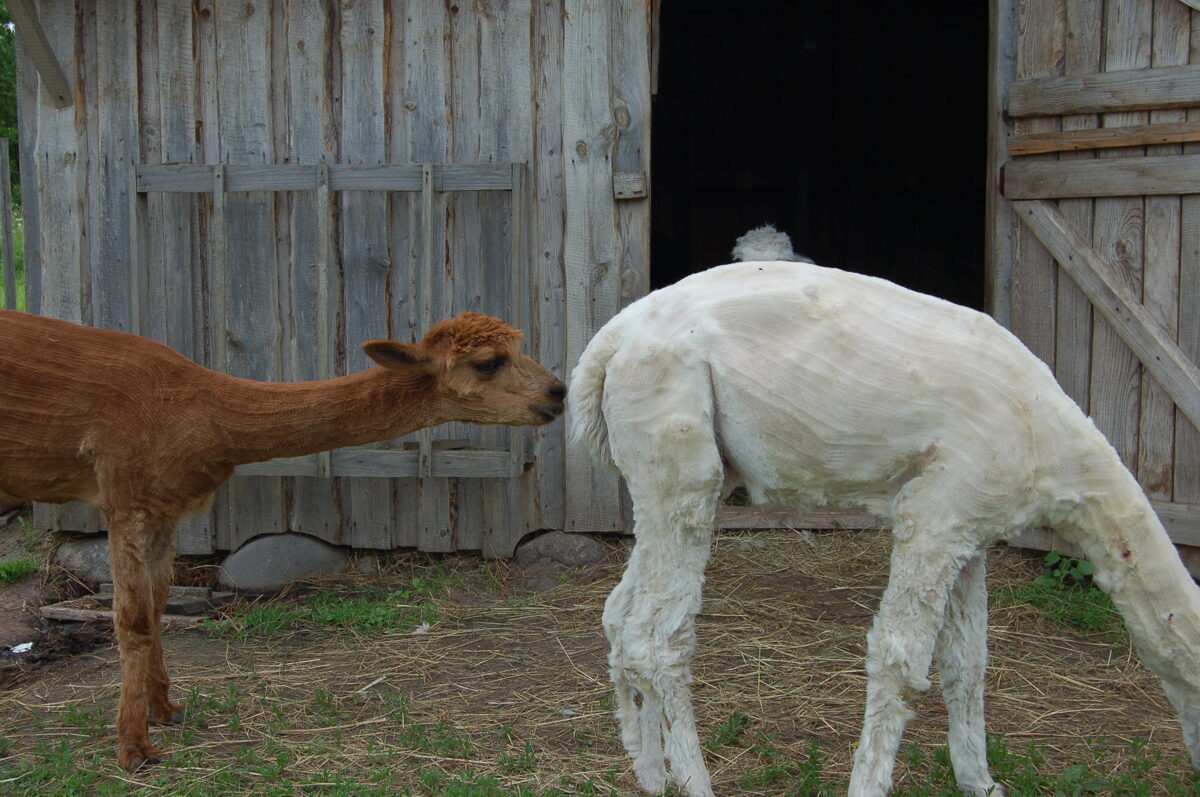 Freddie just checking that it is his dad Tellus.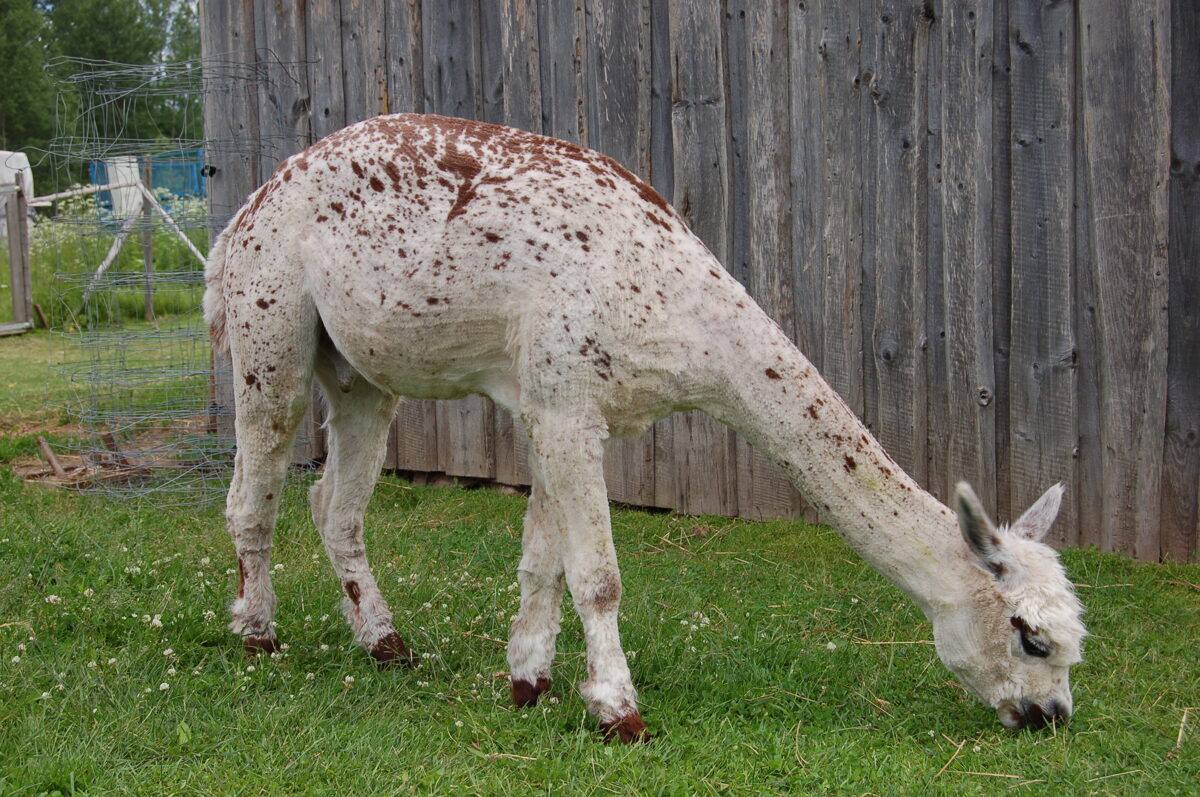 Jakobs after shearing, we are mating him with Silla at the moment.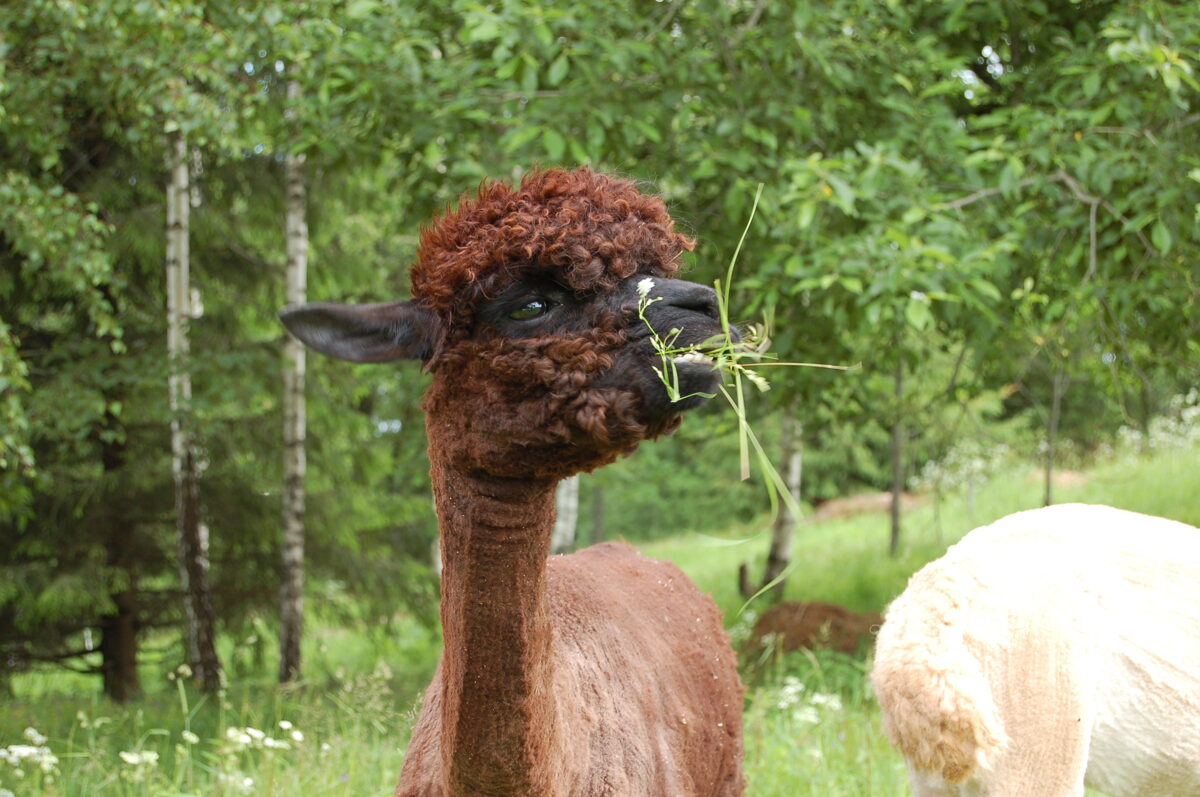 Chanel enjoying the grass, finally we got started on treating her skin problems.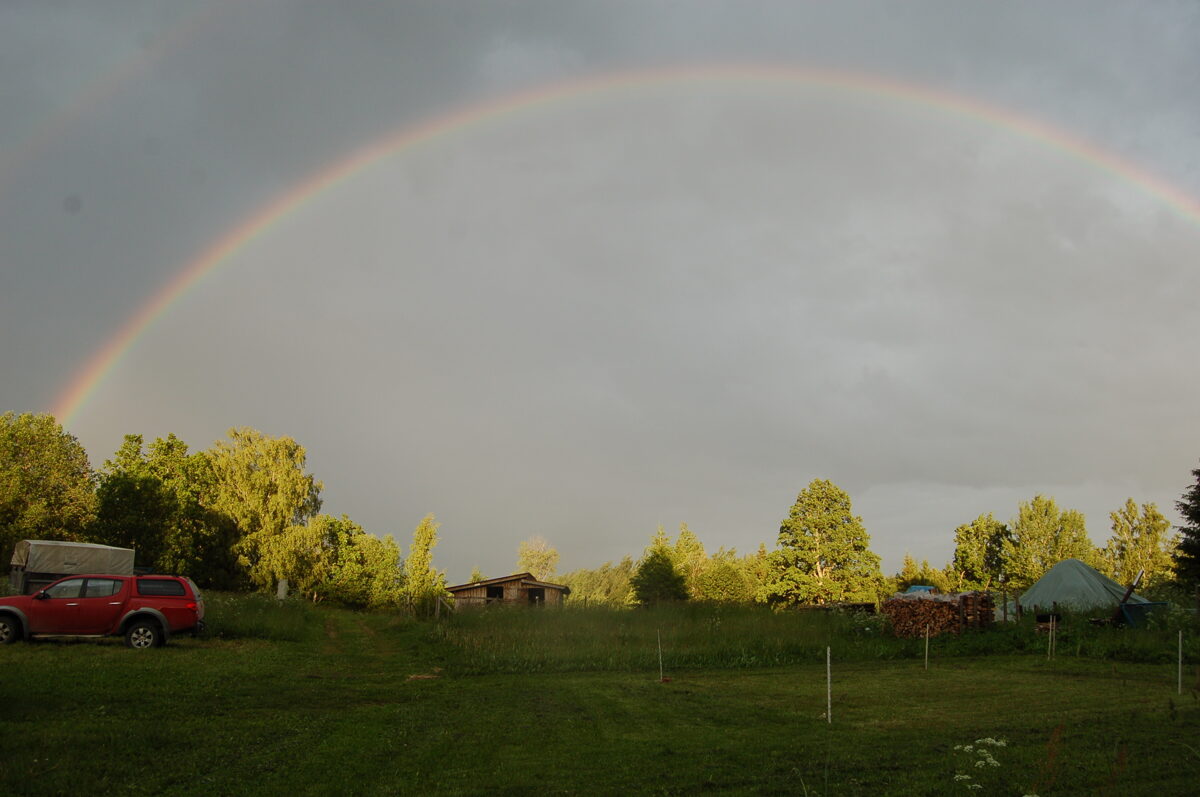 A rainbow over the boys house.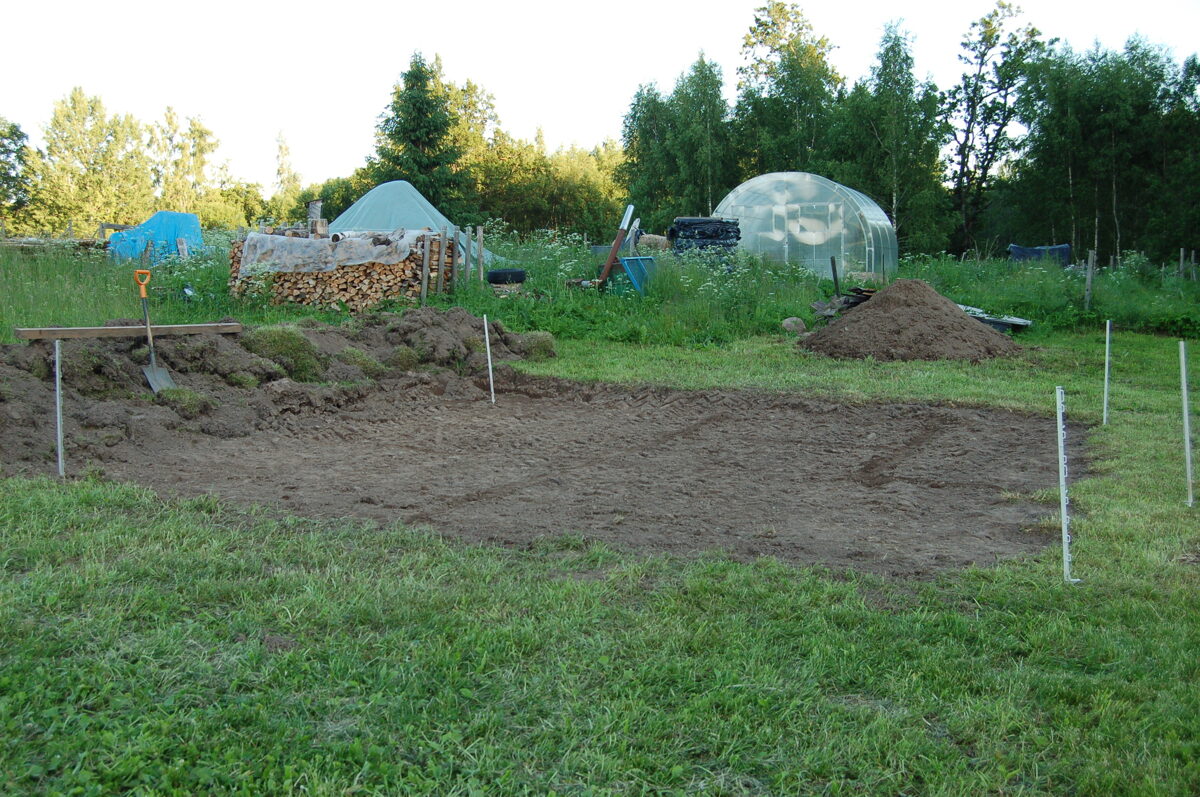 Preparation for the summer house, it now has a level layer of gravel an underground electric cable from the barn in place so is ready to build on.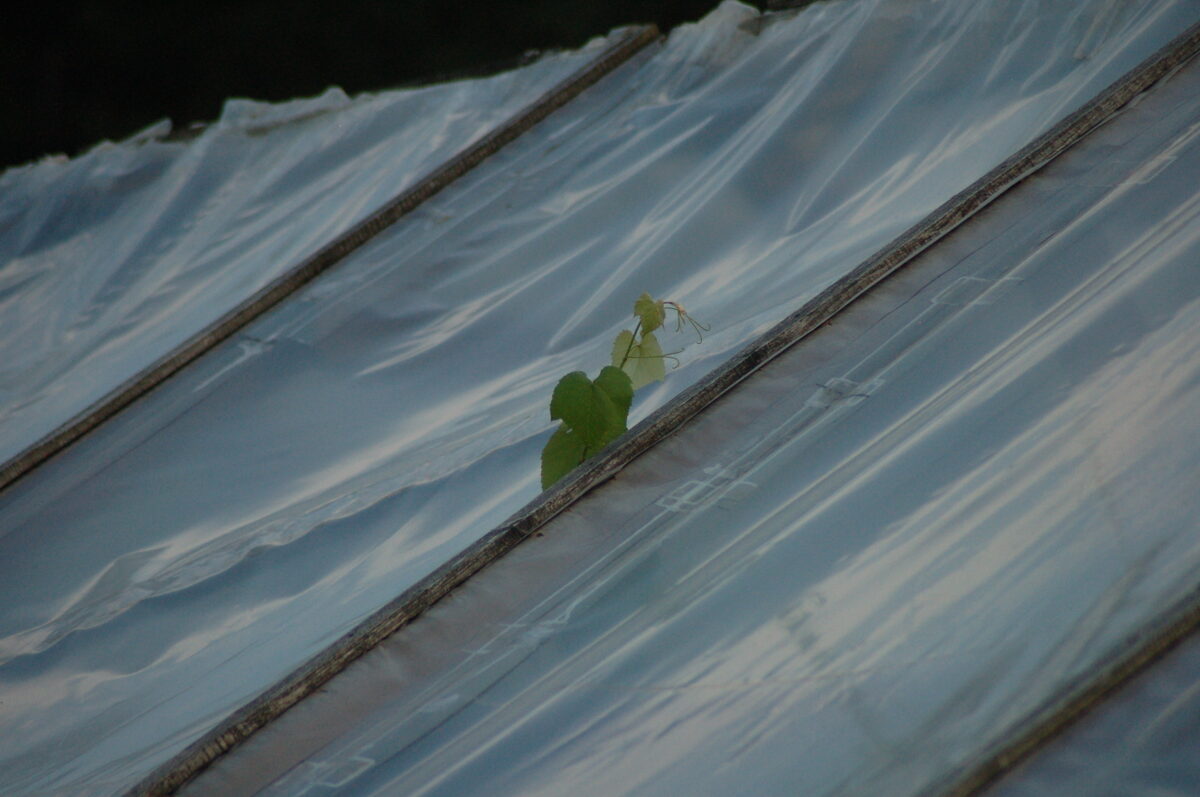 An escaping grape vine.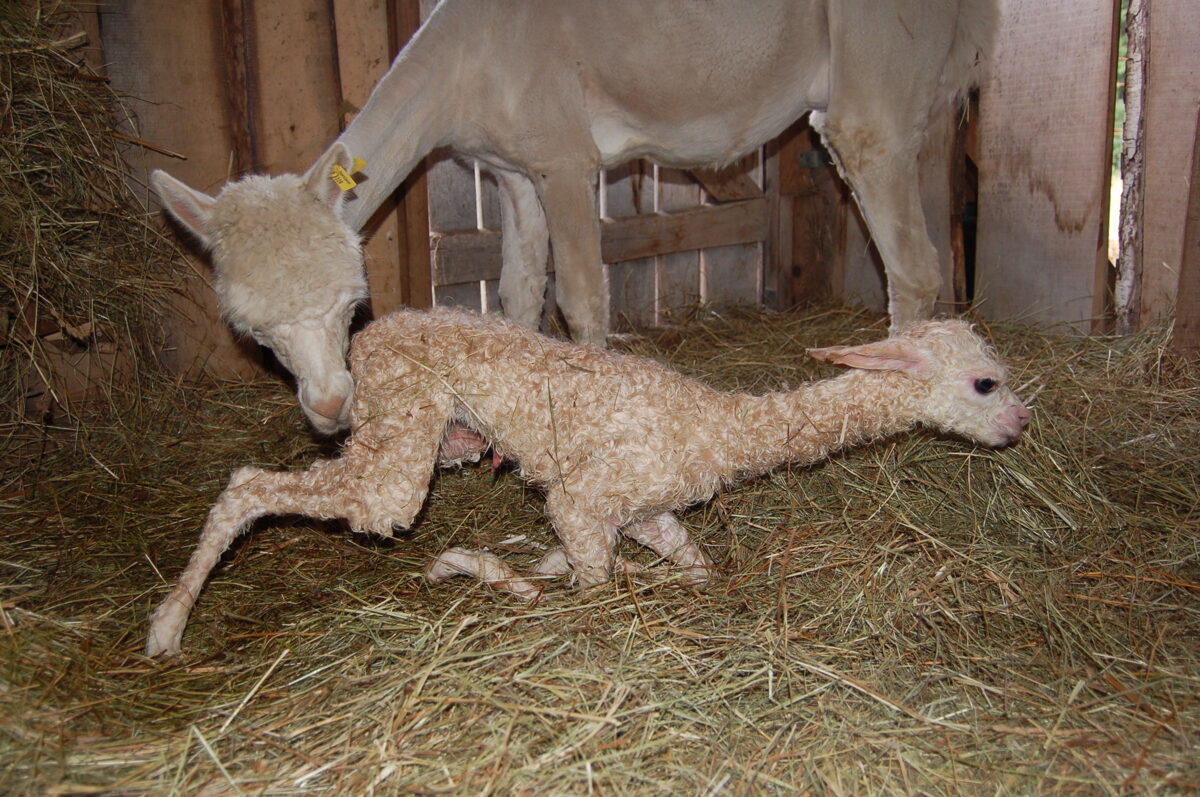 Amanda helping Marvellous Marv on his feet.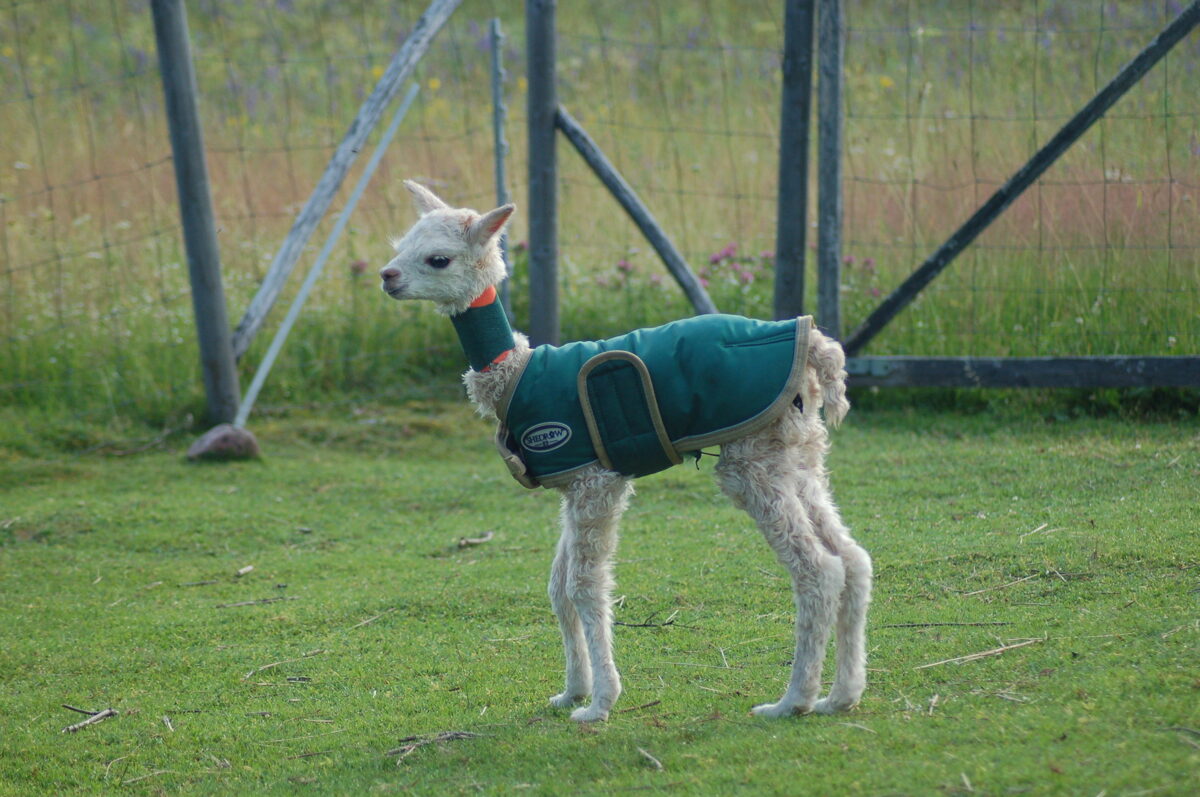 Here he is with his coat on and matching neck splint.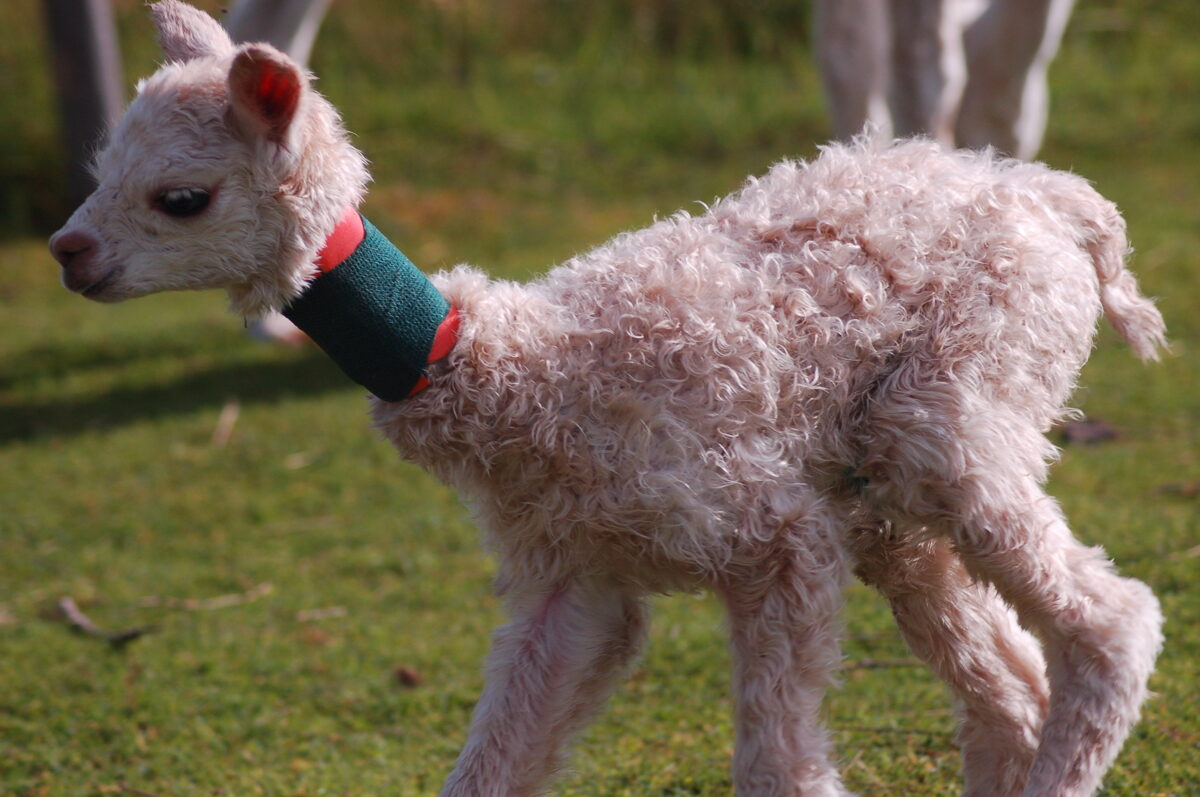 And here without the coat, he's just so fluffy.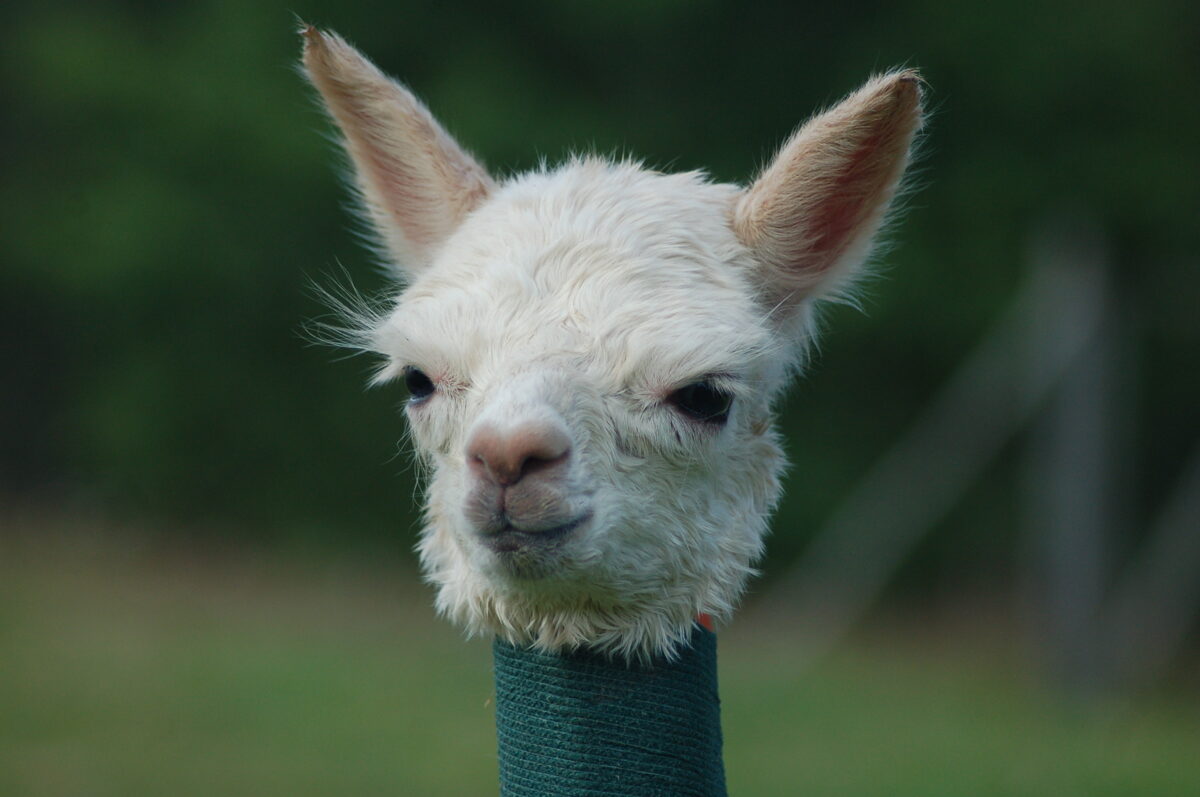 Don't you just love him.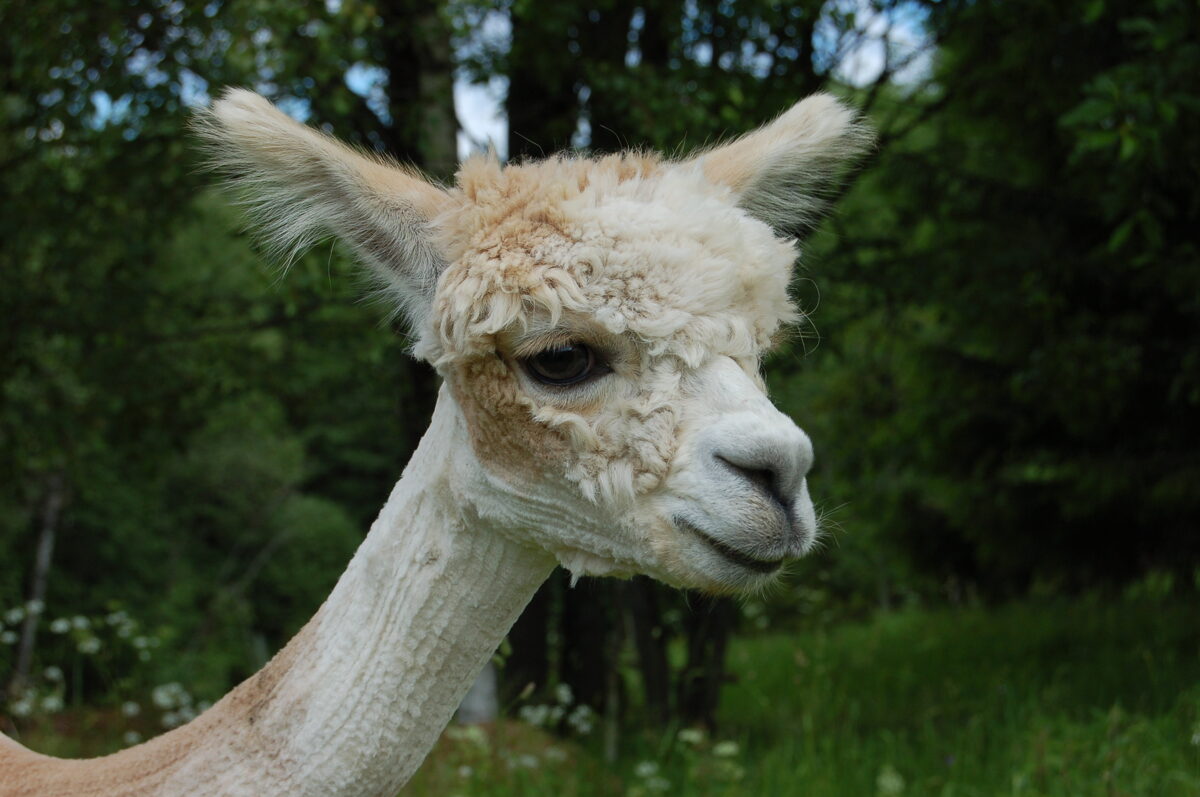 Lolly wasn't too sure about him at first but now follows him everywhere.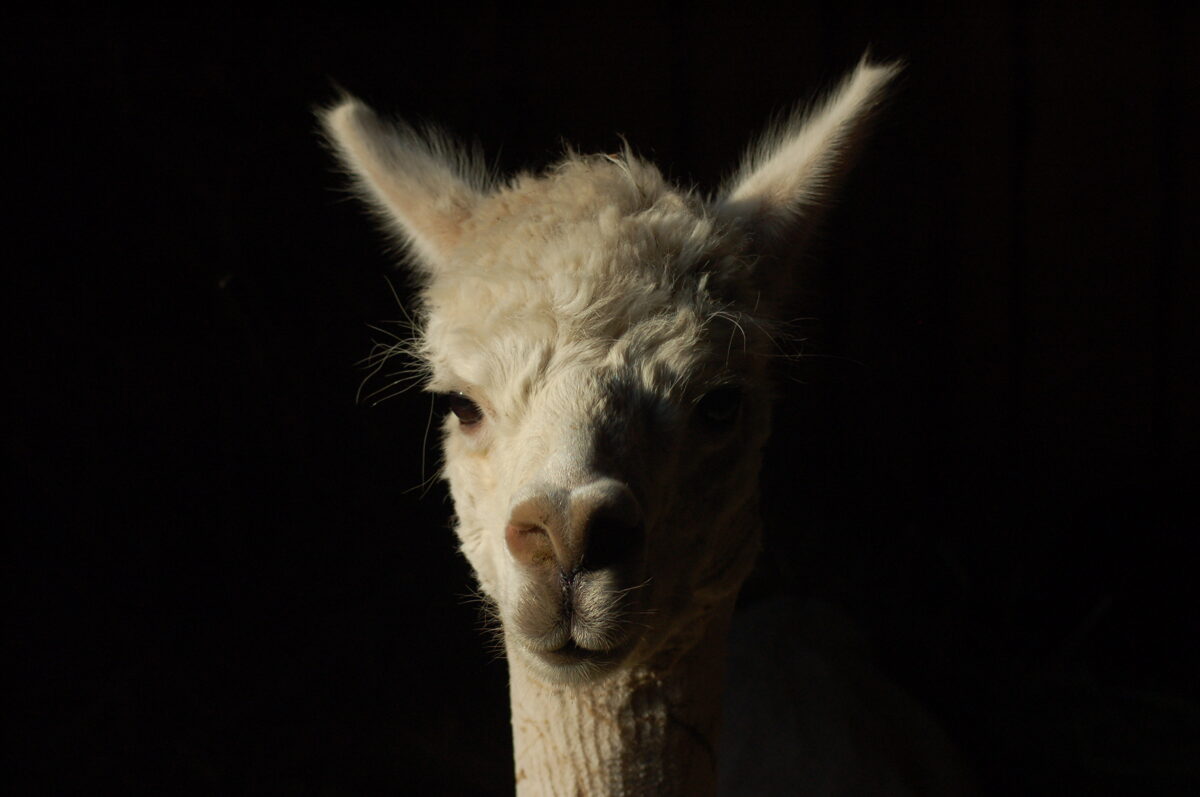 Brencis posing for a dark atmospheric photo shoot. Worked well don't you think?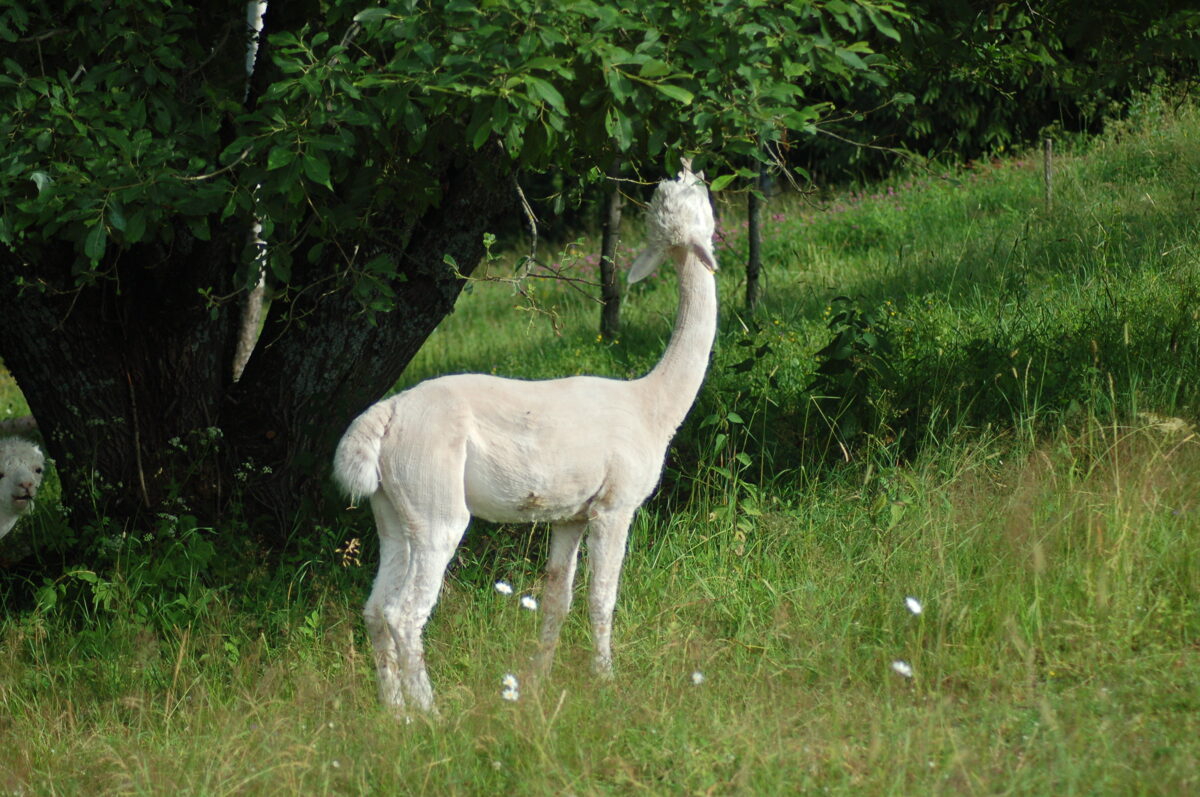 Vanessa on tree pruning duty.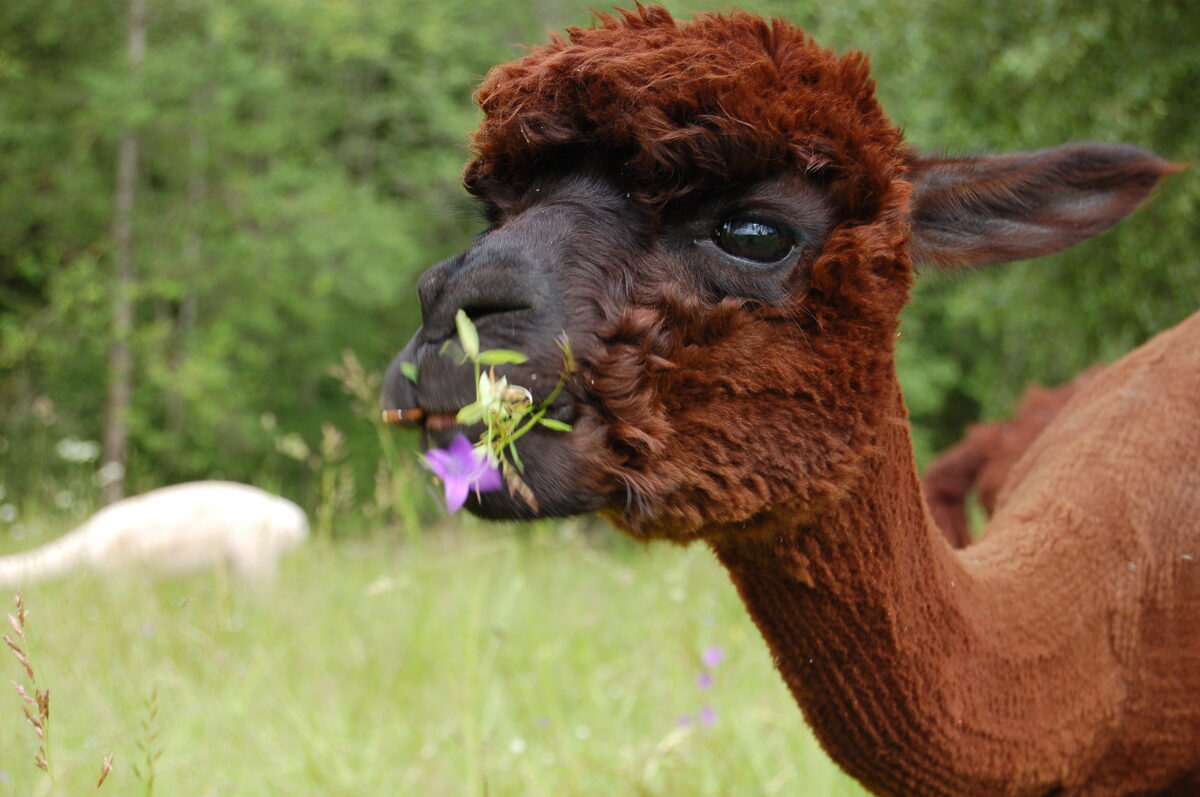 So now we are waiting for Ilvija to have her first cria. Our first totally home grown alpaca as both Ilvija and George were born and bred here.

No comments
Leave a reply